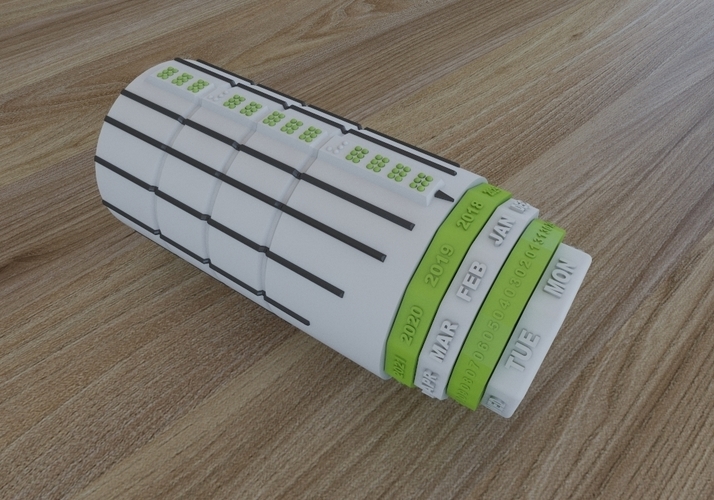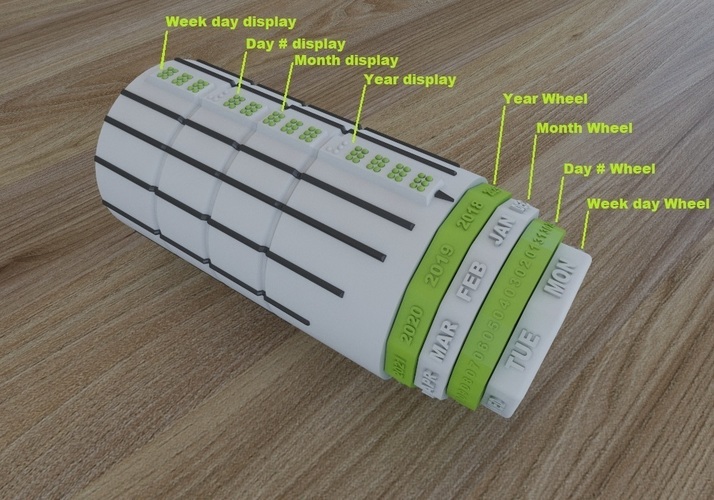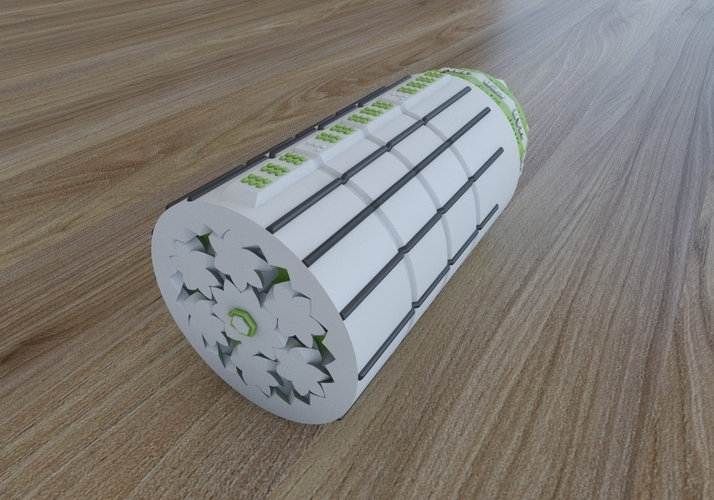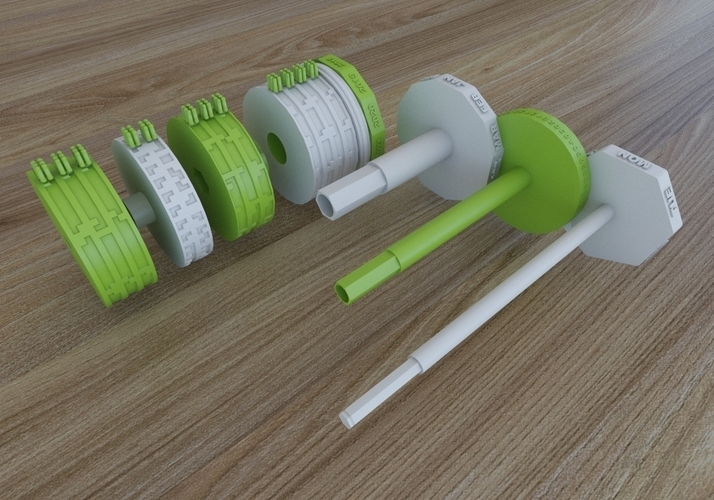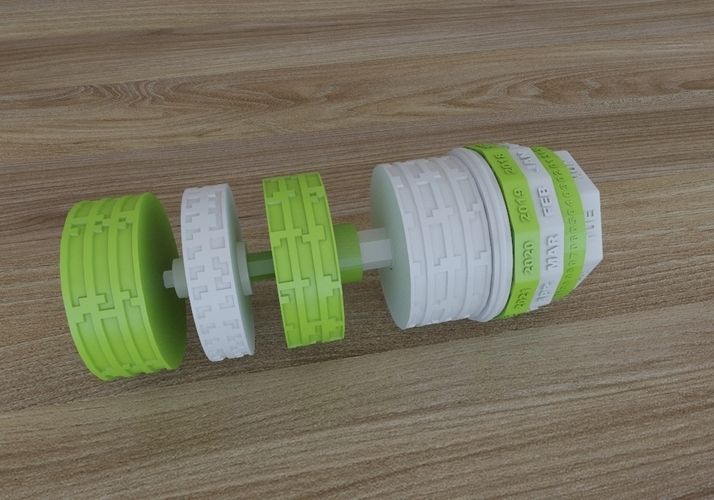 This product is an universal braille calendar.
It was designed to help blind people find dates without any battery, only by turning each individual wheel.
The principle is very simple:  We have four wheels. One wheel for Week day, one for day number, one for months and another one for years. We can use it adjusting the date of the day and turning the wheel each day to keep it up to date like a regular calendar. Or we can adjust today's date and turn it to find a specific date inside a year and know witch week day it will be.
It dates range are from 01 JAN 2018 to 31 DEC 2029
Its tactile braille follows the hole spacing standards. I've integrated two printed gear bearings so it can spin well and nicely while keeping its axis.
Dimensions : 15,5cm x 7,1cm x 7,2cm
Print Instructions:
It was designed for SLA printers due to its tight tolerances, but it can be printed in FDM printers as well. (Just make sure your printer is well calibrated and maybe size it up a little bit so the pins come out nice). I'm actually printing it in my FDM printer and will upload the results soon.
I've splitted each piece in a different file so we can have better control choosing wich pieces print together and dispose them accordingly to each printer dimensions.
It should be printed with at least :
2 vertical perimeter shells
3 top and bottom solid layers
0,2mm Layer height (0,1mm or less being better)
10% infill 
You will need to print 72 little braille pins (I've prepared a file with 1 pin, another one with 6 pins and yet another one with all 72 pins). In FDM printing you can use your 1.75mm filament to make pins.
Assembly instructions:
After all pieces are printed you should fit all pins inside the outer shell from the inside before fitting in the Codes and Handle wheels.
The Code Wheels objects have an arrow printed in to help during assembly.  https://ibb.co/iLqvGQ
The arrows should be pinting down and facing the Handles as shown in the image link below.  The date should be set to [MON 01 JAN 2018]
Design History: 
At some point the design was all updated inside a 3d modelling software.
Hope you all like it , print it and I hope it can help lots of visually impaired people on the everyday life!
Blind Calendar_Pins x 72 (all needed).STL
2.97 MB
Blind Calendar_Months_Handle.STL
465 KB
Blind Calendar_Outer Shell.STL
1.49 MB
Blind Calendar_WeekDays_Handle.STL
266 KB
Blind Calendar_MonthDays_Handle.STL
1.44 MB
Blind Calendar_Pins x 6.STL
338 KB
Blind Calendar_WeekDays_Code.STL
90.2 KB
Blind Calendar_Months_Code.STL
102 KB
Blind Calendar_Pin x 1.STL
56.3 KB
Blind Calendar_Years_Code'n'handle.STL
2.46 MB
Blind Calendar_MonthDays_Code.STL
136 KB
Blind Calendar_Hinge.STL
22.5 KB