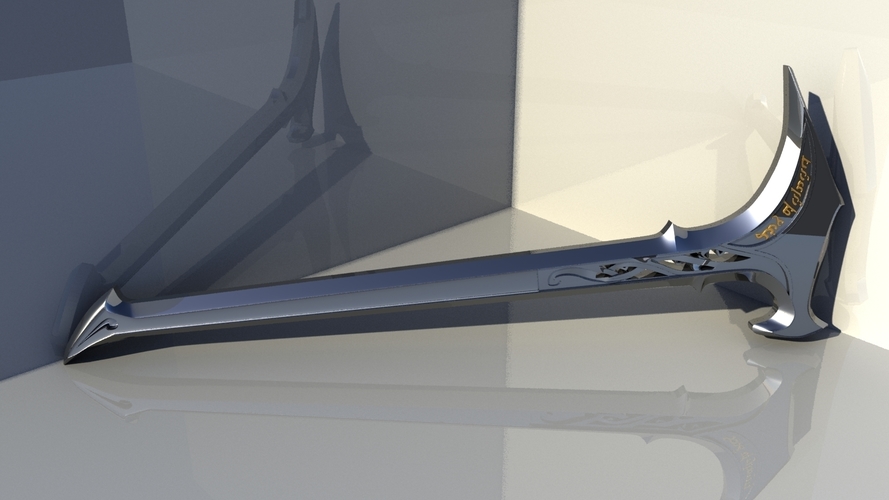 No Prints Yet

Be the first to upload a Print for this Design!
Celebrimbor's Hammer is from the Middle Earth Shadow of Mordor and Shadow of War games. I thought the hammer was really cool idea to make since it was the hammer that made the One Ring. Not to mention the detail looked amazing. I tried my best to copy the game model but found it hard to find a good reference of the detail inside the handle. Not to mention just making the detail inside it was hard. But several computer crashes later this is what I made and I love the final design can't wait to print it. (Picture is a quick render)
Printing this may be a nightmare for some. It is for me. I've had to make several modifications to the model itself. Sometimes it'll look accurate in the software but then you go to print. And 18hrs later you find out your printer won't recognize a plane as a flat surface only a cube. There is a hollow section in each piece I did this in case you'd like to put something inside the hammer itself. I myself am thinking a couple of magnets.
I suggest you use your most accurate/smoothest settings for this. Sanding will be easy on the outside but the detail near the top will be a nightmare, but it will look amazing.
Layer Height:  .06
Shell Thickness: 1 mm
Bottom/Top Thickness:  1.2 mm
Fill Density: 30
Print Speed:  40
Print Temp: 210
Bed Temp: 70
Support Type: Everywhere
Adhesion Type: Raft
Hammer Bottoms.stl
4.3 MB