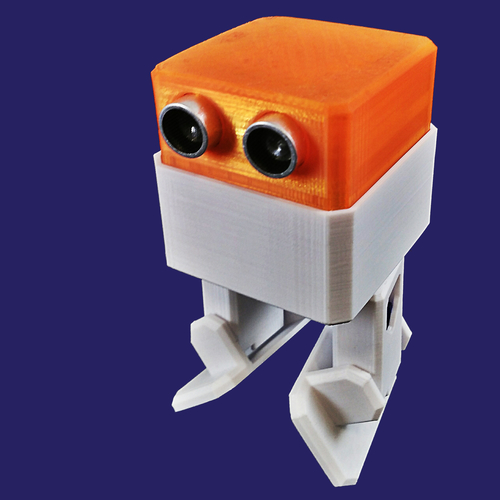 Who is Otto DIY+ (PLUS)?
Otto DIY+ is the improved and advanced version of original #OttoDIY, have the same base features DIY robot + Bluetooth control and programming + metal gears servo motors MG90S + changing modes by touch sensors + sound sensor + optionally rechargeable + your unlimited imagination
Otto DIY+ is a forever open for improvements!, developed by a broad international and diverse community of Otto builders,
buy our full kits!
Visit http://www.ottodiy.com/
List of parts:
Arduino Nano;
Arduino Nano Shield I/O Extension Board
Mini usb cable.
HC-SR04 Ultrasound sensor.
Mini servo MG90 9g x4 (each one should come with 2 pointed screws and one small screw also arm keys to attach legs and feet).
passive Buzzer 12mm 5V
Female to Female breadboard connectors cable 10cm x24.
4 AA Battery case
1.5V AA batteries x4.
Phillips screwdriver (important magnetized)
micro Switch 8x8mm
Touch sensors x3
Sound sensor
Bluetooth module HC-05 or HC06 or BLE
And then you only need to 3D print 6 parts in total:
3D printed head.
3D printed body.
3D printed leg x2.
3D printed foot x2
How to build your own Otto?
Recommended to first check all documentation for Otto DIY if you are a beginner and then you can try to play with more advanced features with Otto DIY+
use the Mini USB cable to power your circuit from your computer or a USB socket.
Codes, Bluetooth & APP
Codes for Bluetooth are ready! The APP is ready! get the .apk here: https://wikifactory.com/+OttoDIY/otto-diy-plus and you can make your own using our APPinventor template
You can use MBlock.cc version 3 or Arduinoblocks for simple an easy graphical programming.
Otto builder group
So for any issue or question please follow this group https://www.facebook.com/groups/ottodiy/
OttoDIY _head_V9.stl
365 KB
OttoDIY _Leg_V9.stl
151 KB
OttoDIY _body_V9.stl
444 KB
OttoDIY _foot_V9.stl
266 KB