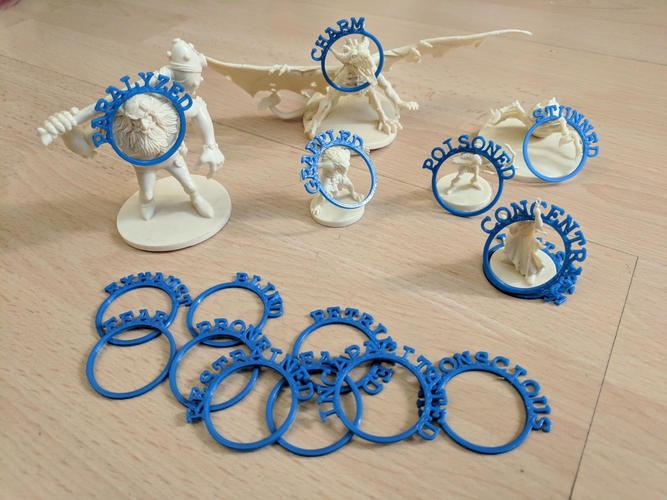 Rings that you can hang off your NPC and PC minis to track what dungeons and dragons conditions are affecting them.
There are some conditions that are not technically D&D 5E "conditions" that you might find useful to track on the battlefield. e.g. "Concentration" so you can remember to do CON saves.
Conditions included in this pack...
BANE, BLESSED, BLIND, CHARM, CONCENTRATE, DEAF, DEATH FAIL, DEATH SAVE, DYING, EXHAUSTED, FEAR, GRAPPLED, HEXED, HOLD, INCAPACITATED, INVISIBLE, MARKED, PARALYZED, PETRIFIED, POISONED, PRONE, RAGE, RESTRAINED, STUNNED, SWORN ENEMY and UNCONSCIOUS
Added 2018-06-26: BLOODIED, INSPIRED, HIDDEN, HALF COVER, 3/4 COVER, TOTAL COVER
Added 2018-07-25: RECKLESS
Added 2018-08-29: ADVANTAGE, DISADVANTAGE, ATTACK ADV, ATTACK DISADV
If there are any other conditions that your particular tabletop game needs, then let me know in the comments.
If you like this design you should check out my others at  https://pinshape.com/users/355...
LRingAttackDisadv.stl
1.42 MB
LRingAdvantage.stl
1.01 MB
LRingAttackAdv.stl
1.03 MB
LRingDisadvantage.stl
1.4 MB
LRingReckless.stl
1.23 MB
LRing100Cover.stl
1.03 MB
LRingUnconscious.stl
1.37 MB
LRingPetrified.stl
1.03 MB
LRingExhausted.stl
1.22 MB
LRingDeathFail.stl
1.01 MB
LRingConcentrate.stl
1.27 MB
LRingDeathSave.stl
1.11 MB
LRingIncapacitated.stl
1.42 MB
LRingInvisible.stl
967 KB
LRingParalyzed.stl
996 KB
LRingRestrained.stl
1.25 MB
LRingSwornEnemy.stl
1.17 MB