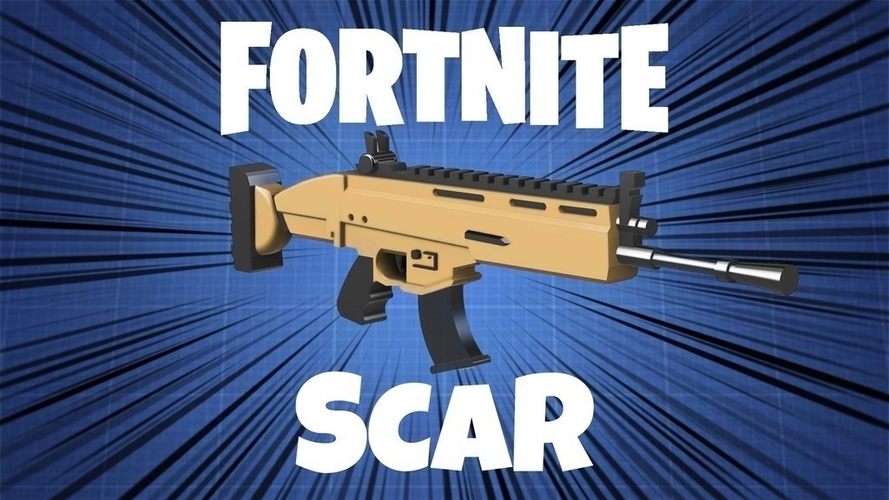 No Prints Yet

Be the first to upload a Print for this Design!
Summary This is a 3D model of the SCAR from Fortnite. Designed in Fusion360, and ready for printing. The parts are cut in a way where they will all fit on a Prusa i3 mk2S, but if you need smaller parts, feel free to DM me! For post processing, I would advise gluing the parts together with a two part epoxy for strength and filling in the gaps with Bondo or epoxy putty (and lots of sanding!). Where the parts connect have a pretty big surface area, so I imagine it would not be too difficult to make two parts stick together. If you like this design, please be sure to like or leave a tip!
UPDATE (4/1/18): Files for a version to fit on a Monoprice Select Mini have been listed here: https://pinshape.com/items/447... 
PLEASE NOTE (As of 3/29/18): These parts have not be printed out yet, so they are untested. I will be printing out the parts as soon as I can, however I would love to hear feedback if you print if out before I do! 
Print Settings Printer Brand: Prusa 
Printer: Prusa Mk2
Supports: Yes 
Resolution: 0.15-0.2 
Infill: 10-20% 
Notes: Some of the finer details may be lost if you use a layer height higher than 0.2, or will require a lot more post processing. 
How I Designed This: Designed in Fusion 360 by importing a photo of the SCAR and tracing the perimeter. Then, I sculpted in the basic details. Finally, I chamfered and filleted the necessary parts and cut the parts into printable sizes
Handle_Magwell.stl
175 KB
Front_Barrel_2.stl
114 KB
Front_Barrel_1.stl
106 KB