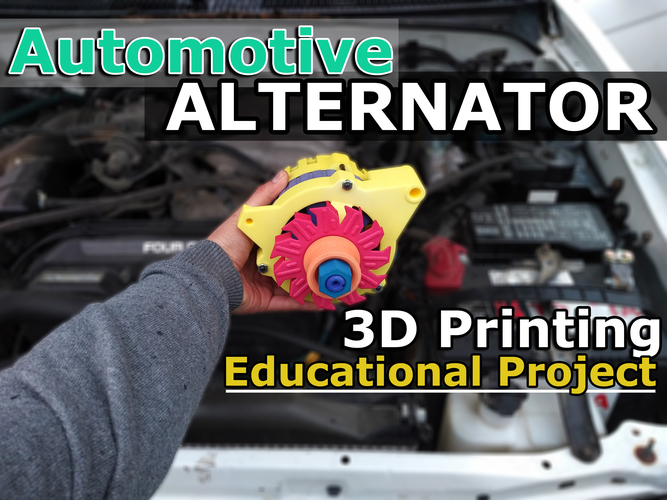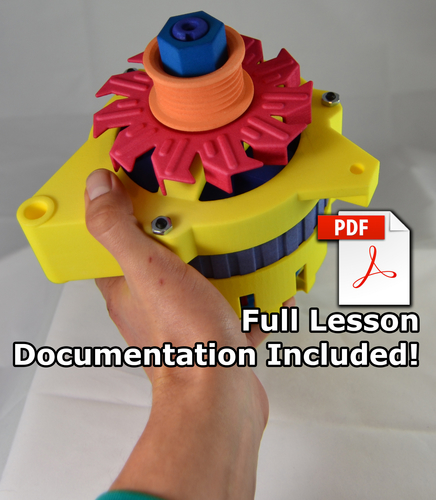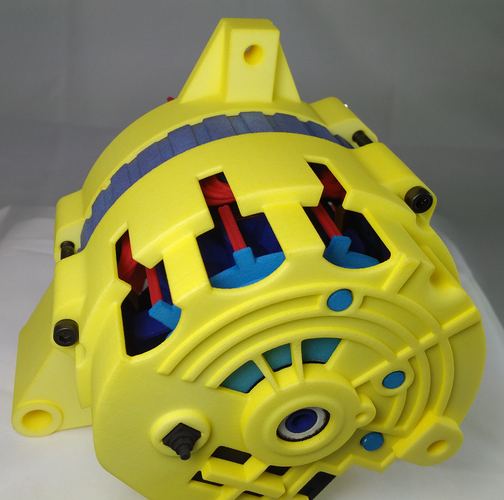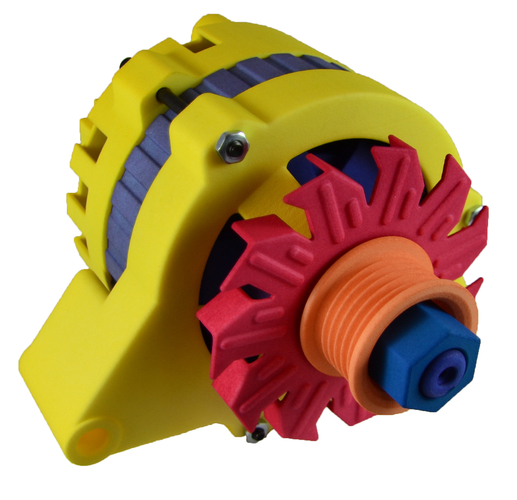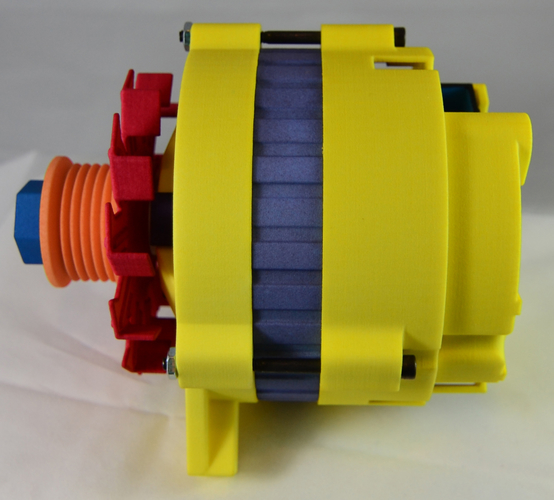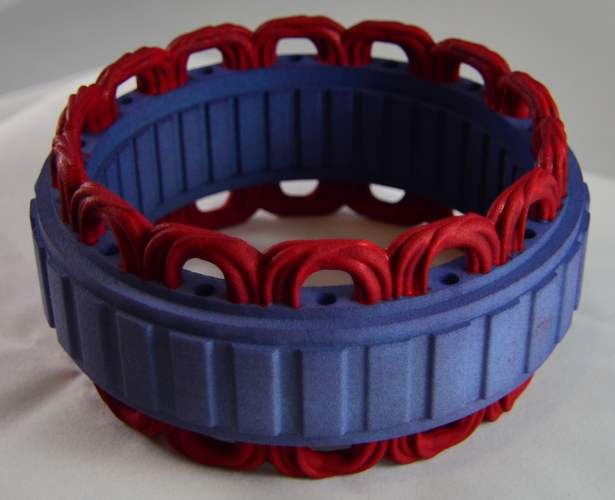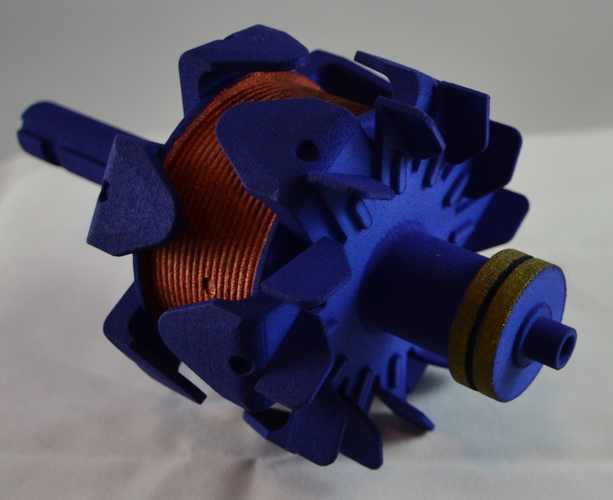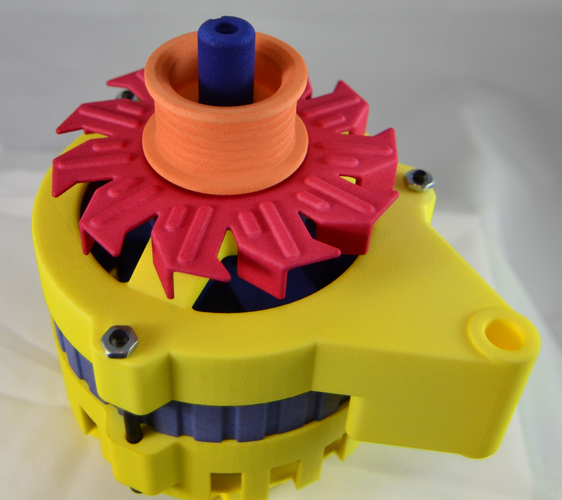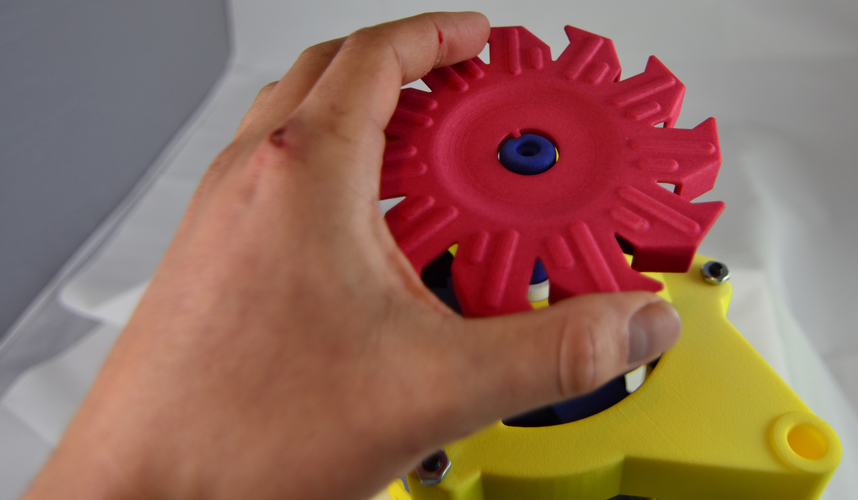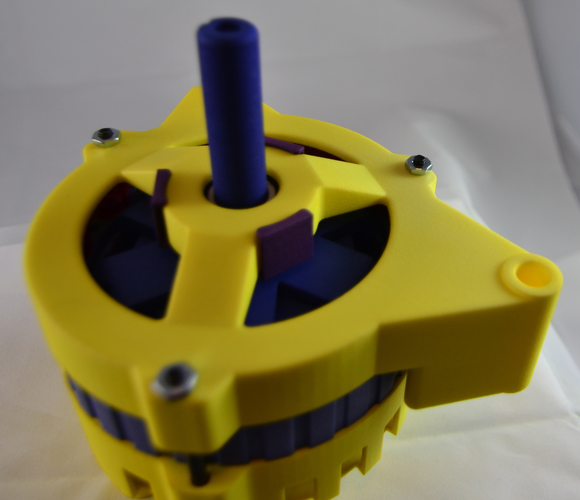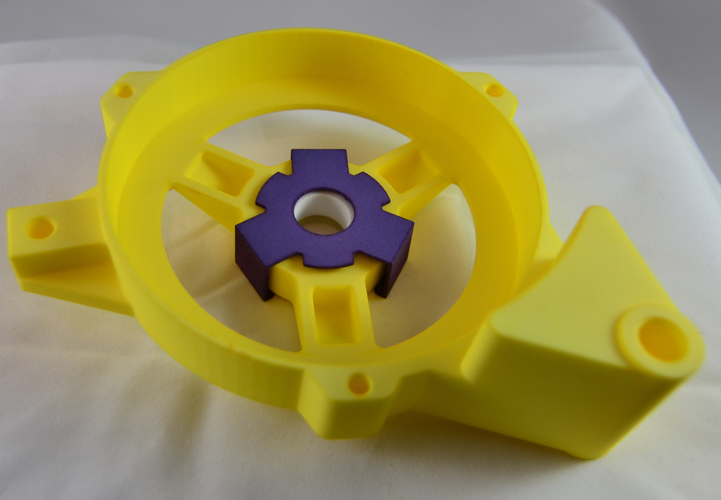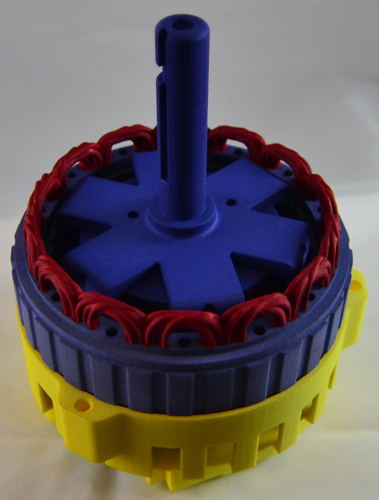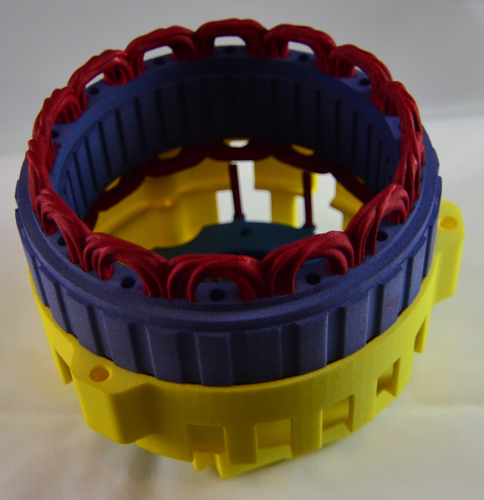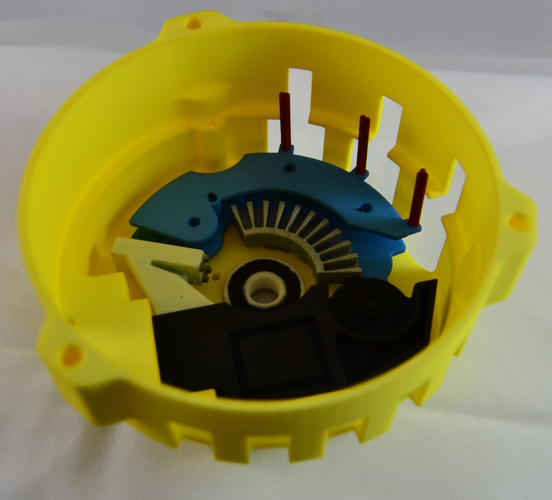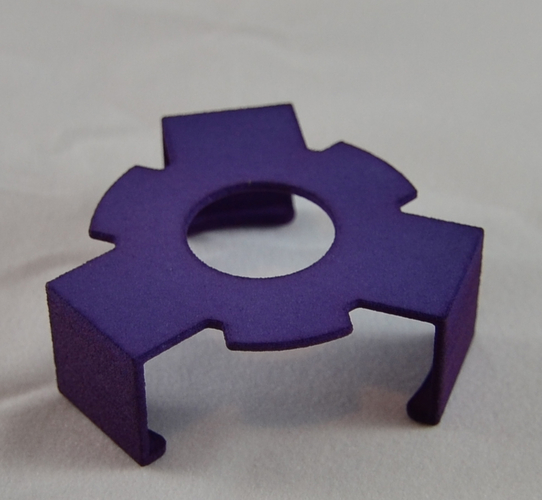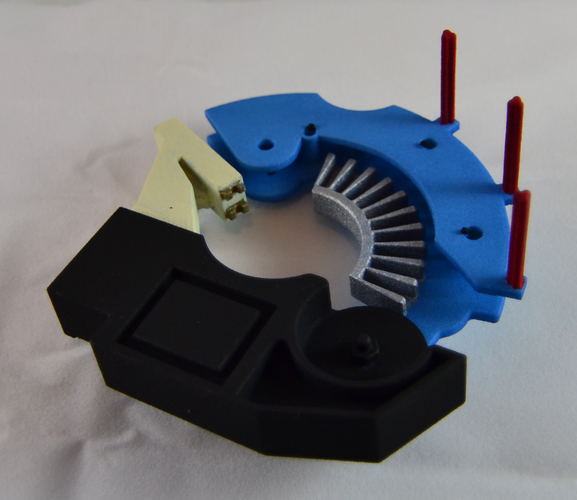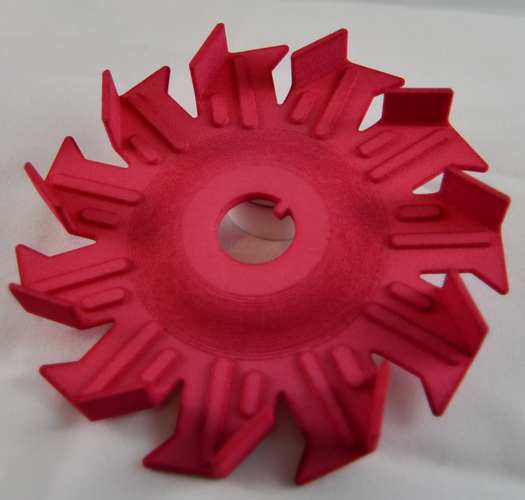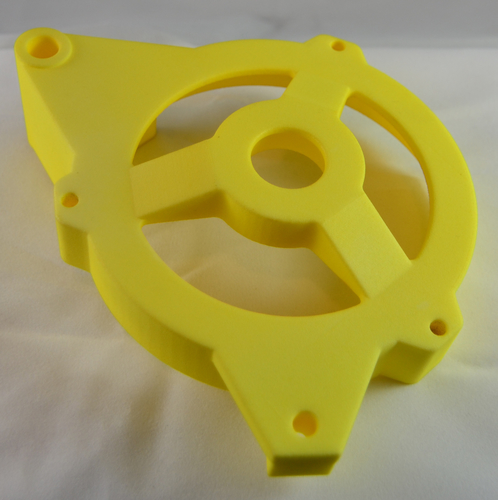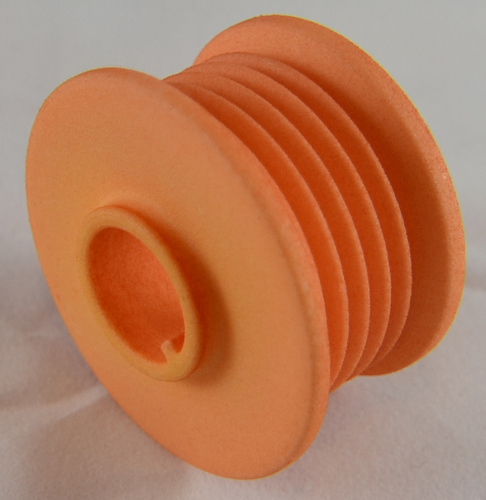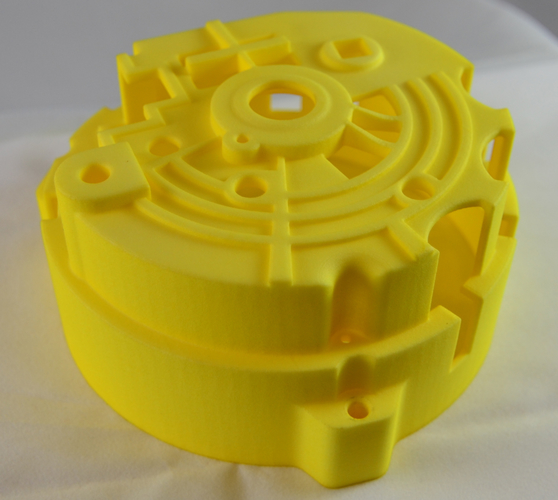 No Prints Yet

Be the first to upload a Print for this Design!
► THE EDUCATIONAL ALTERNATOR
☼ Check out the video I have done showing the Alternator being taken apart and re-assembled below! ☼
YouTube - 3D Printed Educational Alternator
This 1:1 scale alternator features over 30 pages in the lesson to help you teach your students or to follow along to teach yourself. The lesson covers all aspects both internally and externally on the Alternator. You'll have a complete understanding on how they work. You can test yourself with the included Quiz and, the documentation covers 3D printing and assembling your very own Alternator Model.
* Featured Designs of the week - Pinshape - December 1, 2017 
* Featured on Thingiverse - December 3, 2017 
* Article featuring the Alternator Project on 3DPrint.com - December 8, 2017 (https://3dprint.com/196533/chris-halliday-automotive-parts/)
------------
Are you curious how an automotive alternator works? Do you know that most vehicles on the road today have an alternator that is used to charge your vehicles battery allowing you to run your headlights, stereo and even to charge your cell phone. Alternators play a crucial role in your vehicle and I have set out and put together this comprehensive lesson to help educate our youth and anyone else curious about vehicles.
You'll find a complete document attached with this model titled, "3D Learn About - Alternator.PDF". In this document we will cover all aspects of an alternator from the inside out. Here are just a few of the topics covered in the included document:
Alternating Current to Direct Current
3-Phase Winding's
Bearings
Magnets
This automotive alternator is built to scale with only a few minor modifications to allow it to be 3D printed in the classroom. It is a Bosch alternator from a Chevrolet truck and uses only 3 bolts to help fasten it together, the rest of the alternator is completely 3D printed.
While it is great to read and learn about alternators, there is really no substitution for holding a physical part in hand and having something to look at up close. Along with the extensive lesson included, I've gone into great detail about the 3D printing aspect of the Alternator and walk you through the process of making your own alternator. This will make it a great project for your class to participate in.
The Alternator is suitable for FDM, SLA & SLS printing and has been made to fit together very well. I have included Rotor-Hollow.STL and Stator-Hollow.STL for use in SLA & SLS printing technologies. The lesson includes pertinent information relating to settings needed while 3D Printing. I'd like to thank everyone for checking out my project and I am always thrilled to hear about my projects helping to teach kids and adults all over the globe. 3D Printing is a powerful technology and education is important for our youth. Lets make learning fun!  ☺
'I love everything to do with automotive. I find engines fascinating as well as suspension systems. I have chosen some time back to take my passion for automotive and 3D printing and incorporate it with education. For me, knowing that our youth are gaining more knowledge and having fun while doing so is satisfying. Its not only our youth, but adults are also gaining more knowledge and having fun 3D printing the piece they are learning on, this includes me! This projects help to educate myself and I want to pass that along to as many people as I can.'
My other Educational Projects:
Educational Brake Caliper - https://pinshape.com/items/17891-3d-printed-educational-brake-caliper
               Brake Caliper Video - YouTube - Educational Brake Caliper
► If you would like to get a hold of me, I can be reached via my Pinshape profile HERE!
Designed By: Chris Halliday
Upload Date: November 29, 2017
CC - Attribution - Non-Commercial - Share Alike - Creative Commons
------------
Hardware I have used:
(3) M5x75mm/3" Bolts and (3) M5 Nuts 
------------
Updates:
*For future updates
This lesson plan was a submission in the Create to Educate lesson plan contest with MatterHackers, sponsored by Ultimaker
3D Learn About - Alternator.pdf
5.17 MB
Upper Bearing Retainer.stl
606 KB
Stator - Hollow.stl
9.56 MB
Rotor - Hollow.stl
4.18 MB
Fan Spacer Kit.stl
880 KB
Electronics Board.stl
3.12 MB
Alternator Housing - Back.stl
4.62 MB