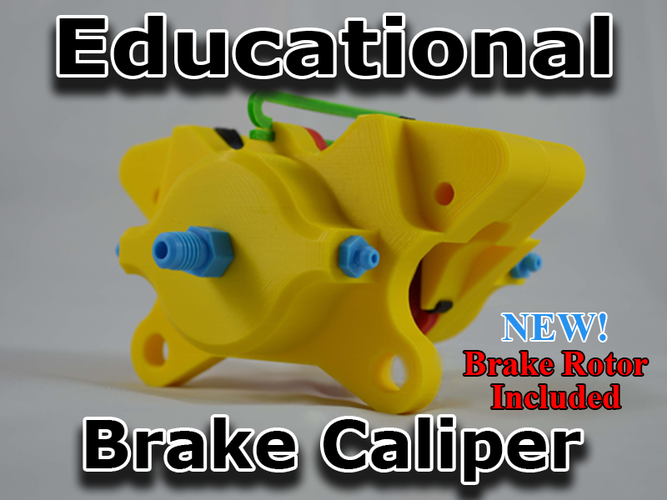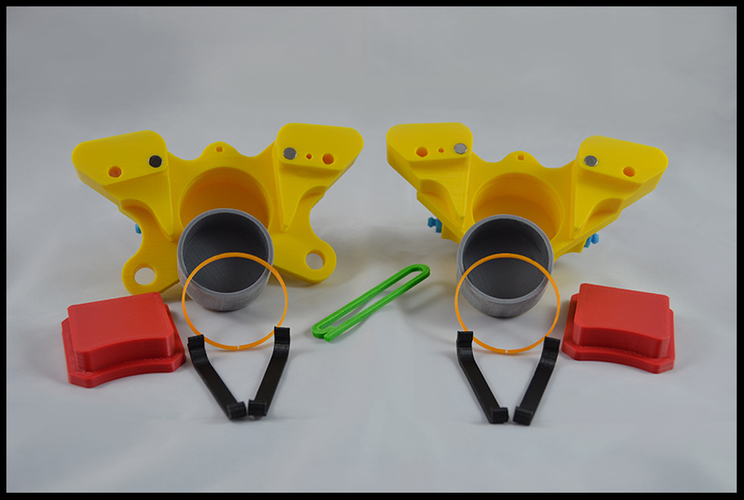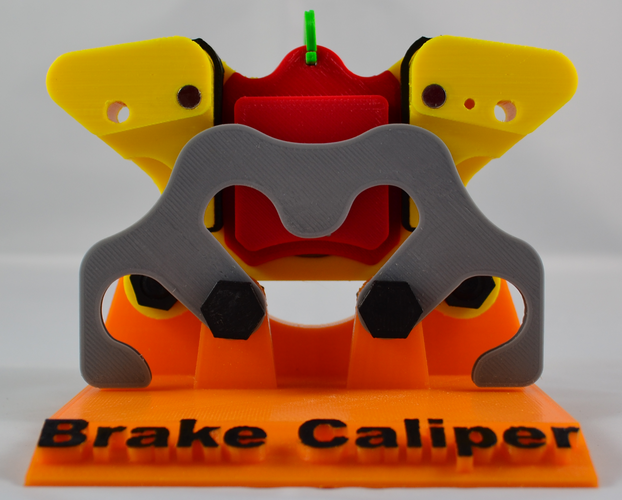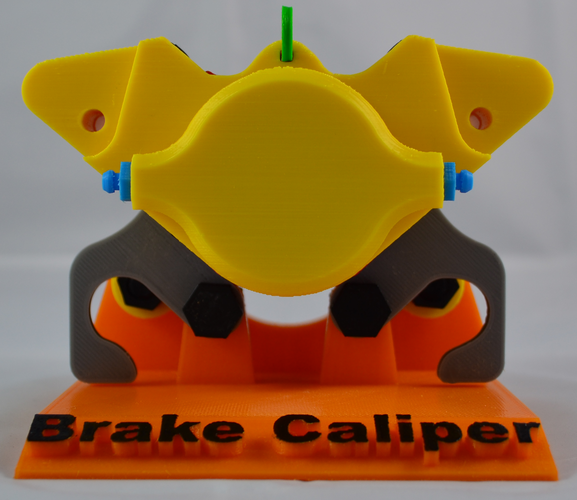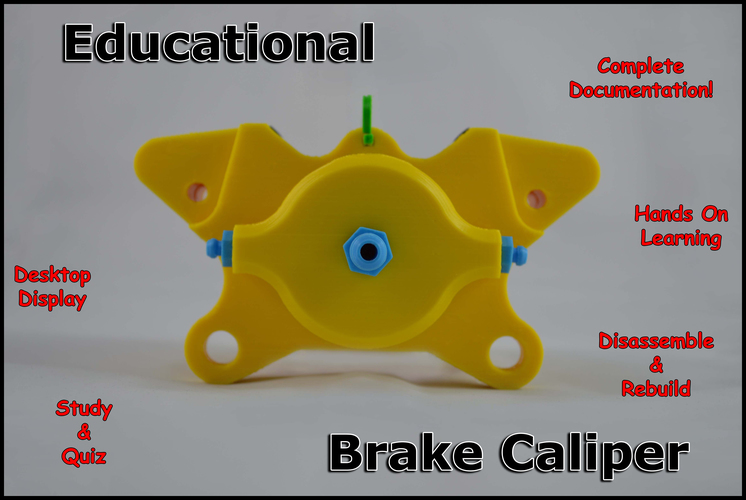 No Prints Yet

Be the first to upload a Print for this Design!
► THE EDUCATIONAL BRAKE CALIPER -
☼ Check out the video I have done showing the caliper being taken apart and re-assembled below! ☼
Caliper Disassembled & Rebuilt - YouTube
Pull it apart and put it back together! See how it works from the inside out. Complete documentation provided so you can fully understand how to orient your prints, post process, assemble and share your caliper. There is even a quiz attached if you are looking to share this with a class!
              >> NEW - April 26, 2016 - Brake rotor upgrade added to the Display Stand. Thanks everyone for the suggestions! <<
For the new Display Stand w/ Brake Rotor you will need to print the following items. 
(1) - Brake Rotor
(2) - Bolt - Brake Rotor Mount
(2) - Nut - Brake Rotor Mount
(1) - Display Stand Rotor Mounts
Note - The previous version of the Display Stand has been removed.
*Featured on Thingiverse April 8th, 2016
* The Educational Brake Caliper took 1st place in the IC3D Print Contest! - IC3D Print Contest Winners
* Featured in February 26th Staff Picks - Pinshape - Best 3D Printing Designs on Pinshape week of Feb 26th
------------
Printed with PLA & ABS!
Since the start of my obsession with 3D printing and computer aided design, Motorsports has been on my mind. The Educational Brake Caliper is my first Motorsports related design to be released to the public.
This caliper is based on a race car style brake caliper featuring quick release brake pads and dual pistons. This caliper is FULL SIZED and was modeled off of a Dwarf Car style Race Car.
Instead of uploading a somewhat complicated design to Pinshape and letting you try to figure out what you have, I've opted to include some significant documentation so that this caliper can be shown and used as a hands-on educational piece. The document can be found with the STL files and is labelled, 'EducationalBrakeCaliper-Final.pdf'. 
Along with it being based on an educational design, this caliper fits perfectly on a shelf or a desk as a display showing all of its intricacies with the included display stand.
My intent with the documentation provided will be to help you with printing, assembling, understanding, teaching and testing with this caliper. My suggestion would be to have you thumb through the document before starting this print so you have an idea on how it should go. Thank you  ☺
► If you would like to get a hold of me on this Brake Caliper, I can be reached via my Pinshape profile HERE!
Designed By: Chris Halliday
CC - Attribution - Non-Commercial - Share Alike - Creative Commons
Pinshape Design Link: https://pinshape.com/items/17891-3d-printed-educational-brake-caliper
------------
Hardware I have used:
1/4" diameter by 1/16" thick N52 magnets (4). Alternate methods are posted in the document file, EducationalBrakeCaliper-Final.pdf
------------
Updates:
26/4/2016 - The new Brake Rotor Display Stand has been added to the photo stream and file downloads. 
8/4/2016 - Thingiverse feature added
9/3/2016 - IC3D contest win added
21/02/2016 - Educational Brake Caliper files uploaded to Pinshape ☺
Caliper - Non-Mount Side.stl
586 KB
EducationalBrakeCaliper-Final.pdf
1.67 MB
Brake Fluid Inlet Feed.stl
367 KB
Caliper - Mount Side.stl
654 KB
Bolt - Brake Rotor Mount.stl
2.09 MB
Display Stand - Rotor Mounts.stl
279 KB
Nut - Brake Rotor Mount.stl
1.56 MB