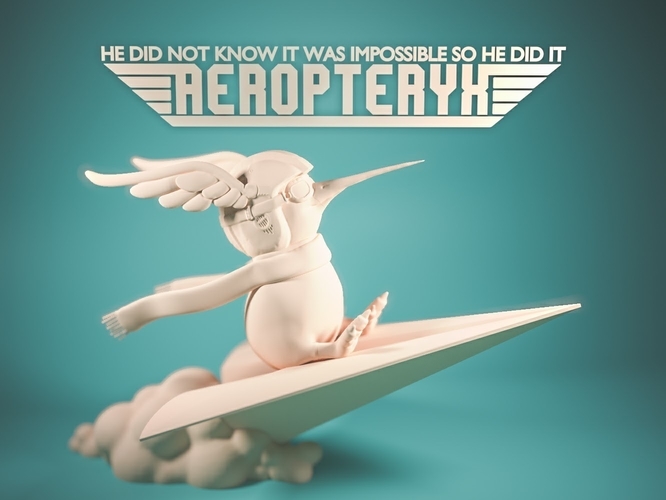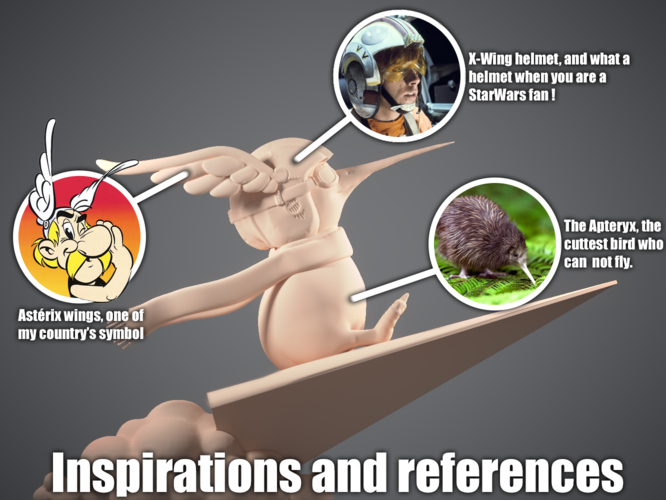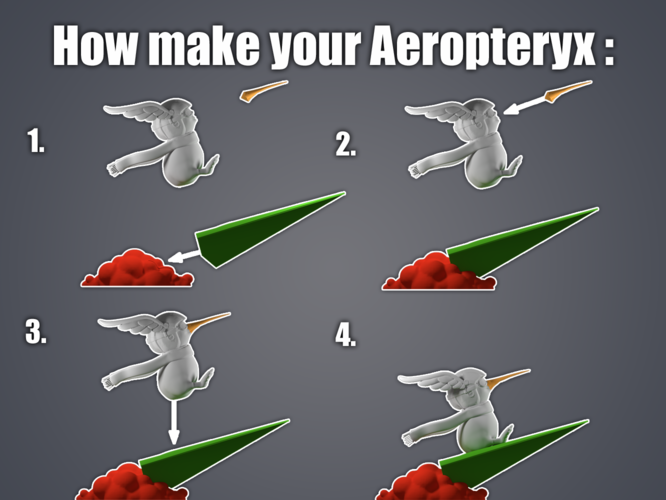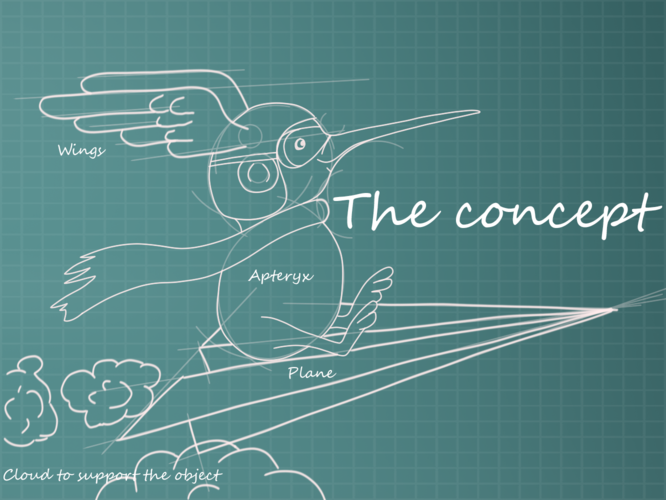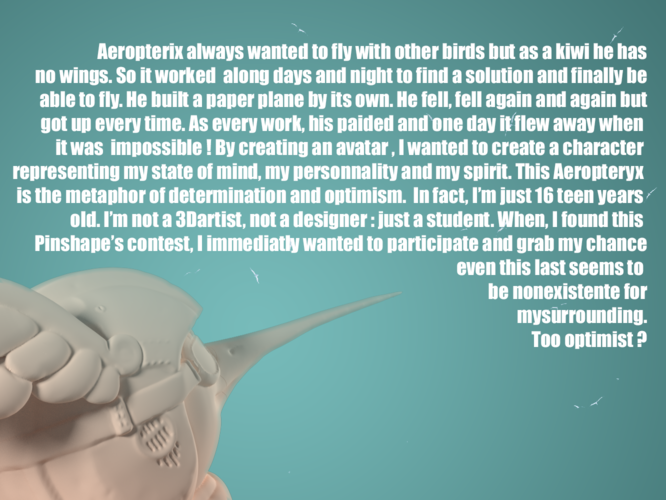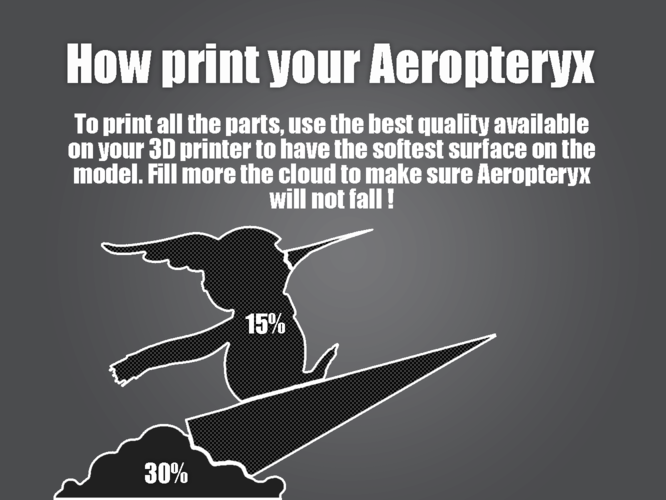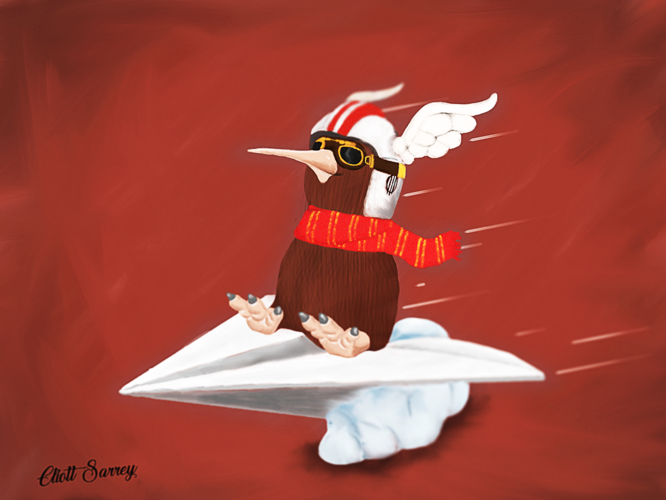 Story /English/
Aeropteryx always wanted to fly with other birds but as a kiwi he has no wings. So it worked  along days and night to find a solution and finally be able to fly. He built a paper plane by its own. He fell, fell again and again but got up every time. As every work, his paided and one day it flew away when  it was  impossible !
By creating an avatar , I wanted to create a character  representing my state of mind, my personnality and my spirit. This Aeropteryx  is the metaphor of determination and optimism.  In fact, I'm just 16 teen years  old. I'm not a 3Dartist, not a designer : just a student. When I found this  Pinshape's contest, I immediatly wanted to participate and grab my chance even this last seems to  be nonexistente for mysurrounding.
Too optimist ?
How I made it /English/
Like Aeropteryx, I worked a lot to make this model. When it wasn't perfect, I rebuild all, and yeah, I did it many times. I was determinated ! I made all this model using Blender, even if I use this soft for years, this was the first time that I "sculpted" a model. I'm more used to making mechanical models but I'm pretty proud of the result !
Réalisation /Français/
Comme Aeropteryx, j'ai beaucoup travaillé sur ce model. Quand ce c'était pas parfait, je refaisais tout, et oui, je l'ai fait beaucoup de fois ! J'était déterminé ! J'ai réalisé ce model sur blender, même si j'utilise ce logiciel depuis des années, c'était la première fois que je sculptais un model. Je suis plus accoutumé au dessin mécanique mais je suis très fier du résultat !
Histoire /Français/
Aeropteryx a toujours voulu voler avec les autres oiseaux mais c'était un kiwi et il n'avait pas d'ailes. Alors, il travailla jours et nuit pour trouver un solution et finalement être capable de voler. Il construit un avion en papier lui-même. Il tombit, tombit encore et encore mais se relevait à chaque fois. Comme tout travail, le sien paya et un jour il s'envola alors que c'était impossible !
En créant cet avatar, j'ai voulu créer un personnage qui représente mon état d'esprit, ma personnalité. Cet Aeropteryx est la métaphore de la détermination et de l'optimisme. En effet, je n'ai que 16 ans. je ne suis pas un designer 3D, juste un étudiant. Quand j'ai trouvé ce concours de Pinshape, j'ai tout de suite voulu participer et saisir ma chance même si celle-ci semblait inexistante pour mon entourage.
Trop optimiste ?
Print it /English/
I really wanted to print this model before share it but either my friends who have a 3D printer were in holydays or they had some issus with their machine and I have of course no 3D printer :(
However, I recommend you to use the best quality avalaible in your 3D printer (0.1 to 0.2 mm layer heigh) if you want to paint it and have a smooth surface and to follow this instructions :
"Bec"     > Print with support and about 10% infill
"Avion"   > Print without support and about 10% infill
"Nuage"  > Print without support and about 30% infill
"KiwiR"   > Print with support and about 10% infill
"KiwiL"   > Print with support and about 10% infill
Impression /Français/
Je voulais vraiment imprimer ce model avant de le partager mais soit mes amis qui ont une imprimante 3D était en vacances soit ils avaient des problèmes avec leur machine et je n'ai bien sûr pas d'imprimante :(
Cependant, je vous recommande d'utiliser la meilleur qualité disponible sur votre imprimante (couche de 0.1 à 0.2mm) si vous voulez le peindre et pour avoir une surface lisse et de suivre ses instructions :
"Bec"     > Imprimer avec supports et 10% de remplissage
"Avion"   > Imprimer sans supports et 10% de remplissage
"Nuage"  > Imprimer sans supports et 30% de remplissage
"KiwiR"   > Imprimer avec supports et 10% de remplissage
"KiwiL"   > Imprimer avec supports et 10% de remplissage
For people who are interested and who want to modify this model or just wanted to know how I made it, here is Google drive link with all my files.
RackMultipart20170830-2856-l6twgv.zip/KiwiL.stl
140 MB
RackMultipart20170830-62-comelt.zip/KiwiR.stl
138 MB