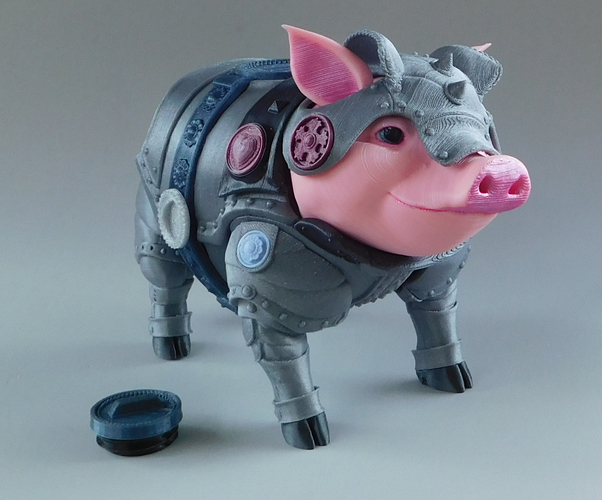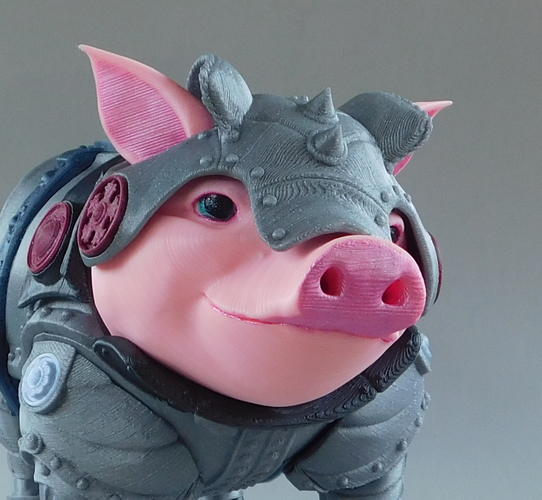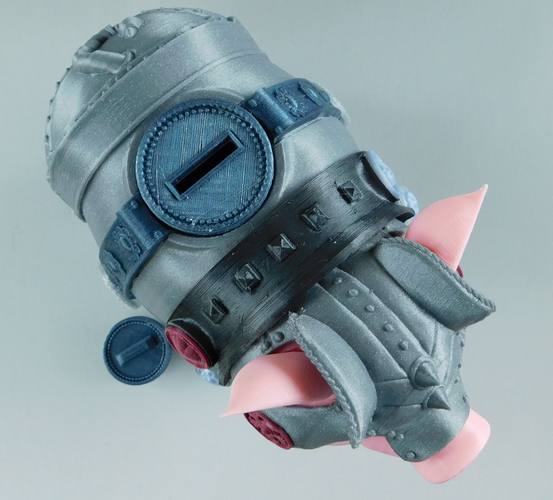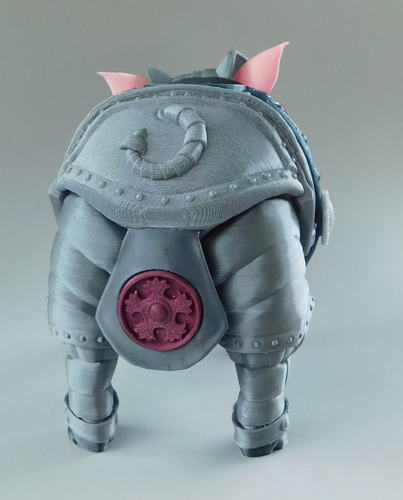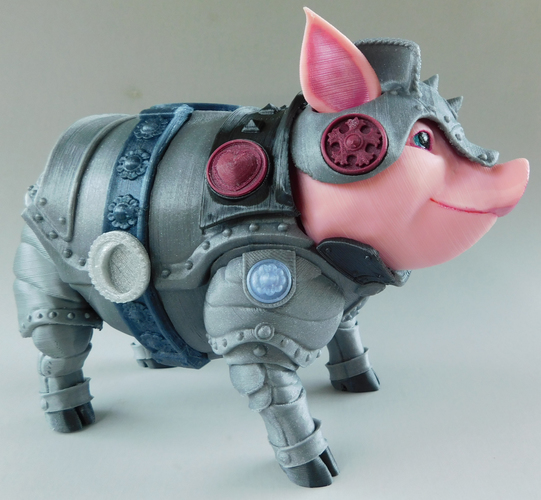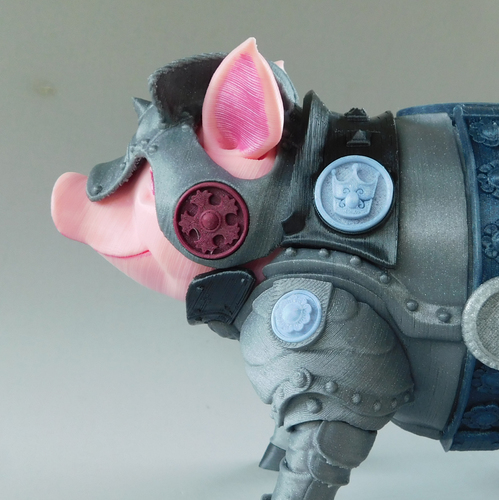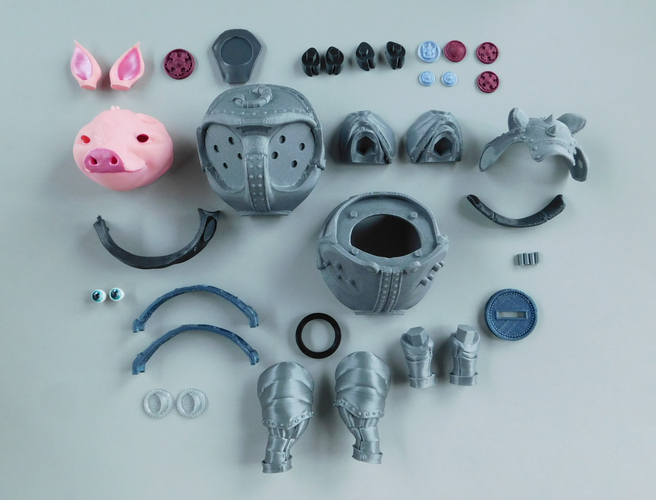 No Prints Yet

Be the first to upload a Print for this Design!
Sir Pigglesby is a multi part 3D printable piggy bank with a threaded stopper - he's about 25cm long fully assembled. The colours chosen and the painting of Sir Pigglesby are simply my recommendations and can of course be changed as wished. All of Sir Pigglesby was printed on a Prusa i3. As is the tradition with my other fantasy models, Sir Pigglesby has a little (and possibly rather silly) backstory:
"Sir Pigglesby is a brave knight who serves in the army of the Sun. He wears a magic belt given to him by a Moon princess in thanks for joining her on a quest to rescue her parents from an army of Trolls. The belt (which bears the crescent insignia of the Moon Kingdom) enables Sir Pigglesby to carry an infinite number of objects without being hampered by bulk or weight. Only the chosen wearer can release the objects and as he is a noble, honest and loyal pig, he is in great demand to transport valuable items on the most dangerous missions."
There is quite a real life story attached to the creation of Sir Pigglesby. I've not been around much this and last year (from a free downloadable model standpoint), either due to professional commitments(for the first part of the 2016) and the second part(and still ongoing), helping my Louisiana family recover from a devastating flood and the serious illness of a close family member. Due to these personal commitments, I have not taken on any new commissions, but in order to "keep my hand in" artistically speaking (and to keep up spirits), I designed this friendly and brave piggy. I imagine him as a merry little fellow who would make anyone smile even on the worst days and would protect those close to him, no matter the danger.
I give you Sir Pigglesby - I hope you enjoy printing him as much I did designing him.
This instructable will tell you what to do:
https://www.instructables.com/id/The-Assembly-of-Sir-Pigglesby/
NOTE: coin_slot_v2.stl uploaded with a 33mm x 10mm slot size. If a coin can't get through that then it's too big for Sir Pigglesby:-)
NOTE: Please also see: https://pinshape.com/items/349...
All the beautiful filament used for this print of sir Pigglesby(except for the pink used for his head) was made by Proto Pasta.
RackMultipart20170412-71-1tes7sp.zip/medal_band.stl
8.27 MB
RackMultipart20170412-71-1tes7sp.zip/peg.stl
6.14 KB
RackMultipart20170412-71-1tes7sp.zip/feet_front.stl
4 MB
RackMultipart20170412-71-1tes7sp.zip/flower_belt_left.stl
7.92 MB
RackMultipart20170412-71-1tes7sp.zip/flower_belt_right.stl
7.92 MB
RackMultipart20170412-71-1tes7sp.zip/foot_back_left.stl
1.59 MB
RackMultipart20170412-71-1tes7sp.zip/foot_back_right.stl
1.6 MB
RackMultipart20170412-71-1tes7sp.zip/leg_front_left.stl
5.13 MB
pig_head_with_eyes.stl
4.94 MB
RackMultipart20170412-71-1tes7sp.zip/pig_head_no_eyes.stl
4.93 MB
RackMultipart20170412-71-1tes7sp.zip/pig_head_with_eyes.stl
4.94 MB
RackMultipart20170412-71-1tes7sp.zip/shoulder_left.stl
5.01 MB
RackMultipart20170412-71-1tes7sp.zip/shoulder_right.stl
4.25 MB
RackMultipart20170412-71-1tes7sp.zip/heart_medal.stl
1.58 MB
RackMultipart20170412-71-1tes7sp.zip/crown_medal.stl
2.09 MB
RackMultipart20170412-71-1tes7sp.zip/threaded_body.stl
1.37 MB
RackMultipart20170412-71-1tes7sp.zip/helmet.stl
6.8 MB
RackMultipart20170412-71-1tes7sp.zip/cube.stl
684 Bytes
RackMultipart20170412-71-1tes7sp.zip/threads.stl
2.52 MB
RackMultipart20170412-71-1tes7sp.zip/eye.stl
875 KB
RackMultipart20170412-71-1tes7sp.zip/ear_left.stl
1.74 MB
RackMultipart20170412-71-1tes7sp.zip/coin_slot.stl
1.35 MB
RackMultipart20170412-71-1tes7sp.zip/armour_back.stl
12.9 MB
RackMultipart20170412-71-1tes7sp.zip/ear_right.stl
1.75 MB
RackMultipart20170412-71-1tes7sp.zip/coin_stopper.stl
6.51 MB
RackMultipart20170412-71-1tes7sp.zip/collar.stl
3.39 MB
RackMultipart20170412-71-1tes7sp.zip/epaulette_flower.stl
3.96 MB
RackMultipart20170412-71-1tes7sp.zip/crescent_medal.stl
5.67 MB
RackMultipart20170412-71-1tes7sp.zip/armour_front.stl
12.8 MB
RackMultipart20170412-71-1tes7sp.zip/back_flag.stl
3.04 MB
RackMultipart20170412-71-1tes7sp.zip/sunburst_back_flag_medal.stl
1.27 MB
RackMultipart20170412-71-1tes7sp.zip/sunburst_helmet_medal.stl
2.56 MB
RackMultipart20170412-71-1tes7sp.zip/leg_back_left.stl
5.63 MB
RackMultipart20170412-71-1tes7sp.zip/leg_back_right.stl
5.64 MB
RackMultipart20170412-71-1tes7sp.zip/leg_front_right.stl
5.32 MB
leg_front_left_v2.stl
3.74 MB
leg_front_right_v2.stl
3.04 MB
medal_band_v2.stl
8.28 MB