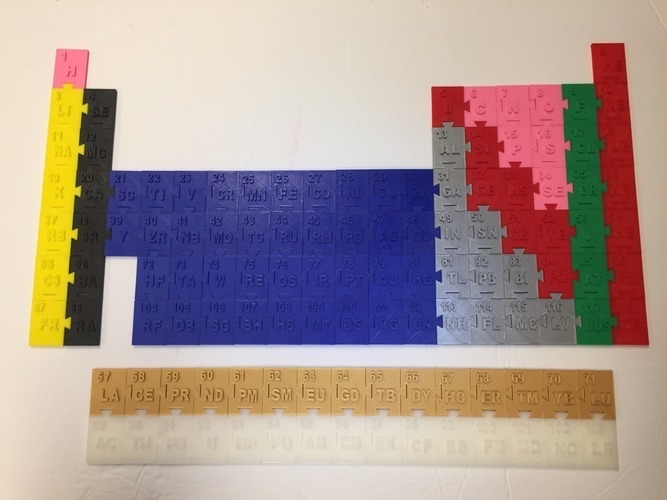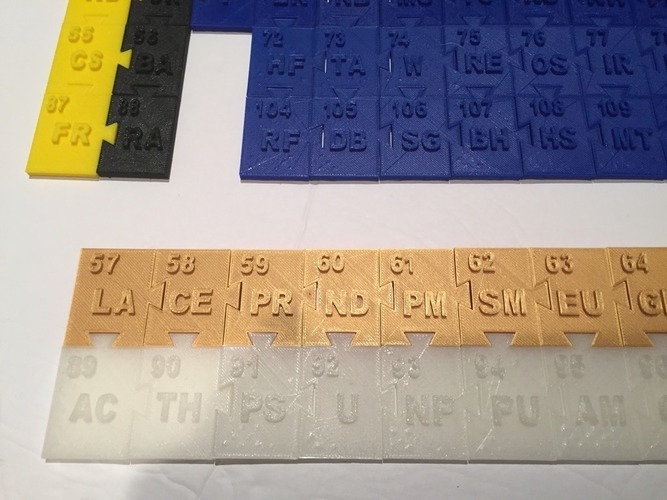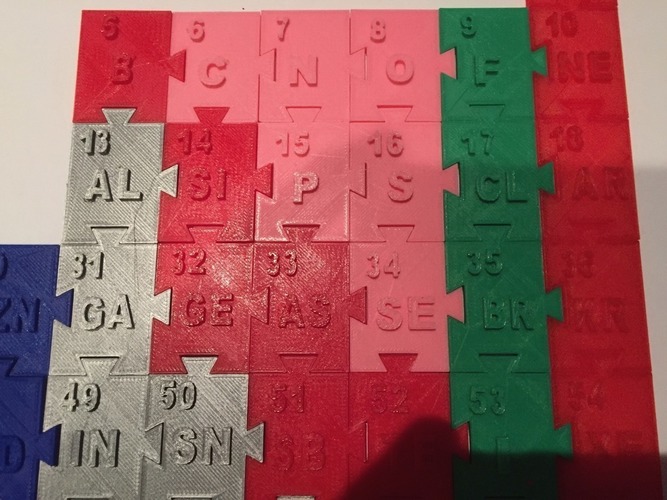 Summary This is a periodic table puzzle that I designed for my daughter who loves science. It took awhile to create all of the pieces but it is finally complete. I created this using Tinkercad so all of the letters are capitalized.
I separated the pieces into the different element groups so you can print them in different colors as I did. This makes it easier for kids to figure out where the pieces go.
The individual pieces are 36mm X 46mm.  The following post explains how I made the periodic table: http://3ddash.blogspot.com/201... The pieces are very simple to print so any printer should be able to handle them. I printed this with the Monoprice Maker Select Ultimate printer (http://3ddash.blogspot.com/2017/04/about-year-and-half-ago-i-purchased-my.html).
elements_noble_gases.stl
206 KB
elements_semimetals.stl
236 KB
elements_alkali_metals.stl
167 KB
elements-lanthanide_2.stl
174 KB
elements-lanthanide_1.stl
288 KB
elements_transition_metals_4.stl
309 KB
elements_transition_metals_3.stl
232 KB
elements_transition_metals_2.stl
271 KB
elements_transition_metals_1.stl
306 KB
elements_actinoids_2.stl
195 KB
elements_actinoids_1.stl
294 KB
elements-halogens.stl
169 KB
elements_nonmetals.stl
146 KB
elements-alkaline-earth.stl
199 KB
elements_basicmetals.stl
323 KB