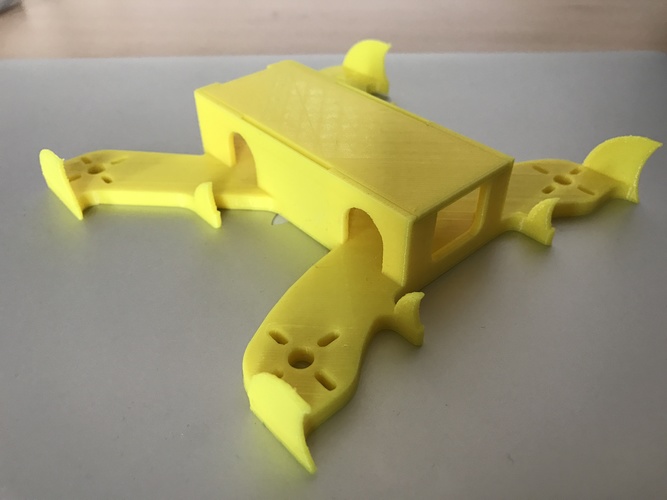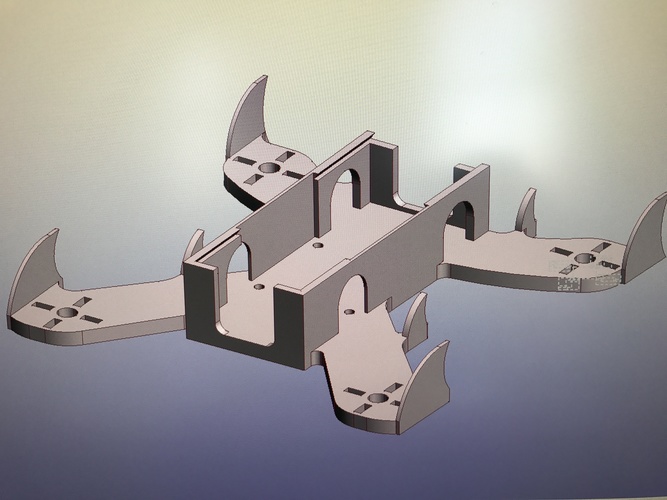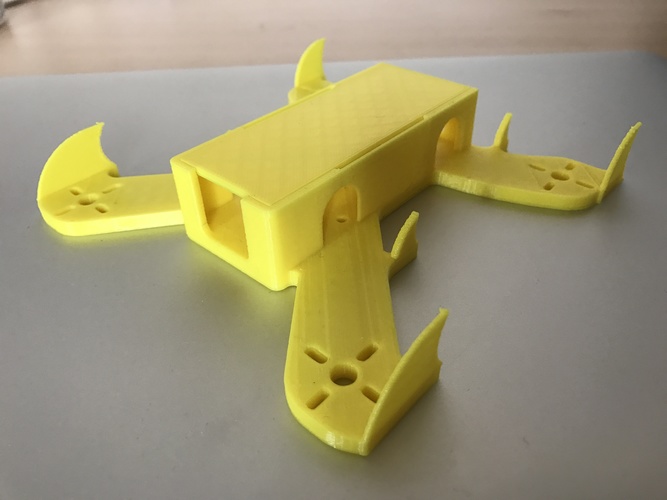 This is a quadcopter frame design with a few key features that make this rather interesting. 
The Frame
This frame has a number of aerodynamical winglets that help to provide directional stability to the frame. This was inspired from Formula 1 cars. Although the effects may be negligible it certainly helps to make this frame one of the most aggressive and extreme around. It will certainly turn heads. 
However, the outer winglets also provide protection to the motors. In a heavy crash, it is these winglets that are most likely to suffer rather than your expensive motors. 
The fuselage of this quad is designed with protection in mind. Standard flight control boards will fit and there is ample space for all other electronics. However, the whole body is incased in plastic and there is a lid that slides onto the top of the frame thus making the important electronics completely incased in plastic. This also adds rigidity to the frame. With the base of it being 4.5mm thick it is going to survive a great deal of punishment. 
Printing
This frame will print easily with all printers. We printed this in Yellow PLA which is available from 3DEX. However, this frame would also print well in ABS or another material such as PETG. We didn't use any supports and used a nozzle temperature of 190 and a bed temperature of 70. 
To ensure high strength it may be best to increase infill to 20% and wall thickness to twice the size of your nozzle. The overall weight of the frame is still less than a full carbon frame.
Flying
We are currently in the process of setting up our quadcopter with the electronics which we have bought from Hobbyking. However, please visit our website or social media profiles to see how we get on with the flying. We can't wait! Facebook Twitter
About Us
3DEX is a trusted 3d printing materials supplier based in the UK. We sell high quality filament that we know you will love. Please see our full catalogue. We also love to design 3D printable things. Since we love FPV racing we design a lot of things to do with quads and RC. Please follow us to learn more.