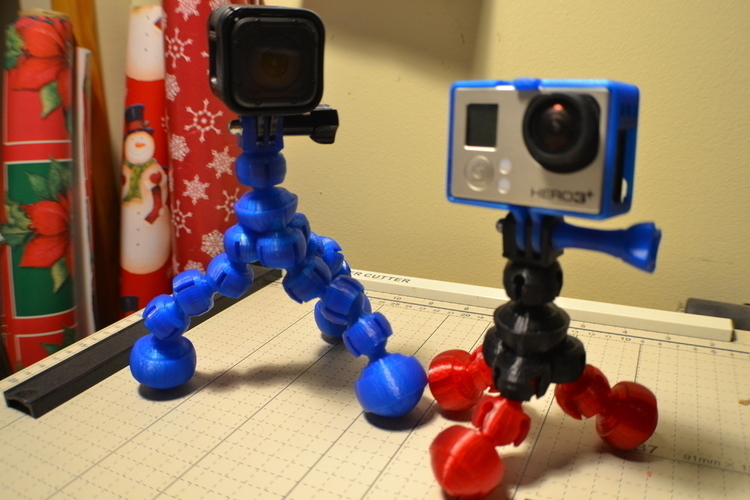 No Prints Yet

Be the first to upload a Print for this Design!
Updated 12/10/16 See Notes at Bottom
Flexible bubble ball joint tripod for action cameras that use the common gopro style mounting platform works with all gopro hero model cameras & session, sjcam, xiaomi yi, and other clone cameras.
The M5 acorn nut that can be purchased at any hardware store or you can buy a few here on amazon prime here for cheap http://amzn.to/2haU1Jw
This uses the standard M5 GoPro style mount thumb screws.
I separated each part into individual files, so you can group the build as needed for your printer bed, and so you can set the leg section count.
Print: 1x tripod top (Updated 12/8/16) 1x tripod 3x leg sections minimum (Just print more leg sections for longer legs, print in other colors to mix it up!) 3x feet 
Snap together you and got a cool Ball-Joint Bubble Tripod that works with the gopro style mounting platform!
*12/17/16 I added a 2nd file for the Feet "Tripod Foot Updated EASY.stl" this can be a some what hard print for some printers so i made the easy foot model with a flat bottom so that its less likely to become separated from the build surface while printing, even with a raft it some was easy to become detached from the raft while printing. This will keep that from happening and you can print with out a raft or brim. I am leaving both files so you have your choice of foot. 
*Update 12/10/16 Updated all files corrected all mesh separation issues. I also made other mostly cosmetic changes to the tripod top.This design is a little more sound. Acorn nut bore is tight so that the nut stays in place with out the bolt. I install the nut in the bore using the screw first install any 2 fork end mount as if mounting the camera (so you don't break the ears), and use the screw to pull the nut into the bore. 
Tripod Top Updated.stl
263 KB
Tripod Foot Updated.stl
776 KB
Tripod Foot Updated EASY.stl
321 KB
Leg Sement Updated.stl
192 KB
Tripod Updated.stl
1.07 MB