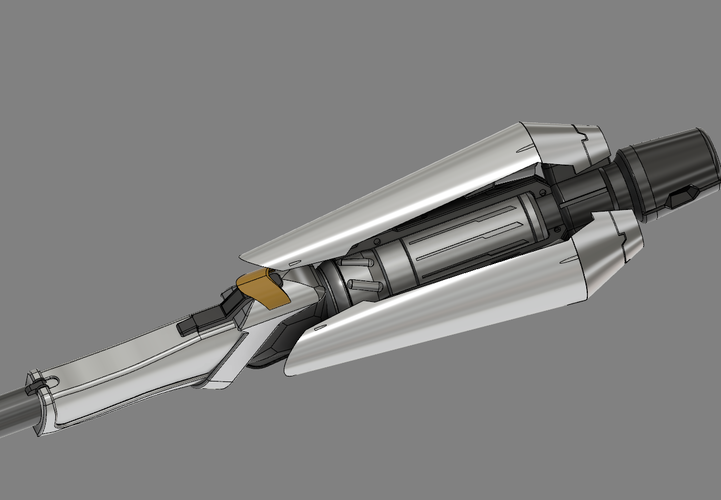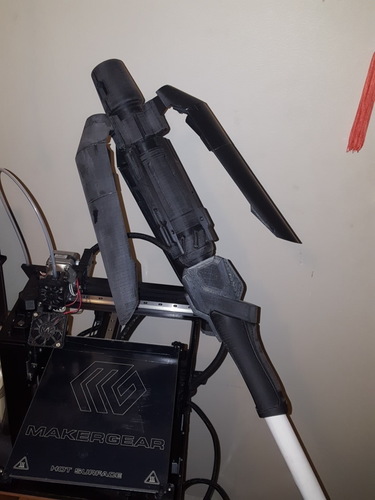 No Prints Yet

Be the first to upload a Print for this Design!
This staff is designed to be attached to a 1" PVC pipe. This allows it to be scaled to the user's height.  The design does require some support but has been slice to minimize it.  Wing connector Open and Wing Connector Closed are used to hold the wings in either open or closed formation depending on how you want to build the prop.
Print the following files.
Barrel Support A x 1 Barrel Support B x 3 Barrel x 2 Bottom Tip Base A x 1 Bottom Tip Base B x 1 Bottom Tip Cap x 2 Grip Front A x 1 Grip Front B x 1 GRip Front Tab A x 1 Grip front Tab B x 1 Grip Middle Tab A x 1 Grip Middle Tab B x 1 Grip Rear A x 1 Grip Rear B x 1 Grip Rear Tab x 2 Tip Topper x 2 Wing Connector Base x 1 Wing Slice A x 3 Wing Slice B x 3 Wing Slice C x 3 Wing Slice D x 3 Wing Connector Closed x 3 Wing Connector Open x 3
Wing Connector Base.stl
3.01 MB
Wing Connector Open.stl
4.14 KB
Grip Front Tab B.stl
488 KB
Grip Middle Tab A.stl
424 KB
Wing Connector Closed.stl
42.4 KB
Barrel Support A.stl
763 KB
Grip Middle Tab B.stl
419 KB
Barrel Support B.stl
1.78 MB
Bottom Tip Base A.stl
1.56 MB
Bottom Tip Base B.stl
1.5 MB
Bottom Tip Cap.stl
4.27 MB
Grip Front Tab A.stl
491 KB