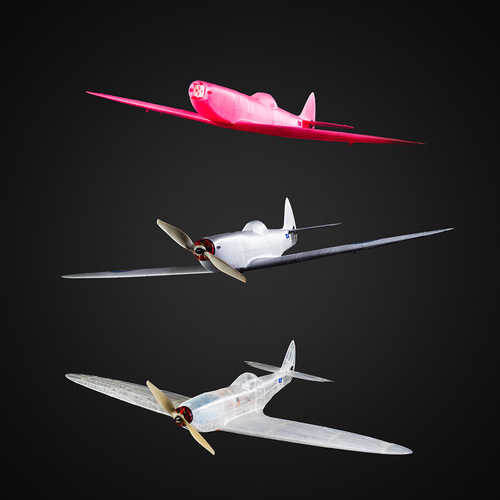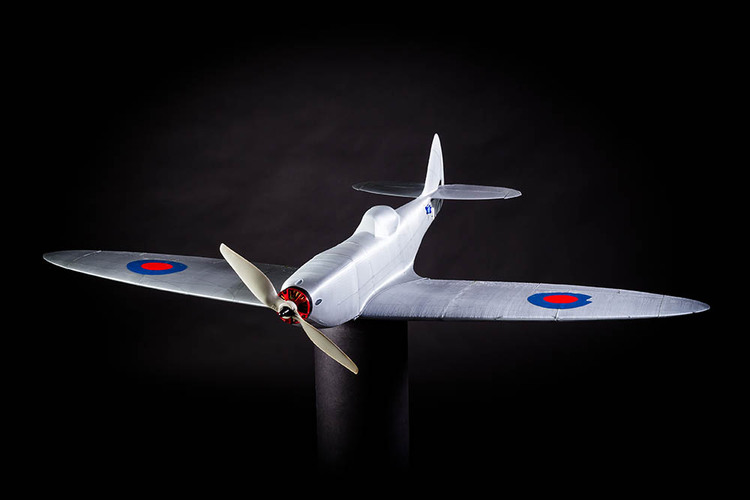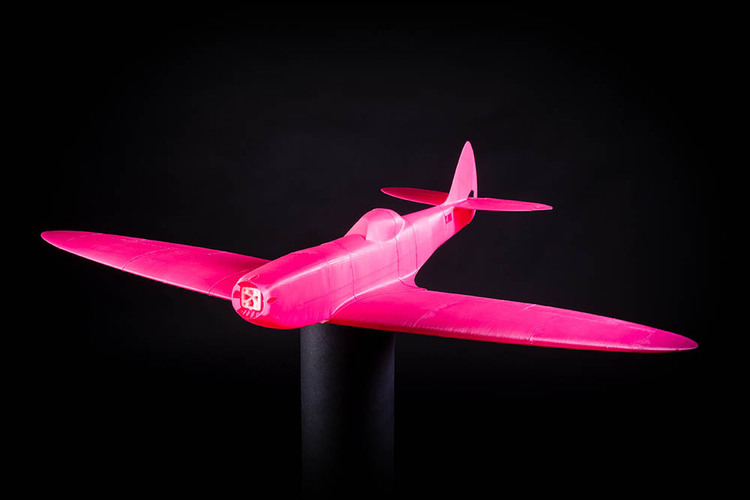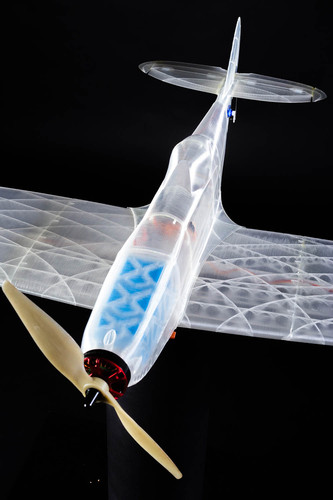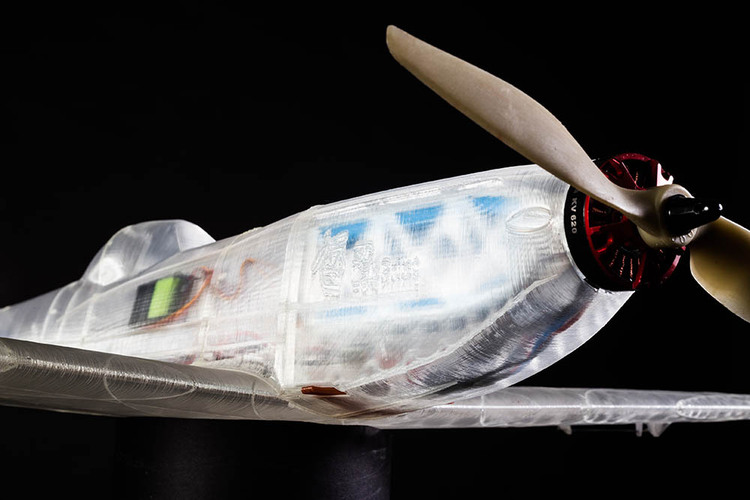 Supermarine Spitfire Mk XVI – fully printable R/C plane for your home 3D printer
Future of flying - Print your own plane
 PDF/VIDEO guide : http://download.cgarch.cz/userguide_spitMkXVIver12.pdf
please for live information : http://www.facebook.com/3dlabprintface
Included:
STL files
Accessories STL scale pack (decoration only)
PDF/VIDEO user guide
Tech support (refer to userguide)
The first fully printable airplane with suitable files prepared for your 3D printer. Flight characteristics are comparable or even better than classic model airplanes. Simply download and then print it anytime you need only for $10 (filament cost). Both the wings and the fuselage feature extensive high-tech, 3d structural reinforcement which makes the model very rigid while still maintaining a lightweight airframe and exact airfoil even when it is made only from plastic. This perfect and exact 3d structure is possible only due to additive 3d printing technology. So welcome to the 21th century of model flying. Be the first at your airfield with this new technology. Of course we comply with the ACES air combat rules.
Easy to assembly, you do not need any extra tool or hardware, you only need to glue printed parts together. The rest of the assembly is very easy. Simply add brushless motor, ESC, servos and radio system. Don´t worry, a detailed step by step PDF/VIDEO is included. You will get superb performance airplane with high power efficiency which will let you fly 7+ minutes at full throttle while exceeding 150 kph. On the other hand low stall speed is achieved for easy landing.
SpitfireMkXVI ver12.zip/SpitfireMkXVI ver1.2_STL/wing_right/wingR_1.STL
1.17 MB
SpitfireMkXVI ver12.zip/SpitfireMkXVI ver1.2_STL/wing_left/wingL_1.STL
1.17 MB
SpitfireMkXVI ver12.zip/SpitfireMkXVI ver1.2_STL/ailerons_etc/stabilizer_L.STL
383 KB
SpitfireMkXVI ver12.zip/SpitfireMkXVI ver1.2_STL/ailerons_etc/elevator_R.STL
44.4 KB
SpitfireMkXVI ver12.zip/SpitfireMkXVI ver1.2_STL/ailerons_etc/aileron_R.STL
350 KB
SpitfireMkXVI ver12.zip/accesories/stand_L.STL
284 KB
SpitfireMkXVI ver12.zip/accesories/prop_blade_5x.STL
379 KB
SpitfireMkXVI ver12.zip/accesories/mount.STL
28.6 KB
SpitfireMkXVI ver12.zip/accesories/spinner.STL
257 KB
SpitfireMkXVI ver12.zip/accesories/stand_R.STL
284 KB
SpitfireMkXVI ver12.zip/SpitfireMkXVI ver1.2_STL/ailerons_etc/aileron_L.STL
350 KB
SpitfireMkXVI ver12.zip/SpitfireMkXVI ver1.2_STL/ailerons_etc/aileron_Ltip.STL
159 KB
SpitfireMkXVI ver12.zip/SpitfireMkXVI ver1.2_STL/ailerons_etc/aileron_Rtip.STL
156 KB
SpitfireMkXVI ver12.zip/SpitfireMkXVI ver1.2_STL/ailerons_etc/elevator_L.STL
120 KB
SpitfireMkXVI ver12.zip/SpitfireMkXVI ver1.2_STL/ailerons_etc/elevator_Ltip.STL
85.7 KB
SpitfireMkXVI ver12.zip/SpitfireMkXVI ver1.2_STL/ailerons_etc/elevator_Rtip.STL
85.7 KB
SpitfireMkXVI ver12.zip/SpitfireMkXVI ver1.2_STL/ailerons_etc/motor_mount.STL
62.2 KB
SpitfireMkXVI ver12.zip/SpitfireMkXVI ver1.2_STL/ailerons_etc/peg.STL
10.3 KB
SpitfireMkXVI ver12.zip/SpitfireMkXVI ver1.2_STL/ailerons_etc/stabilizer_R.STL
383 KB
SpitfireMkXVI ver12.zip/SpitfireMkXVI ver1.2_STL/fuselage_part_1/fuselage_1.STL
2.69 MB
SpitfireMkXVI ver12.zip/SpitfireMkXVI ver1.2_STL/fuselage_part_1/fuselage_2.STL
866 KB
SpitfireMkXVI ver12.zip/SpitfireMkXVI ver1.2_STL/fuselage_part_1/fuselage_3.STL
1.15 MB
SpitfireMkXVI ver12.zip/SpitfireMkXVI ver1.2_STL/fuselage_part_2/fuselage_4.STL
517 KB
SpitfireMkXVI ver12.zip/SpitfireMkXVI ver1.2_STL/fuselage_part_2/fuselage_5.STL
242 KB
SpitfireMkXVI ver12.zip/SpitfireMkXVI ver1.2_STL/fuselage_part_2/fuselage_6.STL
1.67 MB
SpitfireMkXVI ver12.zip/SpitfireMkXVI ver1.2_STL/fuselage_part_2/fuselage_7.STL
386 KB
SpitfireMkXVI ver12.zip/SpitfireMkXVI ver1.2_STL/wing_left/wingL_2.STL
1.19 MB
SpitfireMkXVI ver12.zip/SpitfireMkXVI ver1.2_STL/wing_left/wingL_3.STL
784 KB
SpitfireMkXVI ver12.zip/SpitfireMkXVI ver1.2_STL/wing_left/wingL_4.STL
925 KB
SpitfireMkXVI ver12.zip/SpitfireMkXVI ver1.2_STL/wing_right/wingR_2.STL
1.19 MB
SpitfireMkXVI ver12.zip/SpitfireMkXVI ver1.2_STL/wing_right/wingR_3.STL
784 KB
SpitfireMkXVI ver12.zip/SpitfireMkXVI ver1.2_STL/wing_right/wingR_4.STL
925 KB