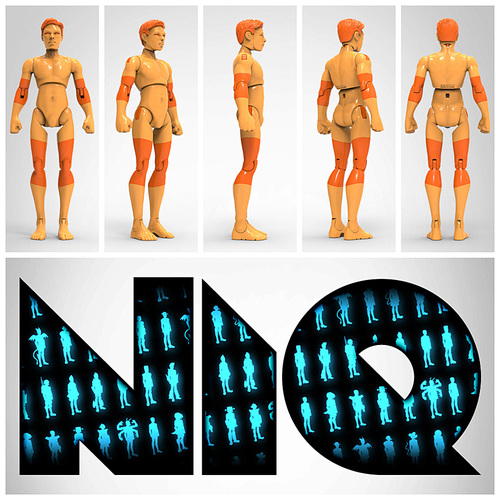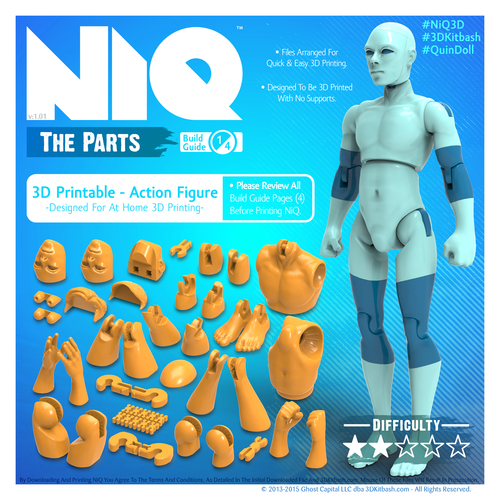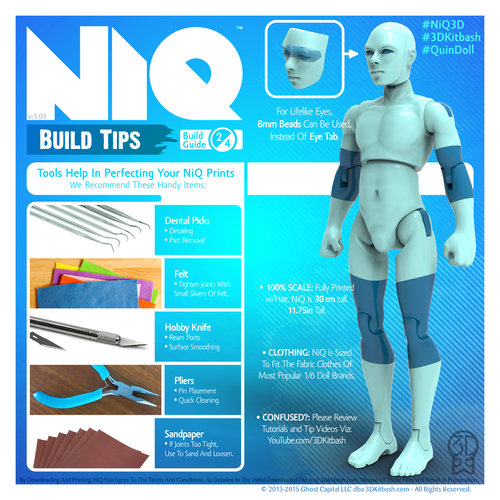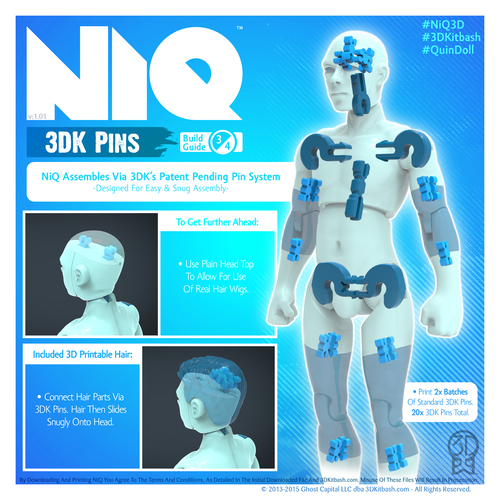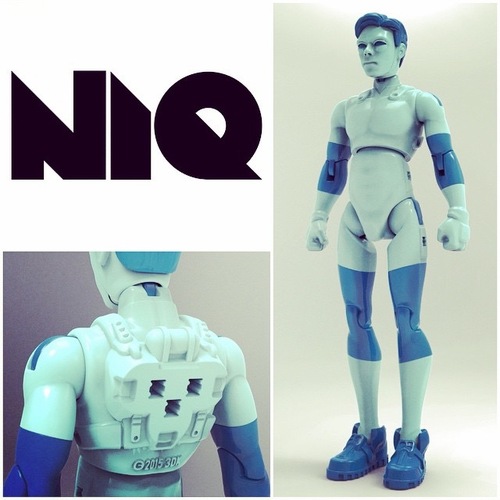 No Prints Yet

Be the first to upload a Print for this Design!
NiQ, the 3D-printable action figure, is articulated and pose-able and stands 11.5" (292 mm) tall. He prints in thirty parts that snap together using 3DKitbash's 3D-printable pin system. He's designed to print support-free and no glue is needed.
NiQ has these articulated features: head, shoulders, chest, hips, elbows, knees, and ankles.
NiQ's head is designed for insertion of either pre-manufactured 8 mm doll eyes or beads (not included) or 3D-printable eyes (3D model of eyes included).  You can customize NiQ with 3D-printable accessories that are coming soon on www.3DKitbash.com. You can also find NiQ's sister, Quin, the 3D-printable explorer from the planet Filamento, on 3DKitbash.com.  By downloading NiQ, you agree to the terms of 3DKitbash's license agreement. Click HERE to see the terms of use.
NiQ_Foot_3DKitbash.stl
4.38 MB
NiQ Hair Undercut1 - Front.stl
2.69 MB
NiQ Hair Undercut1 - Back.stl
2.31 MB
3DKPin_10Up_3DKitbash.stl
6.02 MB
NiQ_Chest_Pin_3DKitbash.stl
1 MB
NiQ_Hip_Pin_3DKitbash.stl
749 KB
NiQ_Neck_Pin_3DKitbash.stl
685 KB
NiQ_Shoulder_Pin_3DKitbash.stl
1.79 MB
NiQ_Leg_Upper_3DKitbash.stl
2.28 MB
NiQ_Leg_Lower_3DKitbash.stl
1.94 MB
NiQ_Knee_Upper_3DKitbash.stl
1.72 MB
NiQ_Knee_Lower_3DKitbash.stl
1.39 MB
NiQ_Head_TOP_3DKitbash.stl
1.31 MB
NiQ_Head_Face_Supports_3DKitbash.stl
3.06 MB
NiQ_Head_Face_NoSupports_3DKitbash.stl
2.99 MB
NiQ_Head_BACK_3DKitbash.stl
2.36 MB
NiQ_Hand_Open1_3DKitbash.stl
1.91 MB
NiQ_Hand_Fist1_3DKitbash.stl
2 MB
NiQ_Eyes_Pupil1_3DKitbash.stl
400 KB
NiQ_Eyes_Blank1_3DKitbash.stl
396 KB
NiQ_Elbow_Upper_3DKitbash.stl
1.23 MB
NiQ_Elbow_Lower_3DKitbash.stl
1.3 MB
NiQ_Chest_3DKitbash.stl
7.86 MB
NiQ_Arm_Upper_Shoulder_3DKitbash.stl
1.96 MB
NiQ_Abdomen_3DKitbash.stl
4.1 MB