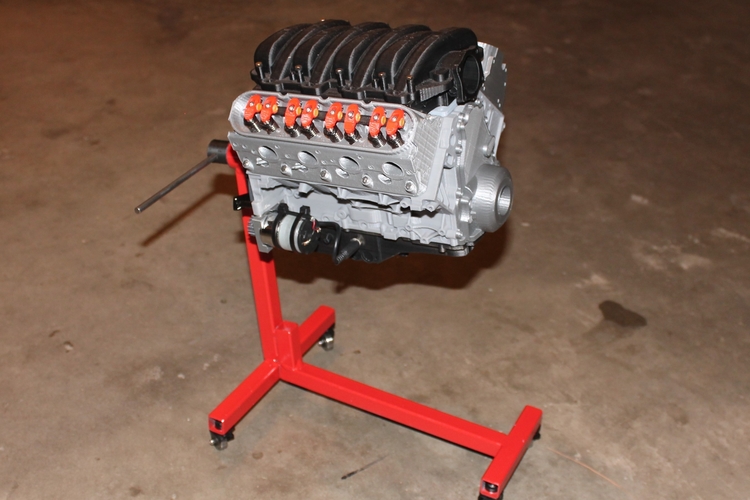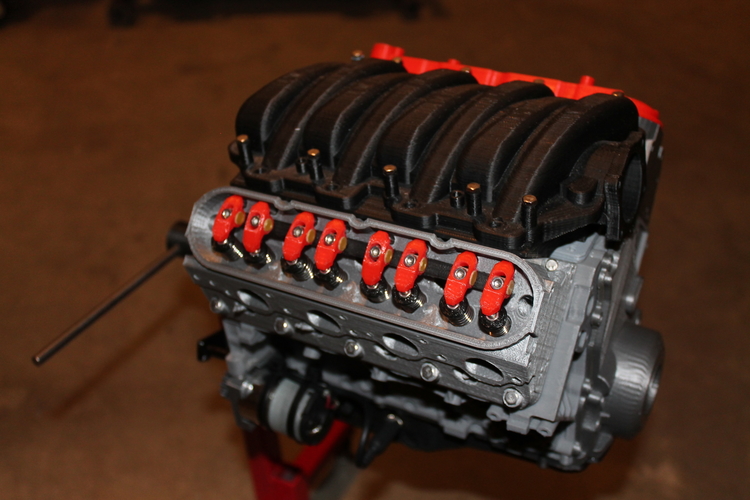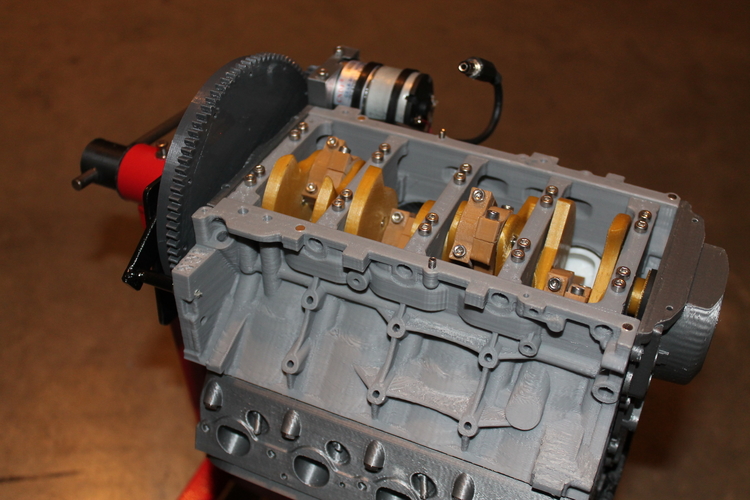 No Prints Yet

Be the first to upload a Print for this Design!
Working model of a Chevy Camaro LS3 V8 engine.
Over 200 hours of printing!!! Engine block alone was 72 hours. Modeled from cad files, pictures, specs, and service diagrams of the engine. I did not have the actual engine for this one. It assembles just like the real thing!!!
Complete hardware kits available. They include all Non-Printed parts.
https://www.makerrx.com/products/mrx1
Kits include all non printed parts, 500 rpm dc motor, speed controller, power connectors, and DC power supply.
Camshaft_Lobe_16_Scaled.stl
44.7 KB
Cam_Bearing_Surface_1_-_Scaled.stl
30.4 KB
Cam_Bearing_Surface_2_Scaled.stl
37.2 KB
Cam_Bearing_Surface_3_Scaled.stl
31.3 KB
Camshaft_Lobe_1_Scaled.stl
29.5 KB
Camshaft_Lobe_10_Scaled.stl
46.5 KB
Camshaft_Lobe_13_Scaled.stl
53.1 KB
Piston_-_Scaled.stl
147 KB
Engine_Block_-_2_-_Scaled.stl
18.9 MB
Engine_Block_-_Scaled.stl
18.8 MB
Exhuast_Valve_2_Scaled.stl
126 KB
Flywheel_drive_teeth_-_Scaled.stl
791 KB
Rear_Main_spacer_-_Scaled.stl
29.8 KB
Camshaft_Lobe_3_Scaled.stl
51.2 KB
Cam_Gear_-_Scaled.stl
153 KB
Camshaft_Lobe_8_Scaled.stl
58.8 KB
Camshaft_Lobe_14_Scaled.stl
32.2 KB
Camshaft_Lobe_6_Scaled.stl
43.5 KB
Camshaft_Lobe_7_Scaled.stl
28.9 KB
Camshaft_Lobe_11_Scaled.stl
29.9 KB
Camshaft_Lobe_9_Scaled.stl
43.7 KB
Camshaft_Lobe_12_Scaled.stl
41.8 KB
Camshaft_Lobe_4_Scaled.stl
31 KB
Camshaft_Lobe_5_Scaled.stl
41.6 KB
Chevy_LS3_Assembly_Instructions_06252019.pdf
9.52 MB
Crankshaft_5_-_Scaled.stl
215 KB
Crankshaft_3_-_Scaled.stl
289 KB
Crankshaft_4_-_Scaled.stl
204 KB
Crankshaft_6_-_Scaled.stl
338 KB
LS3_Header_-_Passenger_Side_2_-_Scaled.stl
1.68 MB
Main_Bearing_Cap_2_-_Scaled.stl
255 KB
Lifter_Scaled.stl
81.1 KB
Intake_Manifold_Scaled.stl
4.72 MB
Main_Bearing_Cap_1_-_Scaled.stl
268 KB
LS3_Header_-_Driver_Side_-_Scaled.stl
1.68 MB
Intake_Valve_2_Scaled.stl
137 KB
Oil_Pan_-_Oil_Pan_Scaled.stl
847 KB
Lifter_Guide_Scaled.stl
78.2 KB
Vave_Cover_Drivers_Side_scaled.stl
3.74 MB
Rear_Main_Cover_-_Scaled.stl
488 KB
Timing_Cover_-_Scaled.stl
906 KB
Valve_Cover_Passenger_Side_Scaled.stl
2.94 MB
Valley_Plate_-_Scaled.stl
199 KB
Timing_Chain_Tensioner_Scaled.stl
15.3 KB
Camshaft_Lobe_2_Scaled.stl
40.6 KB
Crankshaft_7_-_Scaled.stl
317 KB
Crankshaft_8_-_Scaled.stl
355 KB
Crankshaft_space_1_-_Scaled.stl
17.5 KB
Crankshaft_Output_Flange_-_Scaled.stl
148 KB
Cylinder_Head_-_Scaled.stl
5.65 MB
Connecting_Rod_-_Scaled.stl
60.2 KB
Connecting_Rod_Bearing_Cap_-_Scaled.stl
28.6 KB
Crank_Gear_-_Scaled.stl
125 KB
Crankshaft_1_-Scaled.stl
289 KB
Crankshaft_2_-_Scaled.stl
307 KB
rocker_arm_pin_Scaled.stl
32.3 KB
Camshaft_Lobe_15_Scaled.stl
42 KB
Starter_Mount_-_Scaled.stl
59.7 KB
Rocker_Arm_scaled.stl
50 KB
Rocker_Rail_Scaled.stl
117 KB
Spring_Retainer_Scaled.stl
31.1 KB
Starter_Drive_Gear_-_Scaled.stl
56.8 KB