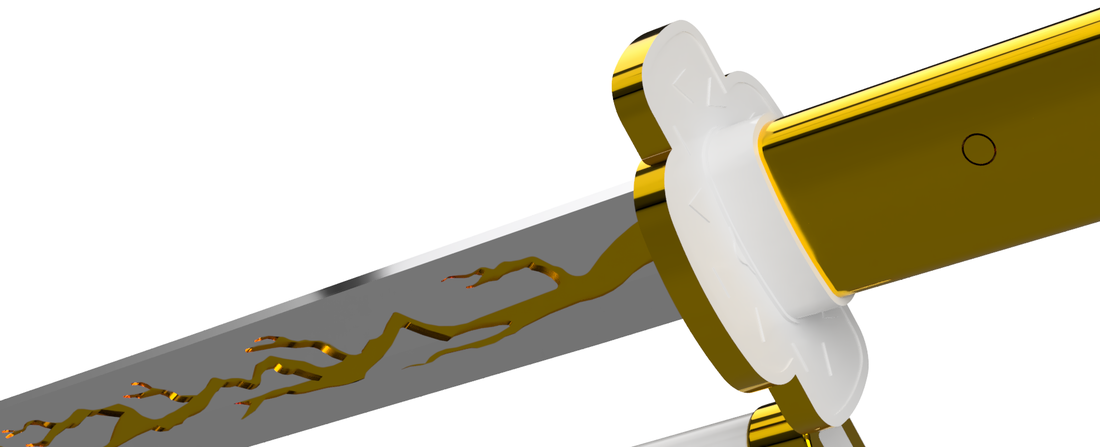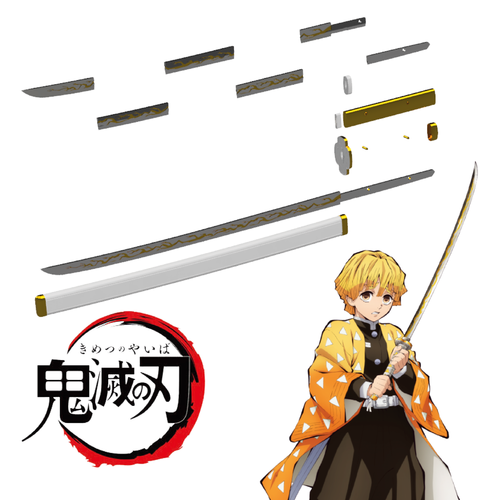 No Prints Yet

Be the first to upload a Print for this Design!
Katana de Zenitsu Agatsuma de la serie Kimetsu no Yaiba. Realizada en Fusion360 y adaptada a una katana real. Mide: 125cm.
Es recomendable usar una varilla de 95X0.4cm si se va a realizar el filo seccionada.
imprimir a escala 100%
Este producto está diseñado para Cospaly.
¿Como realizo la trenza del mango?
¿Como realizo la trenza de la funda?
RackMultipart20191204-11223-w89mck.zip/1 katana Zenitsu Agatsuma.stl
3.7 MB
RackMultipart20191204-11223-w89mck.zip/filo 2 Zenitsu Agatsuma 1 (1).stl
509 KB
RackMultipart20191204-11223-w89mck.zip/filo 2 Zenitsu Agatsuma 1.stl
429 KB
RackMultipart20191204-11223-w89mck.zip/filo 2 Zenitsu Agatsuma 3.stl
734 KB
RackMultipart20191204-11223-w89mck.zip/filo 2 Zenitsu Agatsuma 4.stl
719 KB
RackMultipart20191204-11223-w89mck.zip/filo 2 Zenitsu Agatsuma 5.stl
350 KB
RackMultipart20191204-11223-w89mck.zip/filo 2 Zenitsu Agatsuma 6.stl
44.1 KB
RackMultipart20191204-11223-w89mck.zip/filo 2 Zenitsu Agatsuma 7.stl
284 KB
RackMultipart20191204-11223-w89mck.zip/filo Zenitsu Agatsuma.stl
1.46 MB
RackMultipart20191204-11223-w89mck.zip/funda 2 Zenitsu Agatsuma 1 (1).stl
684 KB
RackMultipart20191204-11223-w89mck.zip/funda 2 Zenitsu Agatsuma 1 (2).stl
673 KB
RackMultipart20191204-11223-w89mck.zip/funda 2 Zenitsu Agatsuma 1 (3).stl
890 KB
RackMultipart20191204-11223-w89mck.zip/funda 2 Zenitsu Agatsuma 1.stl
743 KB
RackMultipart20191204-11223-w89mck.zip/funda Zenitsu Agatsuma (1).stl
2.79 MB
RackMultipart20191204-11223-w89mck.zip/guarda 1 Zenitsu Agatsuma.stl
283 KB
RackMultipart20191204-11223-w89mck.zip/guarda 2 Zenitsu Agatsuma.stl
282 KB
RackMultipart20191204-11223-w89mck.zip/guarda 3 Zenitsu Agatsuma.stl
163 KB
RackMultipart20191204-11223-w89mck.zip/Mango 2 Zenitsu Agatsuma 1.stl
130 KB
RackMultipart20191204-11223-w89mck.zip/Mango 2 Zenitsu Agatsuma 2.stl
87 KB
RackMultipart20191204-11223-w89mck.zip/Mango Zenitsu Agatsuma.stl
197 KB
RackMultipart20191204-11223-w89mck.zip/pomo Zenitsu Agatsuma.stl
1.15 MB
RackMultipart20191204-11223-w89mck.zip/varilla 1 Zenitsu Agatsuma.stl
94.1 KB
RackMultipart20191204-11223-w89mck.zip/varilla 2 Zenitsu Agatsuma.stl
94.3 KB
RackMultipart20191204-11223-1da34jj.zip/Mango Zenitsu Agatsuma.stl
197 KB
RackMultipart20191204-11223-1da34jj.zip/pomo Zenitsu Agatsuma.stl
1.15 MB
RackMultipart20191204-11223-1da34jj.zip/guarda 2.stl
1.94 MB
RackMultipart20191204-11223-1da34jj.zip/guarda 1 Zenitsu Agatsuma.stl
283 KB
RackMultipart20191204-11223-1da34jj.zip/funda 2 Zenitsu Agatsuma 5.stl
919 KB
RackMultipart20191204-11223-1da34jj.zip/funda 2 Zenitsu Agatsuma 4.stl
665 KB
RackMultipart20191204-11223-1da34jj.zip/funda 2 Zenitsu Agatsuma 1.stl
631 KB
RackMultipart20191204-11223-1da34jj.zip/funda 2 Zenitsu Agatsuma 3.stl
676 KB
RackMultipart20191204-11223-1da34jj.zip/1 katana Zenitsu Agatsuma 1 .stl
5.99 MB
RackMultipart20191204-11223-1da34jj.zip/filo 2 Zenitsu Agatsuma 6.stl
34.9 KB
RackMultipart20191204-11223-1da34jj.zip/filo 2 Zenitsu Agatsuma 5.stl
351 KB
RackMultipart20191204-11223-1da34jj.zip/funda 2 Zenitsu Agatsuma 2.stl
673 KB
RackMultipart20191204-11223-1da34jj.zip/filo 2 Zenitsu Agatsuma 3.stl
768 KB
RackMultipart20191204-11223-1da34jj.zip/filo 2 Zenitsu Agatsuma 1.stl
427 KB
RackMultipart20191204-11223-1da34jj.zip/filo 2 Zenitsu Agatsuma 1 (1).stl
697 KB
RackMultipart20191204-11223-1da34jj.zip/filo 2 Zenitsu Agatsuma 4.stl
735 KB
RackMultipart20191204-11223-1da34jj.zip/Mango 2 Zenitsu Agatsuma 2.stl
87 KB
RackMultipart20191204-11223-1da34jj.zip/filo Zenitsu Agatsuma.stl
1.82 MB
RackMultipart20191204-11223-1da34jj.zip/guarda 2 Zenitsu Agatsuma.stl
282 KB
RackMultipart20191204-11223-1da34jj.zip/funda Zenitsu Agatsuma (1).stl
3.3 MB
RackMultipart20191204-11223-1da34jj.zip/Mango 2 Zenitsu Agatsuma 1.stl
130 KB
RackMultipart20191204-11223-1da34jj.zip/guarda 3 Zenitsu Agatsuma.stl
163 KB
RackMultipart20191204-11223-1da34jj.zip/varilla 1 Zenitsu Agatsuma.stl
94.1 KB
RackMultipart20191204-11223-1da34jj.zip/varilla 2 Zenitsu Agatsuma.stl
94.3 KB
varilla 2 Zenitsu Agatsuma.stl
90 KB
Mango 2 Zenitsu Agatsuma 2.stl
228 KB
guarda 3 Zenitsu Agatsuma.stl
30.6 KB
funda Zenitsu Agatsuma.stl
3.89 MB
funda 2 Zenitsu Agatsuma 2.stl
1010 KB
filo 2 Zenitsu Agatsuma 1.stl
453 KB
filo 2 Zenitsu Agatsuma 2.stl
710 KB
filo 2 Zenitsu Agatsuma 3.stl
763 KB
filo 2 Zenitsu Agatsuma 4.stl
746 KB
filo 2 Zenitsu Agatsuma 5.stl
352 KB
filo 2 Zenitsu Agatsuma 6.stl
40.4 KB
filo Zenitsu Agatsuma.stl
1.82 MB
funda 2 Zenitsu Agatsuma 1.stl
1.8 MB
funda 2 Zenitsu Agatsuma 3.stl
991 KB
funda 2 Zenitsu Agatsuma 5.stl
1.46 MB
guarda 1 Zenitsu Agatsuma.stl
190 KB
guarda 2 Zenitsu Agatsuma.stl
259 KB
Katana Zenitsu Agatsuma.stl
3.82 MB
Mango 2 Zenitsu Agatsuma 1.stl
337 KB
Mango Zenitsu Agatsuma.stl
236 KB
pomo Zenitsu Agatsuma.stl
1.13 MB
varilla 1 Zenitsu Agatsuma.stl
89.7 KB