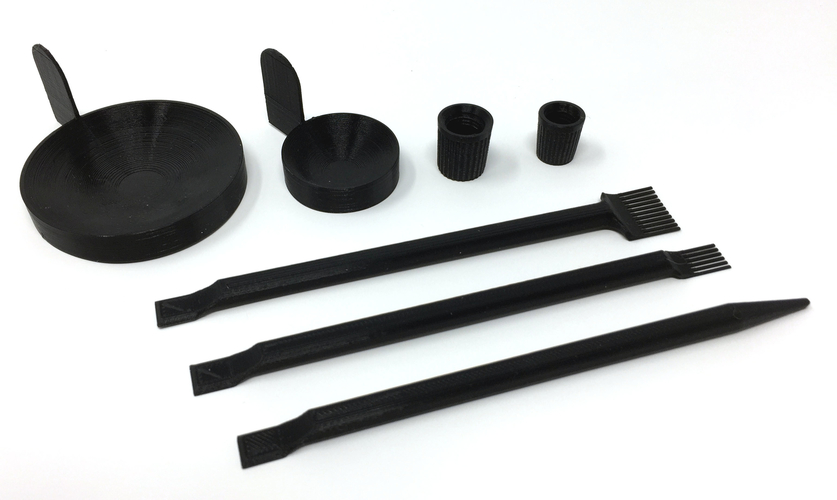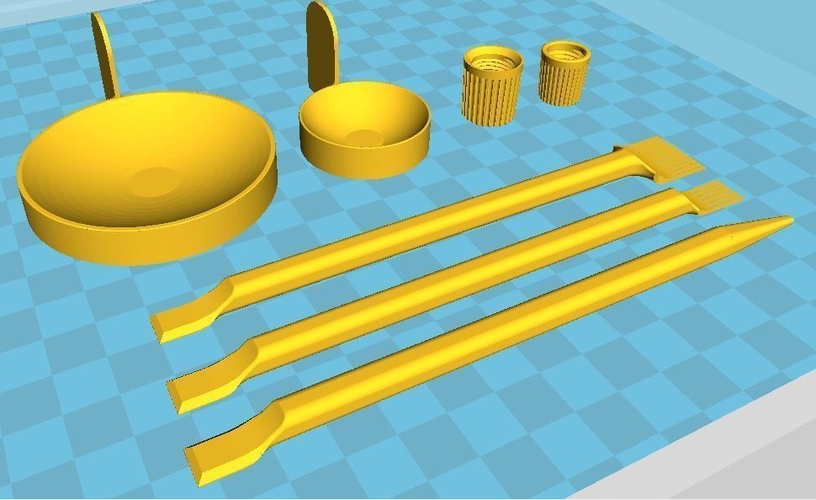 No Prints Yet

Be the first to upload a Print for this Design!
Epoxy Tools
Epoxy and other adhesives are invaluable in the 3D printing world.  Whether you're gluing together a two-sided print or adding a rubbery finish using silicone, the ability to combine off the shelf materials to enhance your 3D printed parts is a step toward 3D printing mastery.
Epoxy, however, isn't so easy to work with and it can be messy.  The following set of parts is a tool kit that makes mixing, handling and applying these materials easier.  They are made to be quick, easy- to- print, and disposable.  The also work great for applying grease or paints.  The brushes have just the right stiffness to apply epoxy like paint and create a smooth finish.  Two standard replacement cap sizes are provided which cover most metal tube glues.  If the original cap gets gummed-up, you can print new ones and replace them.
Print Settings: Epoxy Dishes
Support Material: none
Dimensions: mm
Infill: arbitrary
Layer Height: 0.15mm or smaller
Orientation: dish opening upward
Print Settings: Caps
Support Material: none
Dimensions: mm
Infill: 24%
Layer Height: 0.1mm or smaller
Orientation: threads upward
Print Settings: Brushes/Applicator
Support Material: none
Dimensions: mm
Infill: 24%
Layer Height: 0.1mm or smaller
1st Layer Height: 0.15mm or smaller
Orientation: flat sides down
EpoxyApplicator.stl
546 KB
EpoxyBrushLarge.stl
1.38 MB
EpoxyBrushSmall.stl
1.16 MB
EpoxyDishLarge.stl
1.21 MB
EpoxyDishSmall.stl
1.44 MB