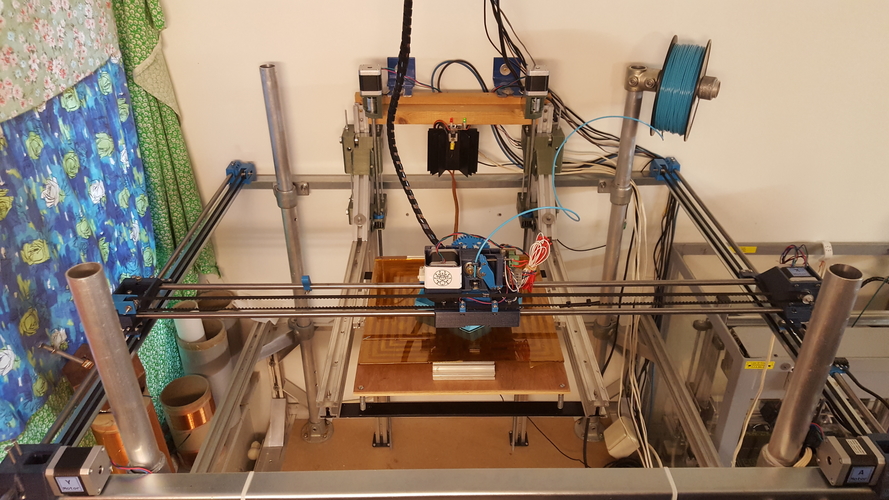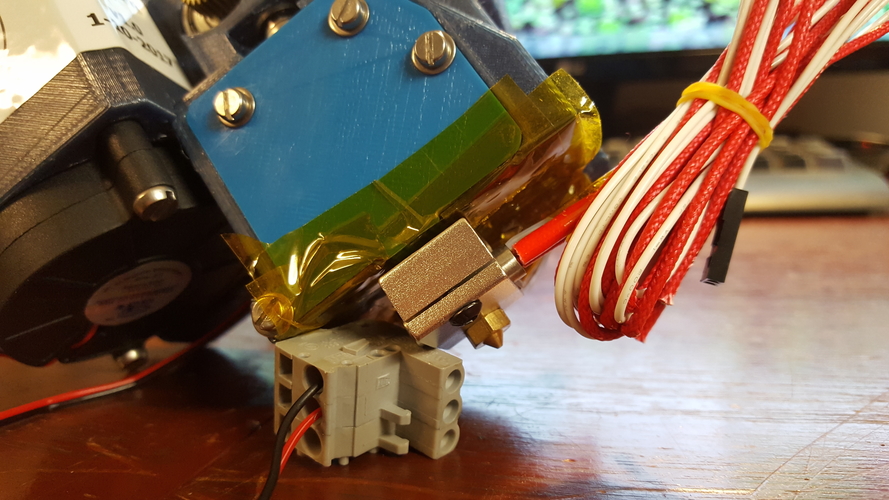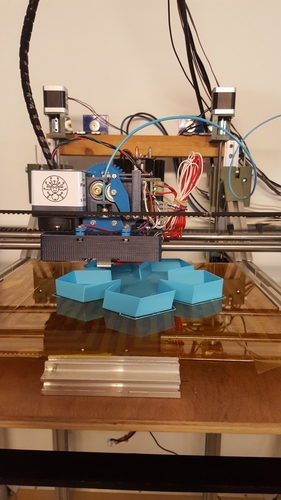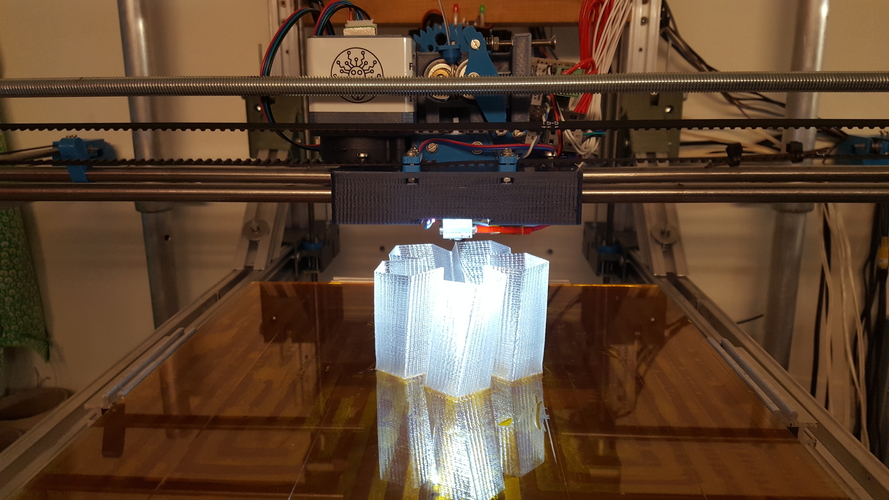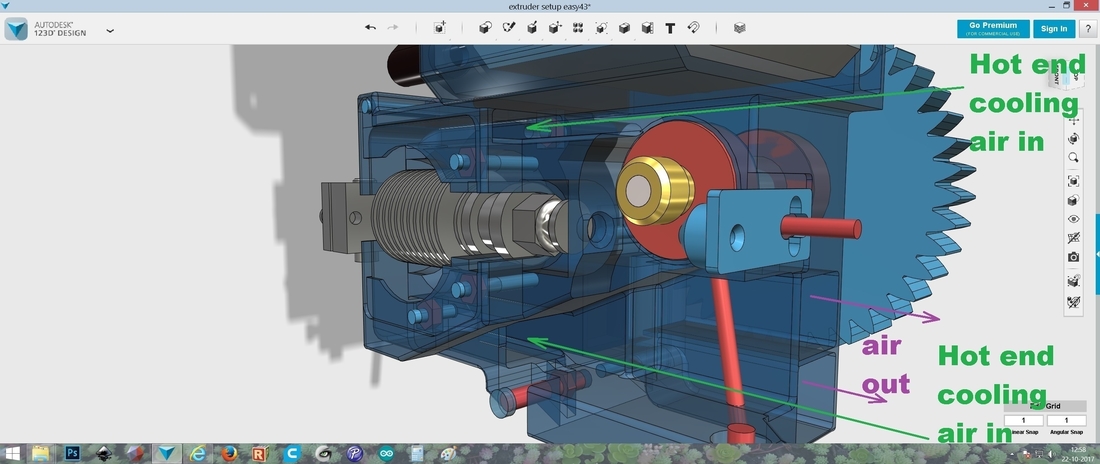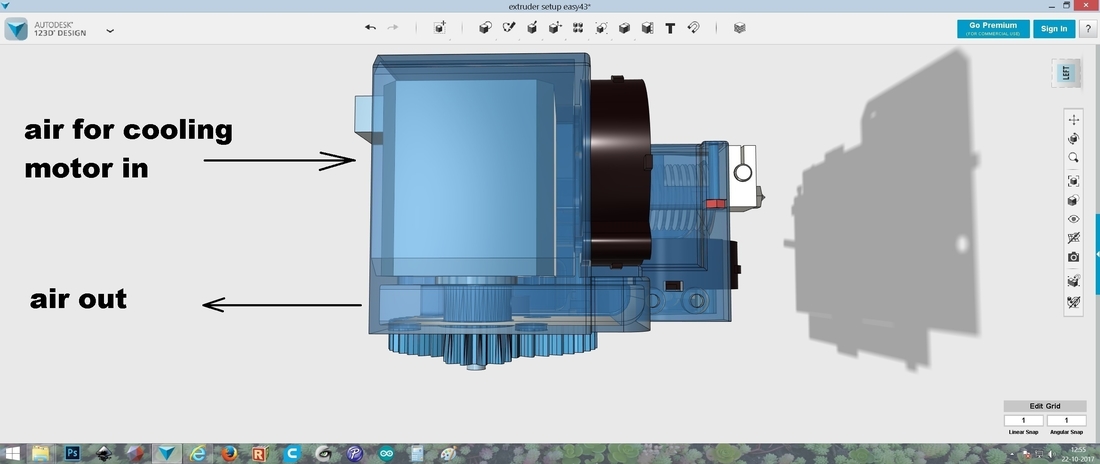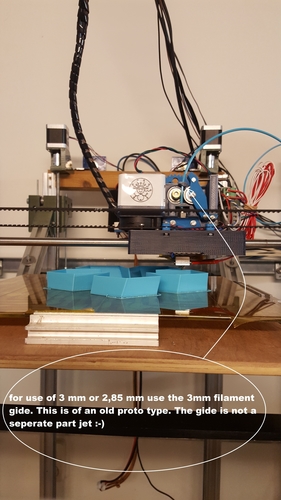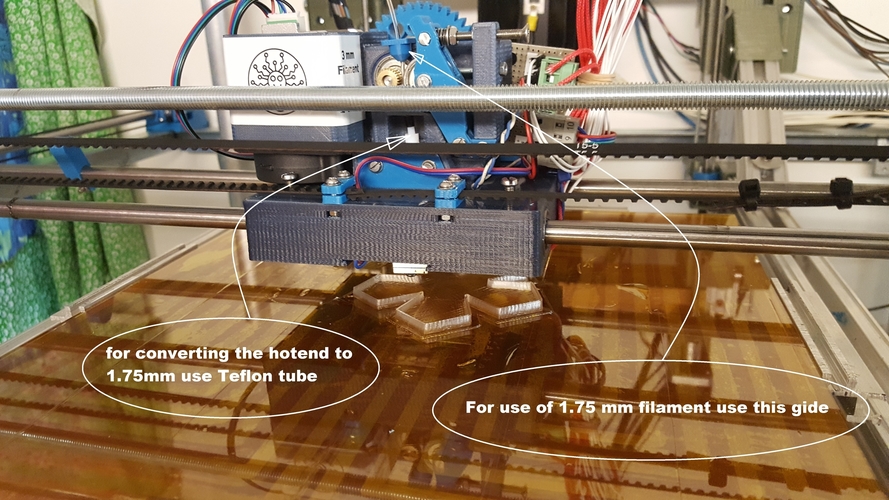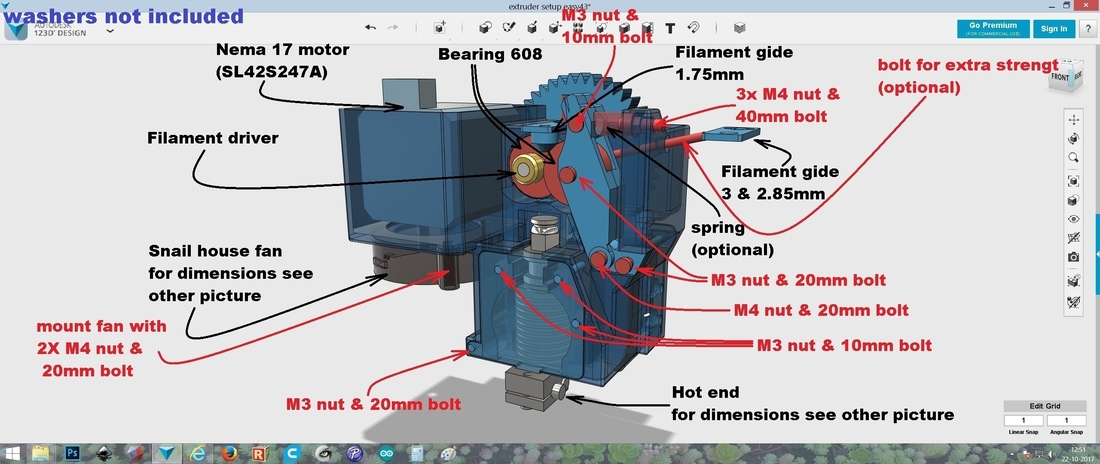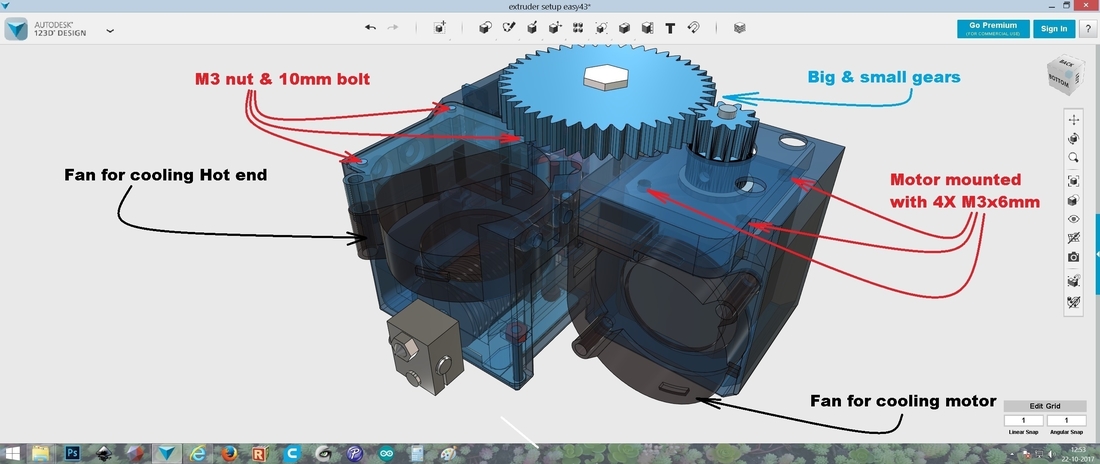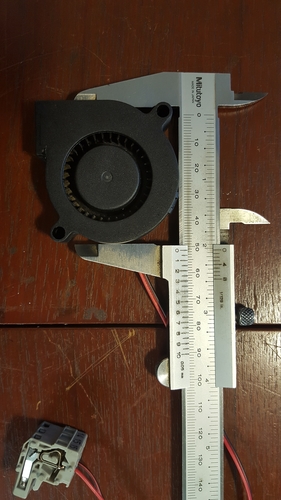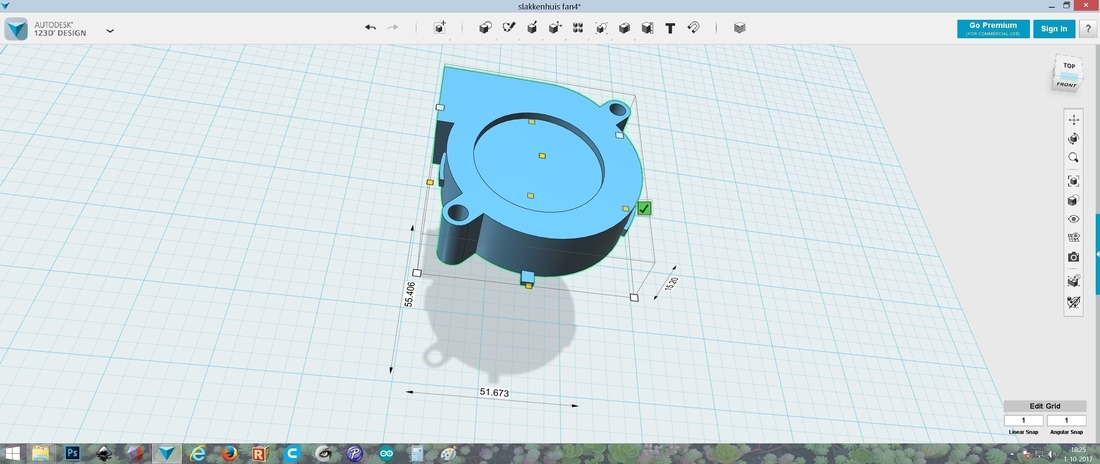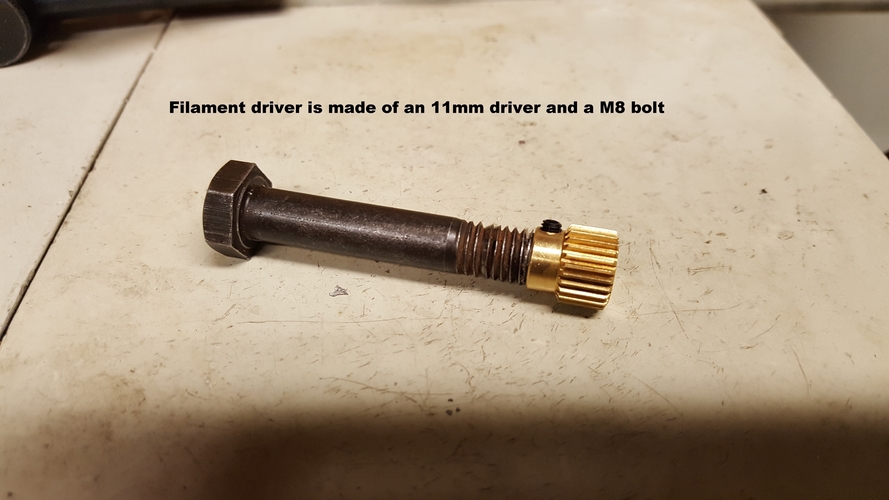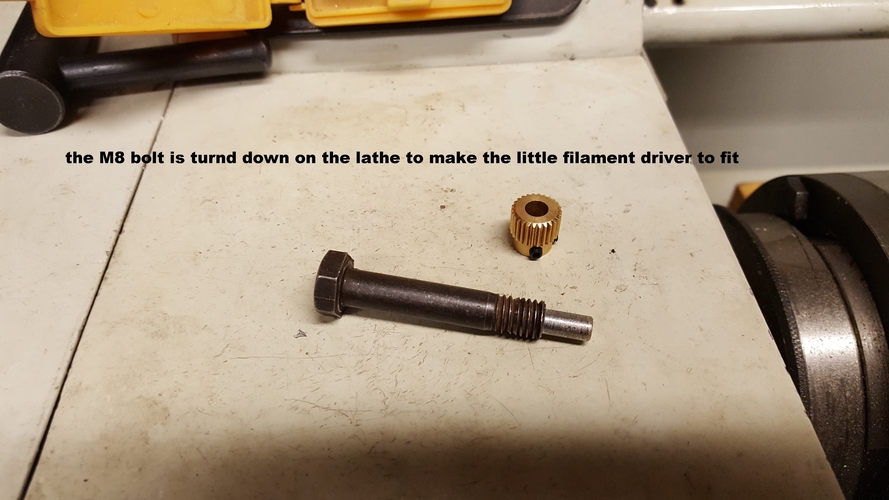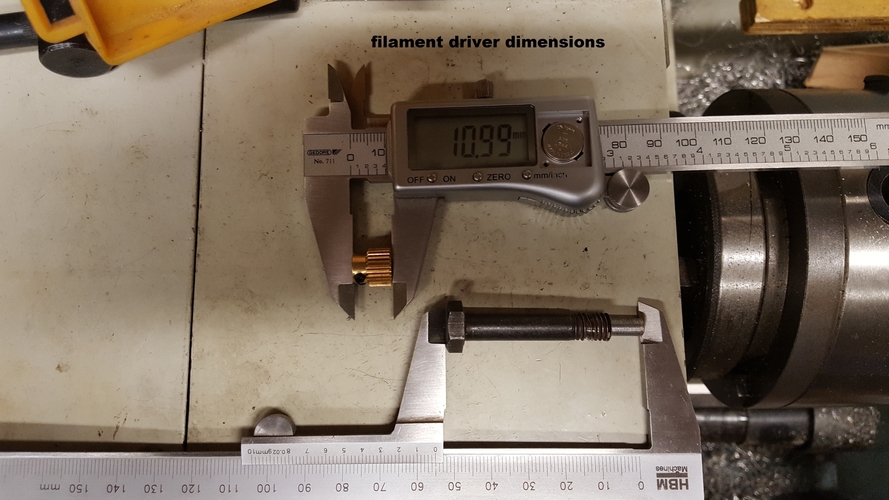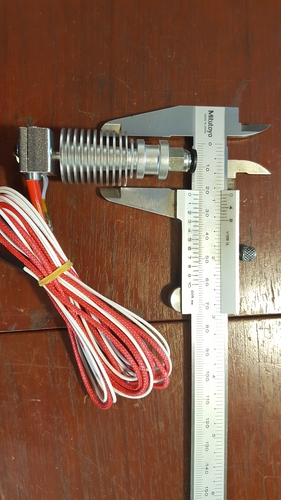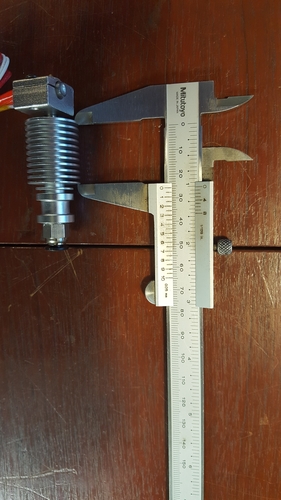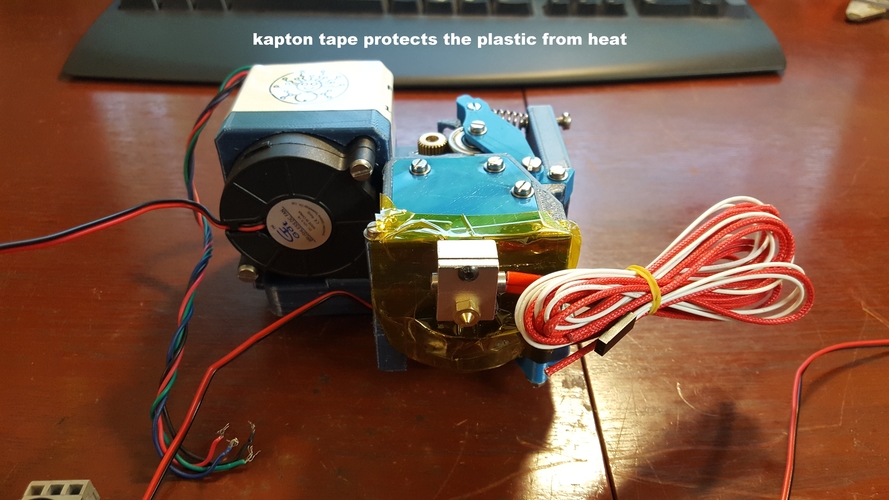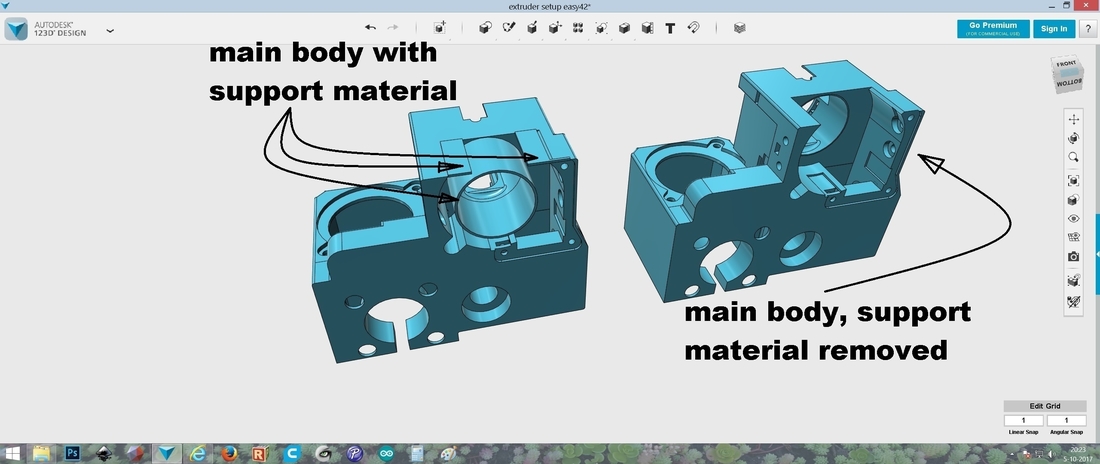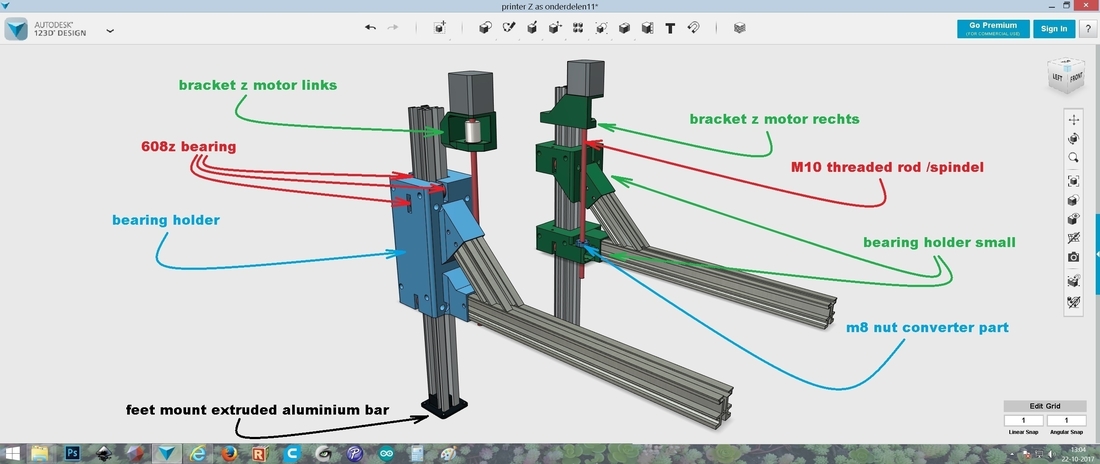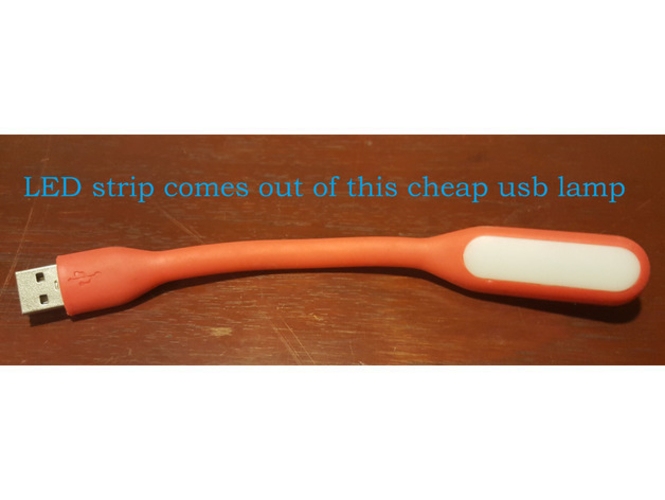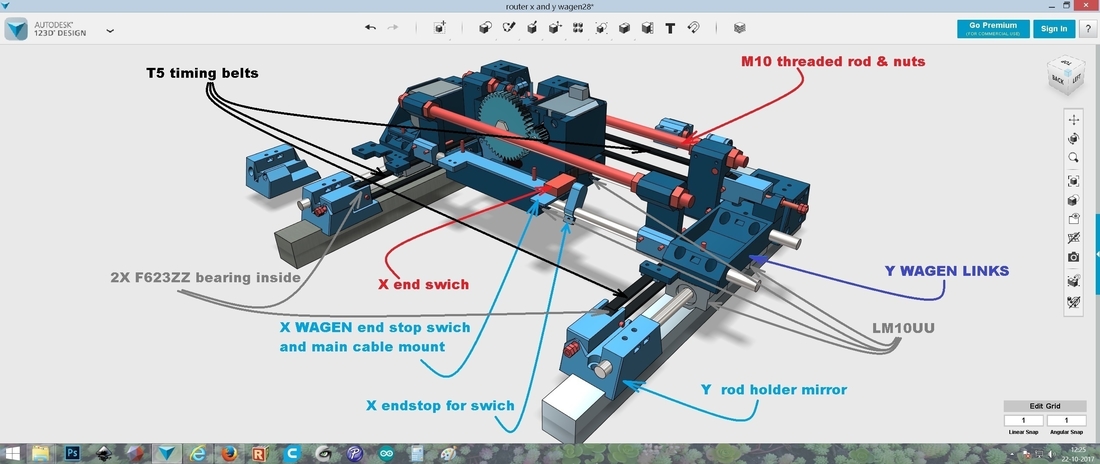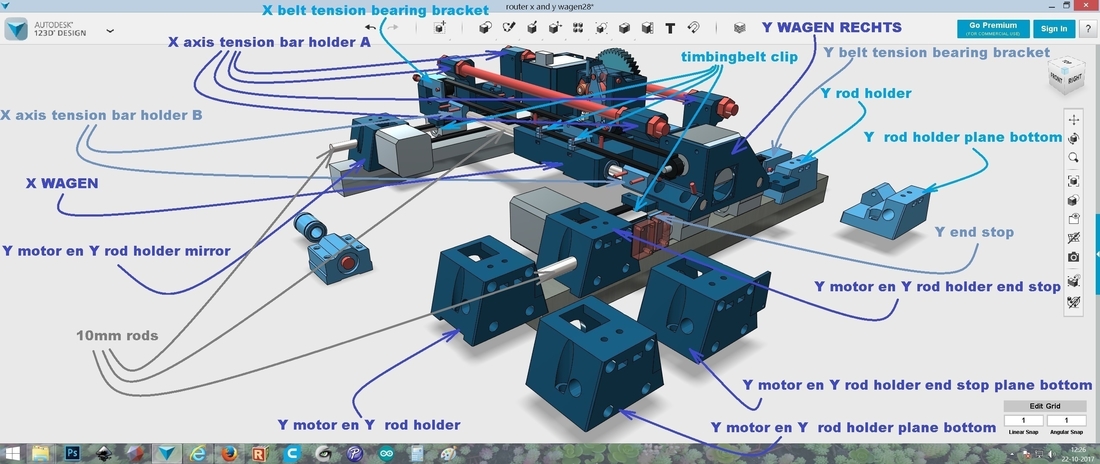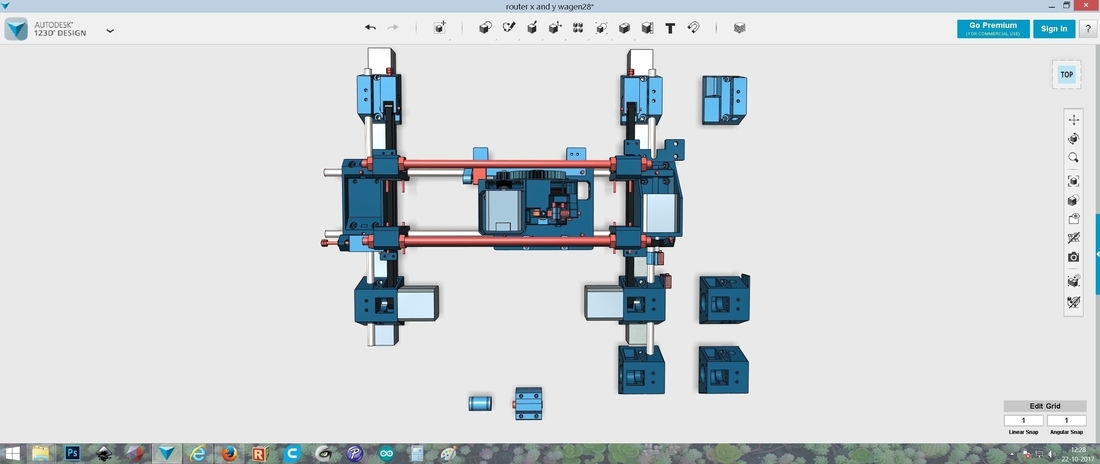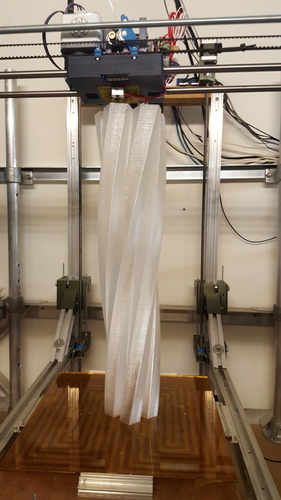 No Prints Yet

Be the first to upload a Print for this Design!
The idea of this printer is that you can make it as large as you want and as cheap as possible :-)
Basically a printer is an X, Y and Z axis. So I made an X and Y axis that is mountable on any sort of construction that gives it height. This construction can be made of material that you have lying around.
If you have wood you can use that. If you have steel pipes you can use that. You can even build it from stones if you want. I made it on an old CNC Router frame I once build. I just added aluminum pipes I had laying in the backyard. With this I build a squire platform which carries the X and Y axis. If I make this platform higher the printer can print higher. :-)
Then of course you also need a print bed. Most of that construction can also be made of any material you have laying around. I used extruded aluminum lengths that limited me to a height of 710 mm. the printed parts are just to couple them and hold the motors and spindles. The dimensions of the extruded aluminum lengths I used are 30x33mm. So the parts for the Z axis are made to fit that. The gliding part in the vertical direction holds 8 608 bearings each side. "bearing holder L.stl & bearing holder R.stl" are super solid, but take a lot of material. Therefor I also made the "bearing holder small" STL's to save material. No the one peace is hacked in two peaces so they have to be held apart with a threaded rod. You can see it on the pictures. Initially these parts where made for a spindle, but because I could not find them 1 meter long, I used Threaded rod instead. For implementation of the M8 nut, you have to use the M8 nut converter part. Also it's recommended to grease the threaded rod also.
For the X and Y axis setup, I used 10mm x 1000mm guiding rods. That means that the X axis is 714mm and the Y axis is 758mm in length. My heat bed can reach 710mm in height. But the glass plate of my heat bed is only 300 x 300mm so I limited my printer to 300x300x700mm at the moment. Of course the bed can be made bigger and so the print dimensions get bigger.
To take away vibrations and keep these long rods straight, you can use the "X axis tension bar holder". Install one on each end of the x axis rod and mount a M10 threaded rod in them. It's much easier to watch the pictures I guess :-). on the pictures there is installed only one, but I intend to install a second one on the other X axis rod. With only one installed you get an uneven load and uneven vibrations in the two rods.
Under the X wagon is an optional slot where a LED strip can be mounted. The dimensions of the strip are 36x9x1 mm made by Dymand v2 DUL2 201611. I took it out of an cheap USB led lamp you cab see on one of the pictures.
Because this is so big, there are two motors for the Y axis and two for the Z axis. The controller is a ramps 1.4 and Arduino Mega. The problem is that you can't install more than one driver per axis. So you have to solder a second motor driver parallel to the one on the ramps board. It's advisable to take the motor power directly from the power connector on the board and to install an extra capacitor for each extra driver.
A printer also needs an extruder. :-) Because I print with ABS a lot this one is designed to do just that (but it also works with other filaments). With ABS printing you do not want to have airflow passing the printed parts. Therefor the air is inhaled from above. Then passed through to the Hot-end and then back out at the top. The same airflow construction is also made for the motor. This way the printed part never gets cooled by these 2 fans. For the dimensions of these snail house fans, see picture.
Also I wanted an extruder on which changing filament is easy. On most extruders you can't see the filament wire and that can make it hard to change filament. If you run out of filament due the print, you are in big trouble. Therefor I made this one in such a way that you can always see the filament wire.
Because I have 3 different sizes of Filament (1.75mm, 2.85mm & 3mm) this extruder can use them all. To do this I have made an exchangeable filament wire guide. For the 1.75 mm filament I also need to put in a Teflon tube because the hot-end is made for 3mm wire. (I can recommend the Teflon tube anyways because the filament go's in much smoother). The filament guide is also adjustable so you can guide you filament perfectly. In the photos you do not see this guide because that is still the proto type. On that model the 3mm guide is fixed to the body. Not so smart, because you can't adjust anything anymore. Also I broke it :-) . As a lose part you can just print it out again. The guide is mounted using a washer, M3 nut and 10mm bolt.
The little filament driver (11mm diameter) is mounted on an M8x50mm bolt I had lying around. On the lathe I turned the end of this M8 bolt down to 5mm so the driver can be mounted on it. See pictures.
For the main body I had to add support material. See picture about the removal of the support material. All other parts can be printed without support. After assembly it is wise to put katon tape on the bottom to protect the plastic from all the heat. This way the plastic holds longer
Also Included is a Marlin script that should work. Hence for printing with PET-G 1.75mm I had to turn the flow-rate back to 49%. Steps/mm for the extruder motor may need some tweaking. For ABS 3mm it did work ok. Hence the blue ABS print has deformed due to warping. But that's expected because it's an open structure. I have order PLA to try that for printing vases. With the transparent PET-G it works great!
For the Z axis setup you need:
16X 608ZZ bearing
1X end switch
16X M8 bolt or threaded rod 85mm and nuts
2X spindle 8mm and spindle nut or M8 threaded rod and nut
2X stepper nema 17
2X motor to spindle connector 5mm to 8mm
6X M4x40mm bolt
6X M4 nut
8X M3x10mm bolt
8x M3x20mm bolt and nuts are optional if you use the M8 converter part.
For the X and Y axis setup you need:
4X sliding rod 10mm length is of you own choise
4X linear bearing LM10UU
4X linear bearing LM10UU in housing
6X F623ZZ bearing for timing belt tension-ers
3X timing belts and pulley's
3X Stepper Nema 17
2X end switch
1X LED strip but is optional
1X 30x30mm Fan but is also optional
8X M3x20mm & nuts are optional for the X axis tension bar
2X M10 threaded rod and 4 nuts are optional for the X axis tension bar
16X M5x10mm
3X M4x40mm bolt
3X M4x40mm bolt
12X M4x10mm bolt
24X M4 nut
24X M3x10mm bolt
8X M3x20mm bolt
32X M3 nut
For the extruder you need: 3x bearing 608z 1x 11mm driver 1X M8 x 50mm bolt or something similar 1x hot-end 2x snail house fan 1X spring (optional, depending on filament material) 1X nema 17 stepper 1x kapton tape 12X M3 nut 4X M3 x6mm bolt 9X M3 x 10 mm bolt 3X M3 x20mm bolt 9X M3 washer (optional) 1X M3 big washer for filament guide 8X M4 nut 5X M4 x20mm bolt 1X M4 x40mm bolt 5X M4 washer (optional)
But of course these parts are just a indication for everybody will build their printer in another way.
RackMultipart20171024-7165-14oyehv.zip/X axis tension bar holder B.stl
324 KB
RackMultipart20171024-7165-14oyehv.zip/Y WAGEN RECHTS.stl
5.48 MB
RackMultipart20171024-78-1x3yfv5.zip/big gear with patern.stl
4.14 MB
RackMultipart20171024-78-1x3yfv5.zip/big gear.stl
432 KB
RackMultipart20171024-78-1x3yfv5.zip/bracket backfan.stl
481 KB
RackMultipart20171024-78-1x3yfv5.zip/filament wire gide .stl
263 KB
RackMultipart20171024-78-1x3yfv5.zip/filament wire gide 1.75mm .stl
373 KB
RackMultipart20171024-78-1x3yfv5.zip/front hotend lid.stl
568 KB
RackMultipart20171024-78-1x3yfv5.zip/little gear.stl
831 KB
RackMultipart20171024-78-1x3yfv5.zip/main body with support material.stl
17.7 MB
RackMultipart20171024-78-1x3yfv5.zip/tension bar part1.stl
677 KB
RackMultipart20171024-78-1x3yfv5.zip/tension bar part2.stl
544 KB
RackMultipart20171024-78-1x3yfv5.zip/tension bar part3.stl
304 KB
RackMultipart20171024-7165-1j18p5n.zip/bearing holder L.stl
8.12 MB
RackMultipart20171024-7165-1j18p5n.zip/bearing holder R.stl
8.21 MB
RackMultipart20171024-7165-1j18p5n.zip/bearing holder small L1.stl
5.01 MB
RackMultipart20171024-7165-1j18p5n.zip/bearing holder small L2.stl
3.97 MB
RackMultipart20171024-7165-1j18p5n.zip/bearing holder small R1.stl
5.07 MB
RackMultipart20171024-7165-1j18p5n.zip/bearing holder small R2.stl
4.01 MB
RackMultipart20171024-7165-1j18p5n.zip/bracket z motor links.stl
7.4 MB
RackMultipart20171024-7165-1j18p5n.zip/bracket z motor rechts.stl
7.43 MB
RackMultipart20171024-7165-1j18p5n.zip/feet mount extruded aluminium bar.stl
701 KB
RackMultipart20171024-7165-1j18p5n.zip/m8 nut converter part.stl
798 KB
RackMultipart20171024-7165-1j18p5n.zip/stepper motor bracket L.stl
7.39 MB
RackMultipart20171024-7165-1j18p5n.zip/stepper motor bracket R.stl
7.41 MB
RackMultipart20171024-7165-14oyehv.zip/X endstop for swich.stl
342 KB
RackMultipart20171024-7165-14oyehv.zip/X WAGEN end stop swich and main cable mount.stl
429 KB
RackMultipart20171024-7165-14oyehv.zip/X WAGEN.stl
4.6 MB
RackMultipart20171024-7165-14oyehv.zip/Y rod holder mirror.stl
1.49 MB
RackMultipart20171024-7165-14oyehv.zip/Y rod holder plane bottom mirror.stl
1.48 MB
RackMultipart20171024-7165-14oyehv.zip/Y rod holder plane bottom.stl
1.47 MB
RackMultipart20171024-7165-14oyehv.zip/Y belt tension bearing bracket.stl
234 KB
RackMultipart20171024-7165-14oyehv.zip/Y end stop.stl
509 KB
RackMultipart20171024-7165-14oyehv.zip/Y motor en Y rod holder plane bottom mirror.stl
3.77 MB
RackMultipart20171024-7165-14oyehv.zip/Y motor en Y rod holder plane bottom.stl
3.7 MB
RackMultipart20171024-7165-14oyehv.zip/Y motor en Y rod holder.stl
3.77 MB
RackMultipart20171024-7165-14oyehv.zip/Y motor en Y rod holder end stop mirror.stl
3.88 MB
RackMultipart20171024-7165-14oyehv.zip/Y motor en Y rod holder end stop plane bottom mirror.stl
3.84 MB
RackMultipart20171024-7165-14oyehv.zip/Y motor en Y rod holder end stop plane bottom.stl
3.84 MB
RackMultipart20171024-7165-14oyehv.zip/Y motor en Y rod holder end stop.stl
3.87 MB
RackMultipart20171024-7165-14oyehv.zip/Y motor en Y rod holder mirror.stl
3.81 MB
RackMultipart20171024-7165-14oyehv.zip/Y rod holder.stl
1.49 MB
RackMultipart20171024-7165-14oyehv.zip/Y WAGEN LINKS.stl
3.68 MB
RackMultipart20171024-7165-14oyehv.zip/timbingbelt clip.stl
209 KB
RackMultipart20171024-7165-14oyehv.zip/X axis tension bar holder A.stl
770 KB
RackMultipart20171024-7165-14oyehv.zip/X belt tension bearing bracket.stl
231 KB