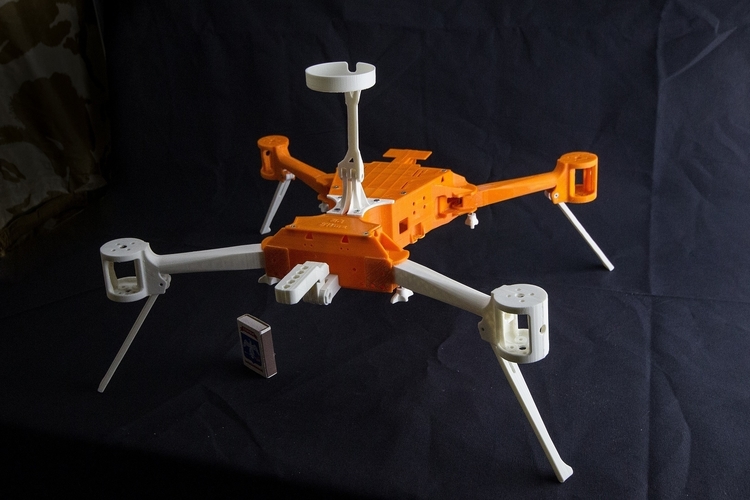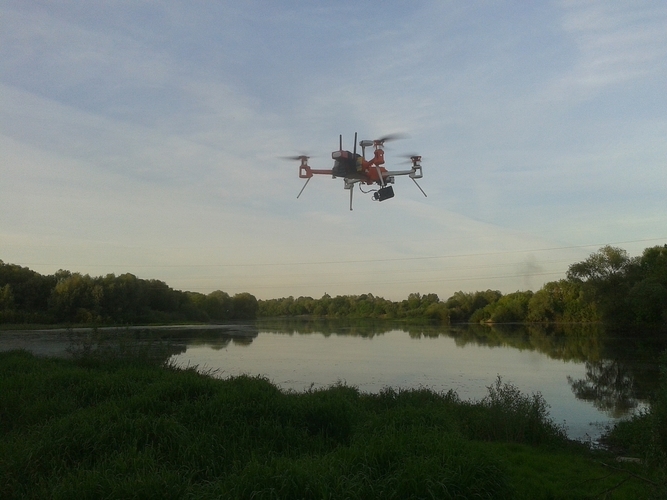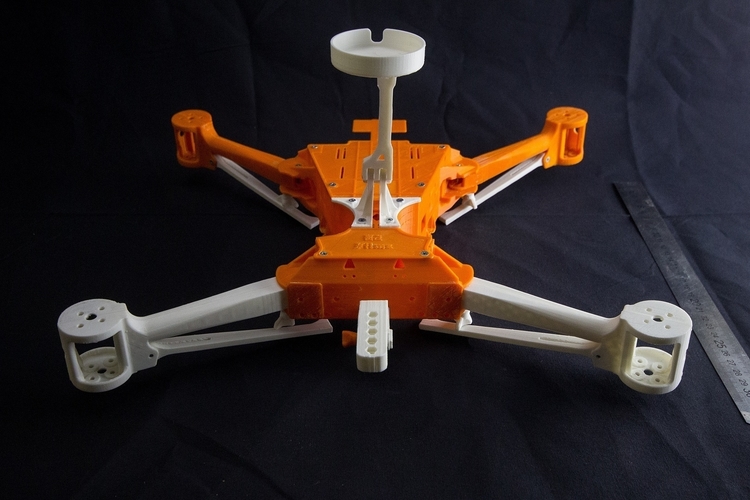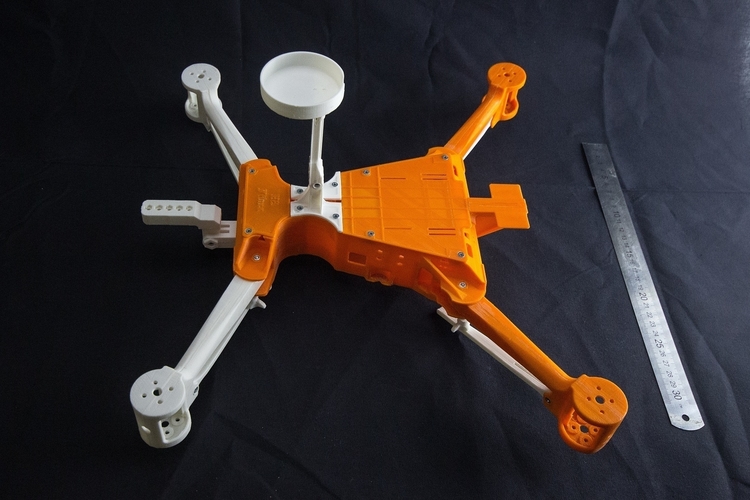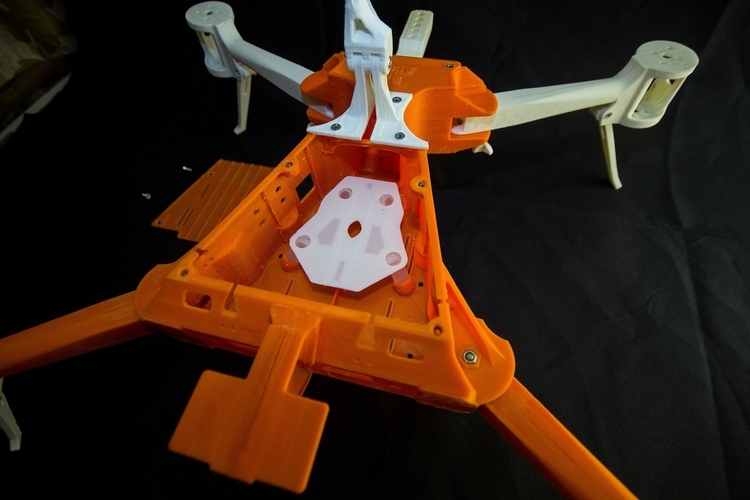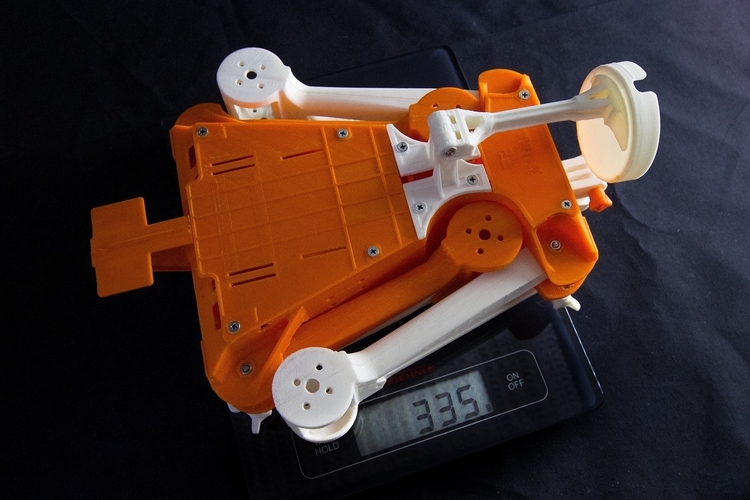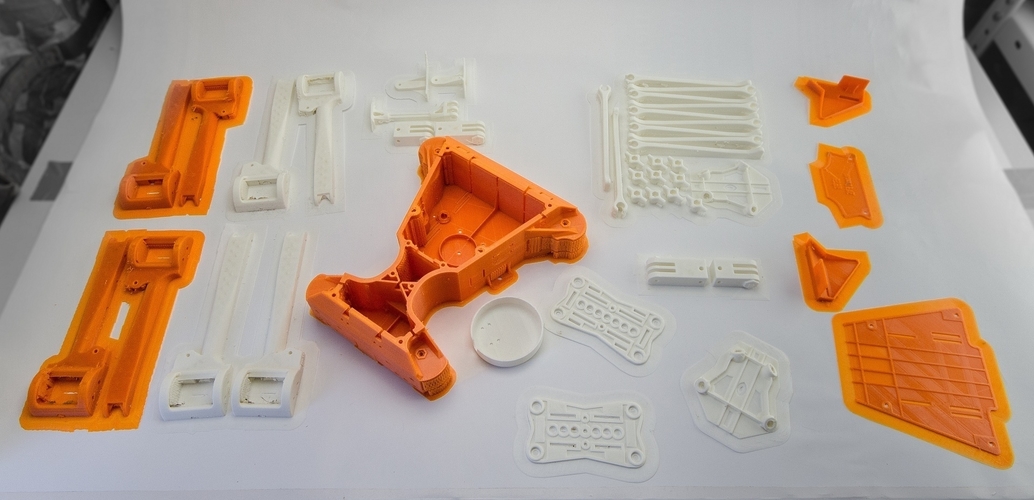 No Prints Yet

Be the first to upload a Print for this Design!
This is an optimized model that has already undergone many changes. Drone is really flyes.
My VIDEO of making:
I designed it in SolidWorks under the props 10 inches. Frame is foldable, very convenient for transportation.
Specifications: - Distance between the axes diagonally - 450 mm - The weight of the frame is 355 g. - Erection of motor axes 5 degrees - The size of the motor mounting - 16x19 mm
Provided internal wiring in the folding beams, foldable gps antenna mount and folding legs. In a closed frame case, any flight controller can be installed. There is an integrated vibration isolation. 3d model mold for casting of silicone in the set.
Also you will need: - M3 screws - M3 nuts - Some of nuts are installed in the frame by heating (use soldering tool or gas lighter) - Some plastic parts must be glued together with super-glue (cyanocrylate, for example) - Make silicone damper, like on these VIDEO:
Assembly diagram in the "assembly copter.stl" file. The number of items for printing is indicated in stl name. Enjoy!
Printer: 200x200 table
Rafts: Yes
Supports: Yes
Infill: 25%
patch3 (1pcs).STL
51.6 KB
gps holder (1pcs).STL
453 KB
controller plate (1pcs).STL
953 KB
cam mount4 (1pcs).STL
747 KB
bat mount2 (1pcs).STL
944 KB
arm rear6 (1pcs).STL
1.35 MB
arm rear3 (1pcs).STL
1.91 MB
arm front6 (1pcs).STL
1.31 MB
arm front2 (1pcs).STL
1.31 MB
ant patch2 (1 pcs).STL
41.1 KB
ant mount1 (1pcs).STL
1.05 MB
ant mount2 (1pcs).STL
1.05 MB
ant patch1 (1 pcs).STL
41.1 KB
ant support (1pcs).STL
1.49 MB
arm front1 (1pcs).STL
1.89 MB
arm front3 (1pcs).STL
2.02 MB
arm front4 (1pcs).STL
1.89 MB
arm front5 (1pcs).STL
2.02 MB
arm rear1 (1pcs).STL
1.91 MB
arm rear2 (1pcs).STL
2 MB
arm rear4 (1pcs).STL
1.35 MB
arm rear5 (1pcs).STL
1.99 MB
assembly copter.STL
30.1 MB
bat mount1 (1pcs).STL
949 KB
cam mount1 (1pcs).STL
773 KB
cam mount2 (1pcs).STL
790 KB
cam mount3 (1pcs).STL
792 KB
cam plate bottom (1pcs).STL
3.56 MB
cam plate top (1pcs).STL
4.23 MB
patch4 (1pcs).STL
51.6 KB
quick prop mount.STL
9.41 MB