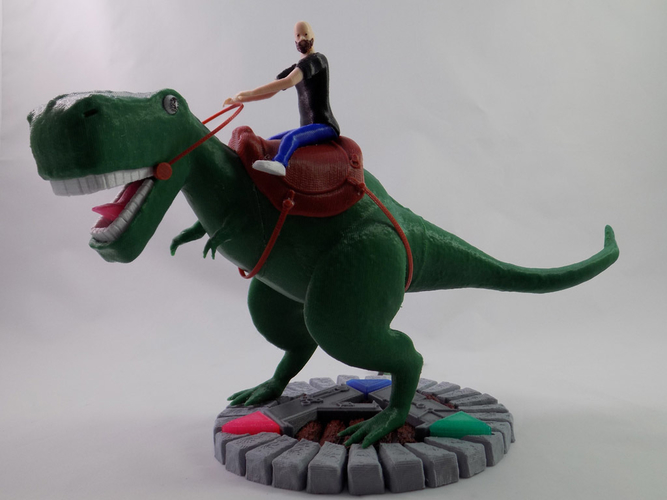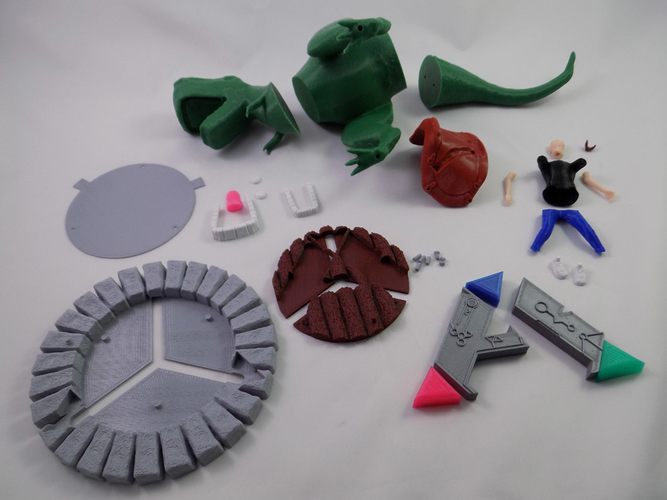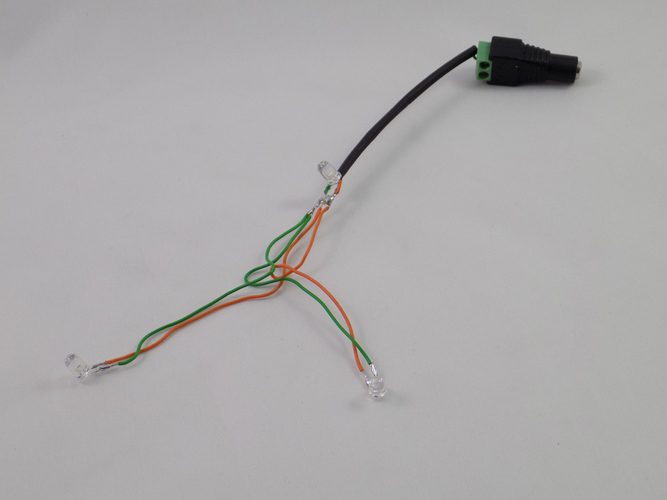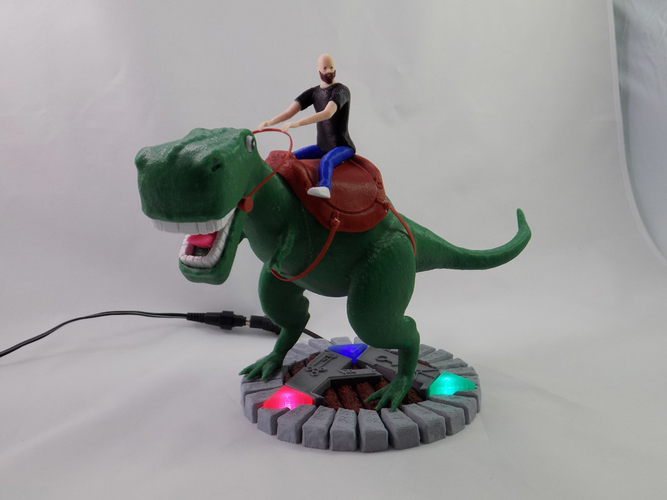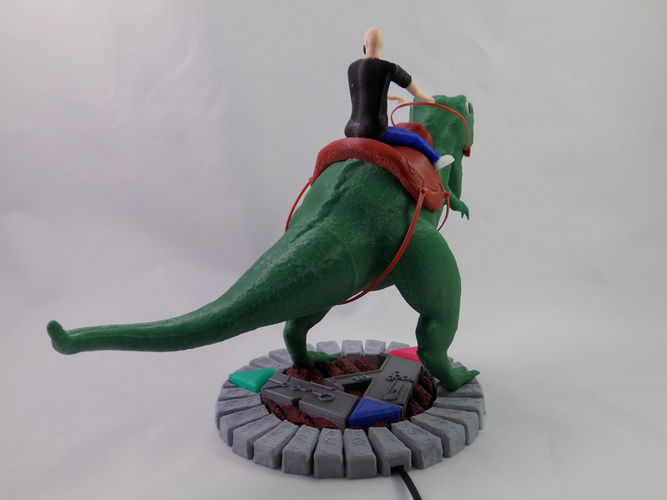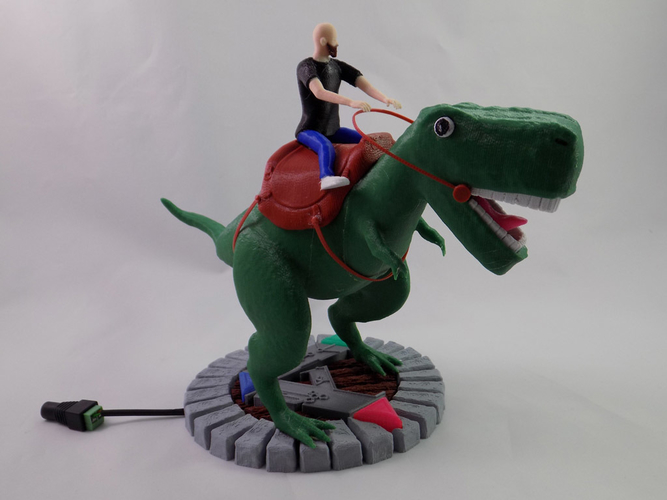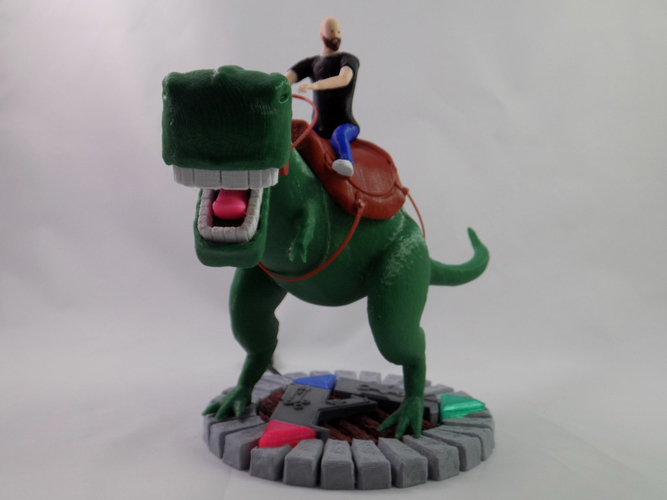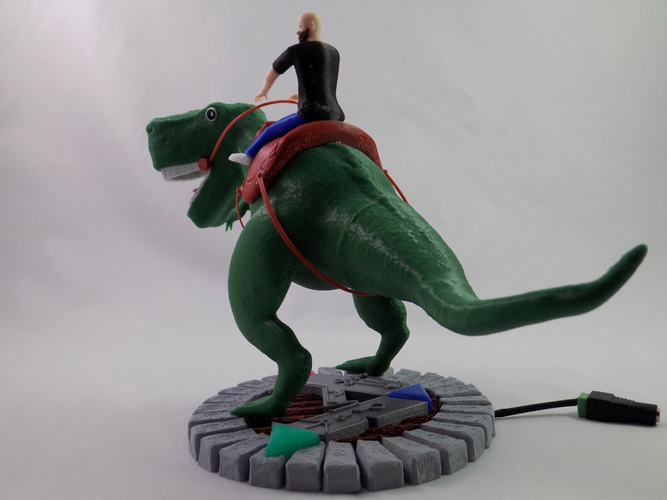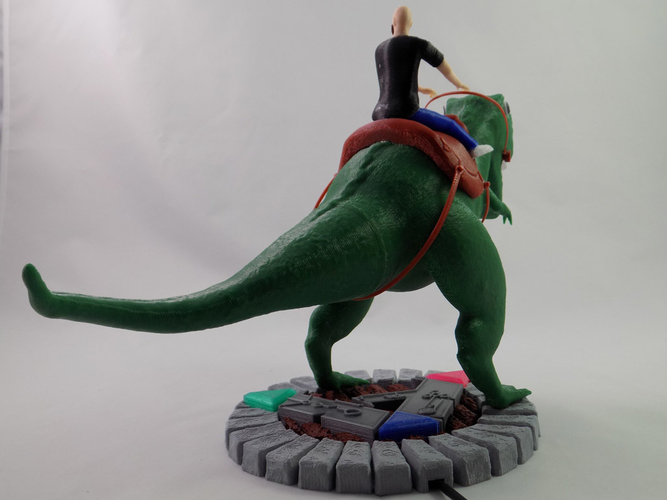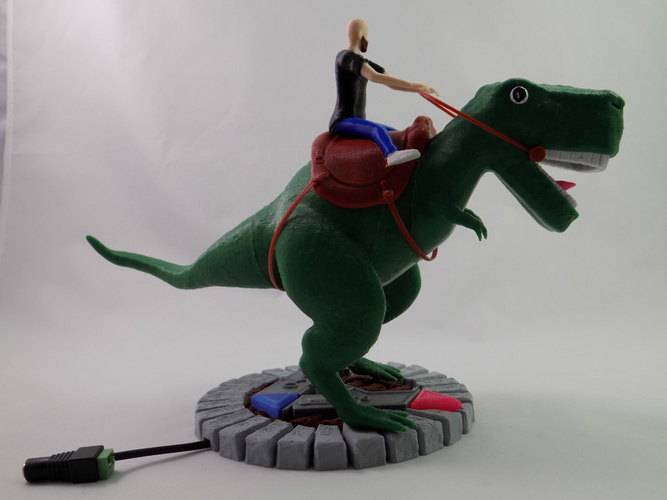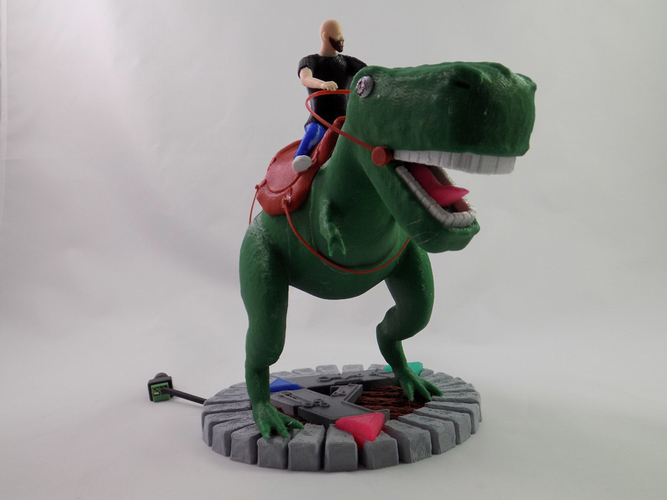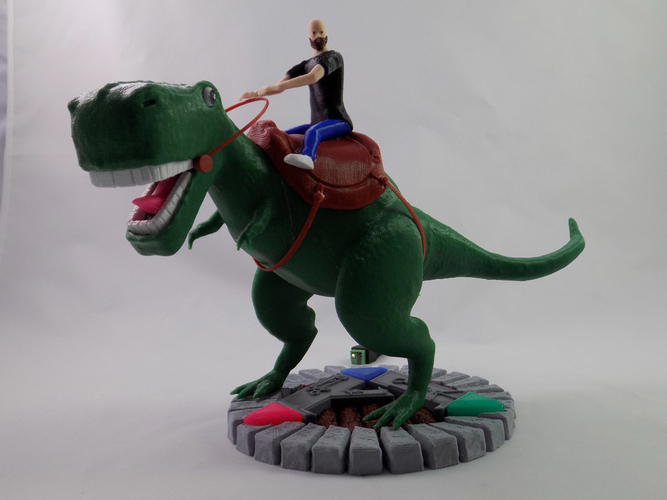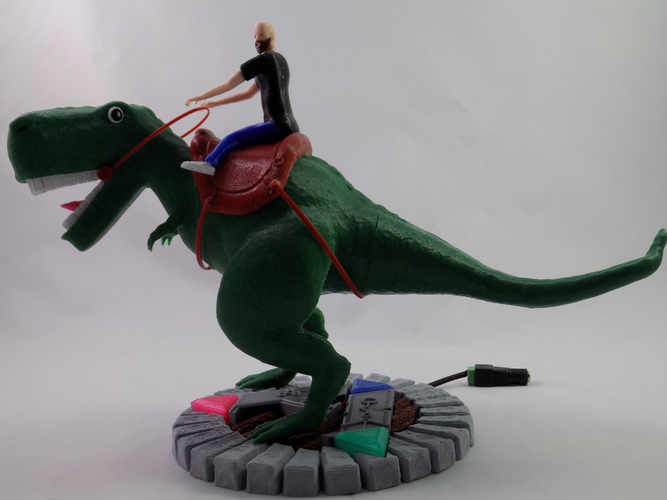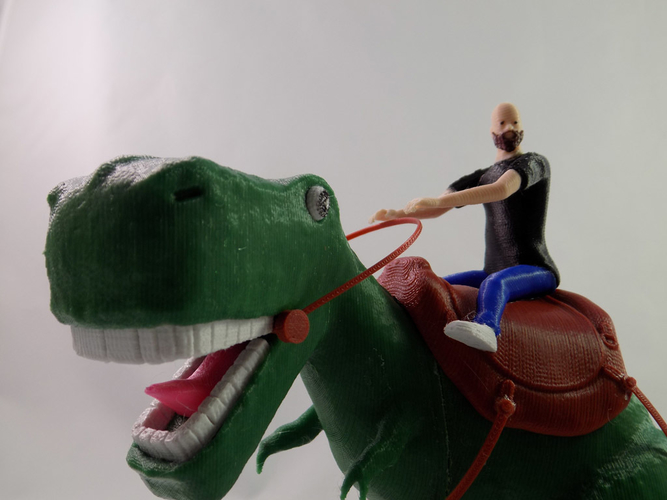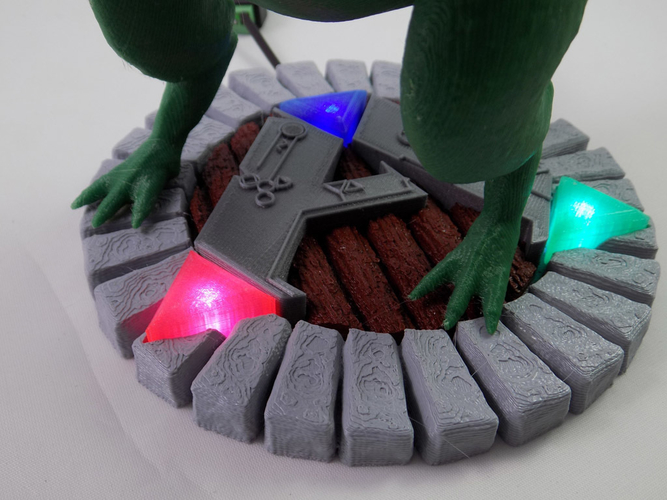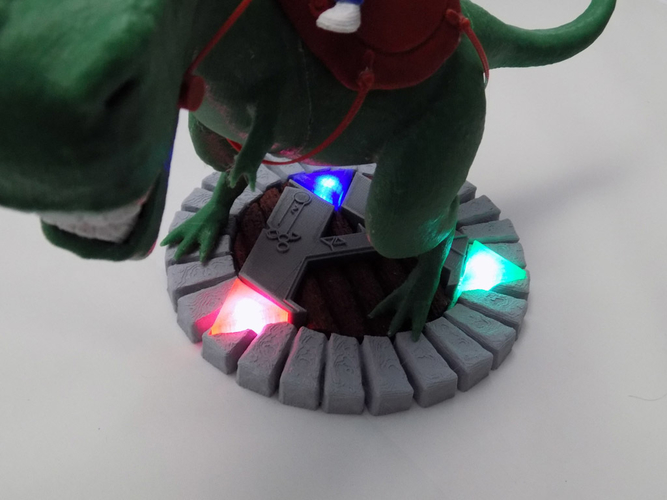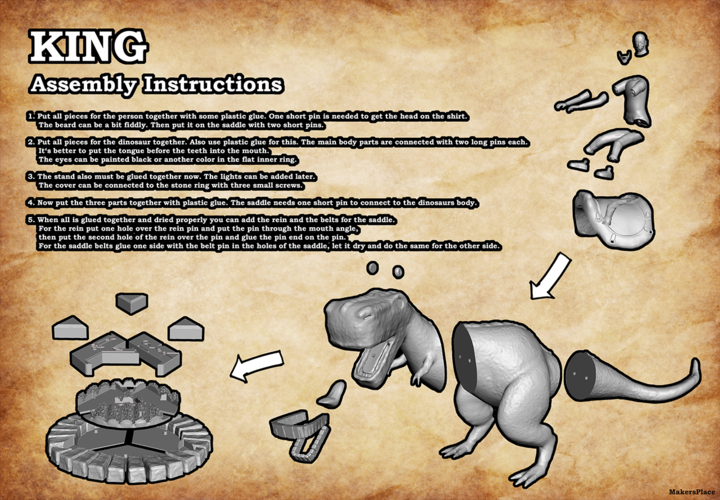 So this is my entry for the "Design Your Avatar Contest". I'm a very casual gamer. I have about 600 games in my Steam library, but I only played a handful of them for a longer time. ARK is the one I played the most, so I decided to create a avatar for this game. ARK is a survival game, where you have to fight against the weather, hunger, and the dangerous prehistoric wildlife. It is also possible to tame dinosaurs in this world. It's a game where you can spend hundreds of hours and you still discover something new. 
Here I present you myself on my awesome Tyrannosaurus Rex "KING". He is my long time companion in this game and helped me a lot.
I made the whole sculpture comic-like to get a friendly appearance. With the chosen pose I wanted to get a look of us looking both into the camera. This is my first sculpture, so I hope you like it. I tried to make as many parts as possible to get a real multicoloured sculpture. I spent about 50 hours for the design to make it as best printable as possible. The parts are already aligned to get the best print results without too much support material.
For all parts I mostly used PLA settings (220° C extruder temp / 55°C heatbed temp / 200 micron layer height / 20% infill / 60mm/s speed).
A list of the materials and special settings I used for the parts: 
stonering, cover -> Das Filament PLA / colour light grey  
woodplate -> Das Filament PLA / colour brown  
crystal_blue -> FormFutura HD Glass / colour blue transparent  
crystal_red-> 3D Prima PLA / colour red transparent  
crystal_green -> Das Filament PLA / colour green transparent  
logo_left, logo_right -> FormFutura PLA / colour silver  
rex_body, rex_head, rex_tail -> eSun PLA / colour pine green  
rex_tongue -> eSun PLA / colour pink  
rex_right_eye, rex_left_eye, rex_teeth_top, rex_teeth_bottom -> eSun PLA / colour white  
saddle -> SIENOC PLA / colour brown  
belt_back, belt_front, rein, rein_pin_long, rein_pin_end -> SIENOC PLA / colour brown  
belt_pin -> SIENOC PLA / colour brown / print it 4 times  
arm_left, arm_right, head -> Polaroid PLA / colour skin / printed on a raft  
beard -> Das Filament PLA / colour brown / printed 4 pieces on a raft because of the small size  / 100 micron  
shirt -> ColorFabb Economy PLA / colour black / printed on a raft 
jeans -> ColorFabb nGen / colour dark blue  
shoe_left, shoe_right -> eSun PLA / colour white  
pin_short, pin_long -> material and colour doesn't matter / print them 4 times each
To get the crystals shining, you need three white 5 mm led, some thin cable, a female connector and a suitable power adapter. I used a universal one with a 3 volt setting, so no resistor is needed.
Print time is about 25 hours and about 360 gram material.
You can find an assembly instruction at the uploaded files.
If you print it, please upload a picture of your print. That would be much appreciated. 
RackMultipart20170830-2856-1lqzjri.zip/belt_back.stl
9.26 KB
RackMultipart20170830-2856-1lqzjri.zip/crystal_blue.stl
8.03 MB
RackMultipart20170830-2856-1lqzjri.zip/belt_front.stl
10 KB
RackMultipart20170830-2856-1lqzjri.zip/beard.stl
196 KB
RackMultipart20170830-2856-1lqzjri.zip/arm_right.stl
3.79 MB
RackMultipart20170830-2856-1lqzjri.zip/arm_left.stl
3.84 MB
RackMultipart20170830-2856-1lqzjri.zip/belt_pin.stl
73.8 KB
RackMultipart20170830-2856-1lqzjri.zip/cover.stl
26.1 KB
RackMultipart20170830-2856-1lqzjri.zip/crystal_green.stl
8.2 MB
RackMultipart20170830-2856-1lqzjri.zip/crystal_red.stl
8.28 MB
RackMultipart20170830-2856-1lqzjri.zip/head.stl
14.3 MB
RackMultipart20170830-2856-1lqzjri.zip/jeans.stl
14.3 MB
RackMultipart20170830-2856-1lqzjri.zip/logo_left.stl
67 KB
RackMultipart20170830-2856-1lqzjri.zip/logo_right.stl
36.3 KB
RackMultipart20170830-2856-1lqzjri.zip/pin_long.stl
11.4 KB
RackMultipart20170830-2856-1lqzjri.zip/pin_short.stl
11.4 KB
RackMultipart20170830-2856-1lqzjri.zip/rein.stl
10.8 KB
RackMultipart20170830-2856-1lqzjri.zip/rein_pin_end.stl
41.4 KB
RackMultipart20170830-2856-1lqzjri.zip/rein_pin_long.stl
25.8 KB
RackMultipart20170830-2856-1lqzjri.zip/rex_body.stl
3.1 MB
RackMultipart20170830-2856-1lqzjri.zip/rex_head.stl
2.06 MB
RackMultipart20170830-2856-1lqzjri.zip/rex_left_eye.stl
12.9 KB
RackMultipart20170830-2856-1lqzjri.zip/rex_right_eye.stl
12.9 KB
RackMultipart20170830-2856-1lqzjri.zip/rex_tail.stl
1.1 MB
RackMultipart20170830-2856-1lqzjri.zip/rex_teeth_bottom.stl
139 KB
RackMultipart20170830-2856-1lqzjri.zip/rex_teeth_top.stl
217 KB
RackMultipart20170830-2856-1lqzjri.zip/rex_tongue.stl
12.5 MB
RackMultipart20170830-2856-1lqzjri.zip/saddle.stl
20.8 MB
RackMultipart20170830-2856-1lqzjri.zip/shirt.stl
13.1 MB
RackMultipart20170830-2856-1lqzjri.zip/shoe_left.stl
104 KB
RackMultipart20170830-2856-1lqzjri.zip/shoe_right.stl
102 KB
RackMultipart20170830-2856-1lqzjri.zip/stonering.stl
23.8 MB
RackMultipart20170830-2856-1lqzjri.zip/woodplate.stl
2.54 MB
RackMultipart20170830-2856-1lqzjri.zip/assembly.png
5.4 MB