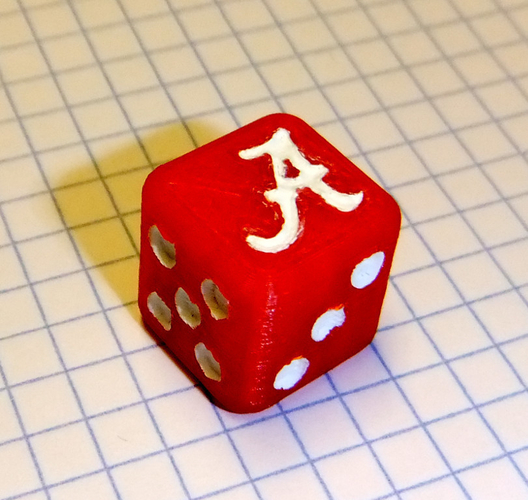 My friend is a die hard Alabama Football fan, so as one of the first models I printed on my new Tevo Tarantula was this die that I designed for him in Sketchup. I have printed it three times, with this being the best print I've gotten so far. I need to print a fan shroud, I think. Anyway, I thought I'd share this with y'all. If you print it, be sure to share your photos here!
Print Settings 
Supports: No 
Resolution: 0.1 - 0.2 
Infill: 60% or more, for weight 
Notes: For best results, print in red PLA or ABS.
After printing, paint the dots and the 'A' with white gloss enamel model paint. I used a straight pin to "paint" the details, just letting the paint ooze into the paths rather than trying to use a paintbrush on such tiny details.
6d-dice_Alabama.stl
223 KB