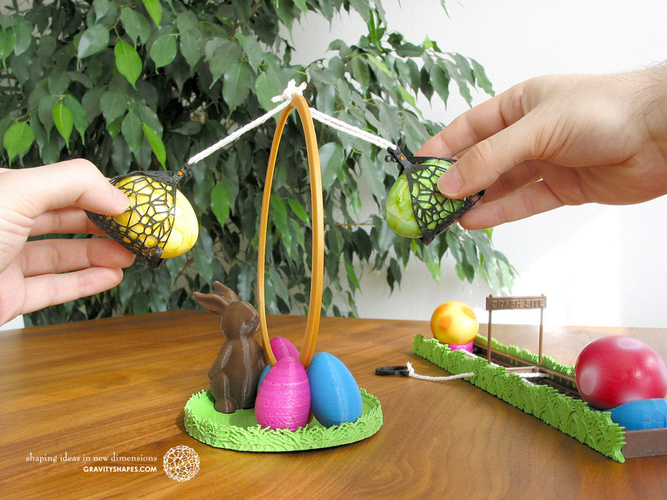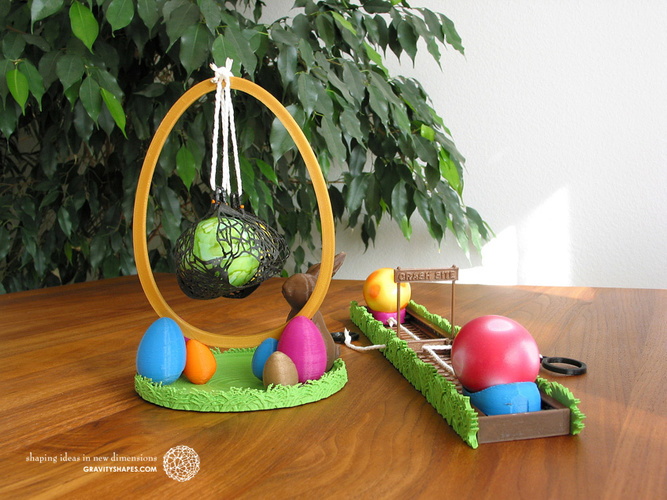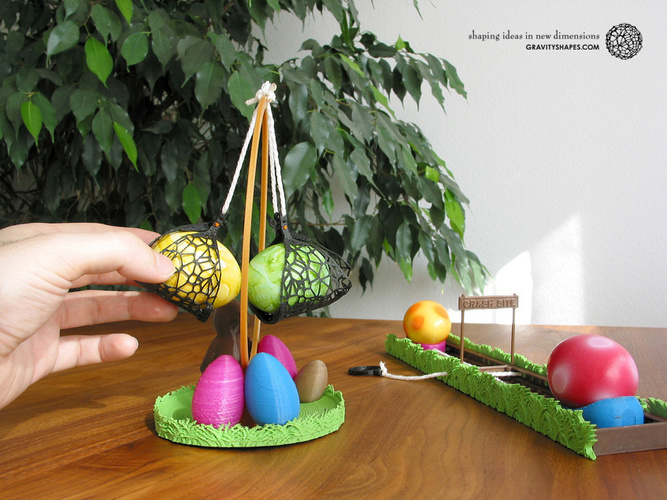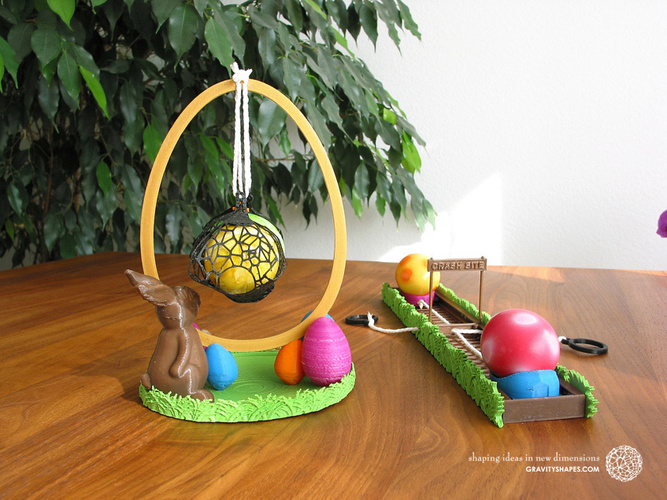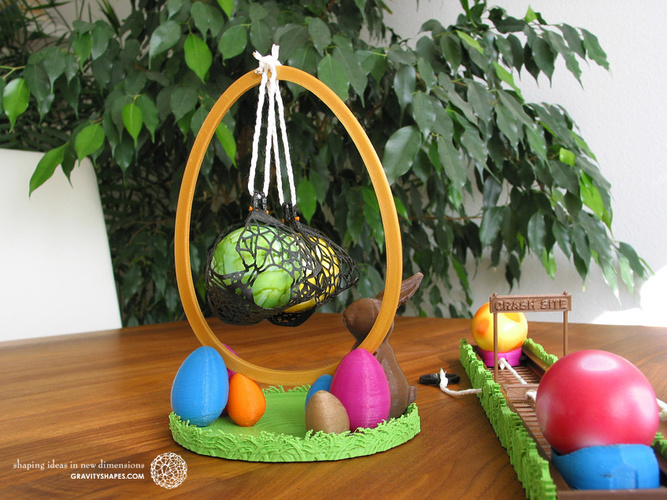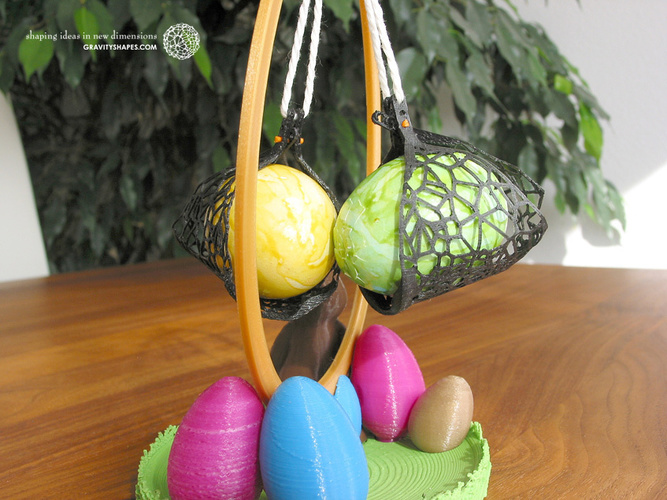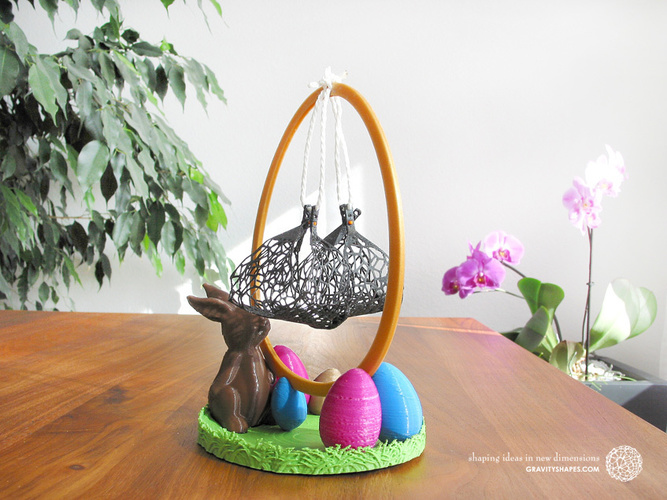 No Prints Yet

Be the first to upload a Print for this Design!
EASTER EGGS CRASHER: SWING
For a lot of fun at Easter. A 3D printing model set for the whole family!
Version 1.0
Easy to print and assemble
Support required: No (optional)
Rafts: Yes (recommended for the eggs)
11 STL-Files
Sizes (assembled): Approx. 11 x 13 x 19 cm
Do you know how Easter bunnies are testing Easter eggs? No? 
The Easter bunnies have different secret test methods. One of them is the Easter Egg Crash track designed by GRAVITYSHAPES, another is this Easter Eggs Crasher Swing.
Since Easter is the only time of the year in which you can play with food, there is this original Easter-Eggs-Crasher-Swing from GRAVITYSHAPES to print. Whether single-colored or brightly colorful, the parts can be easily printed and put together. A 3D printer, two cords and boiled eggs are all what you need!
The set is especially designed to be easy to print and assemble. Once built up, the hanging nets can be loaded with eggs, pulled back and bounced together. The Easter nest (bottom tray) catches any shell parts.
Which egg will be preserved? And who would not like to pull the cord now?
Glue is optional, but is not required if the print results are good.
- The sweet easter bunny is from Taurus82  (CC BY 3.0). Thanks. -
For more printing tips and information (in English and German) about the EASTER EGGS CRASHER SWING visit: 
Printing-Tips for this EASTER EGGS CRASHER "SWING"
Product-Info for this EASTER EGGS CRASHER "SWING"
3D View of this EASTER EGGS CRASHER "SWING" (Coming soon...)
RackMultipart20170408-27610-v6060t.zip/Easter-Eggs-Swing-Crasher-No-6_v1.0.-Nest.stl
9.67 MB
RackMultipart20170408-27610-v6060t.zip/License.txt
2.17 KB
RackMultipart20170408-27610-v6060t.zip/GRAVITYSHAPES_Easter-Eggs-Crasher-Swing-with-Easter-bunny-and-eggs-multipart_5.jpg
247 KB
RackMultipart20170408-27610-v6060t.zip/GRAVITYSHAPES_Easter-Eggs-Crasher-Swing-with-Easter-bunny-and-eggs-multipart_2.jpg
255 KB
RackMultipart20170408-27610-v6060t.zip/Easter-Eggs-Swing-Crasher-No-6_v1.0.4.-Egg-net_print2x.stl
1.29 MB
RackMultipart20170408-27610-v6060t.zip/Easter-Eggs-Swing-Crasher-No-6_v1.0.-Big-Egg-Ring.stl
766 KB
RackMultipart20170408-27610-v6060t.zip/Easter-Eggs-Swing-Crasher-No-6_v1.0.-Bunny.stl
3.92 MB
RackMultipart20170408-27610-v6060t.zip/GRAVITYSHAPES_Easter-Eggs-Crasher-Swing-with-Easter-bunny-and-eggs-multipart_1.jpg
214 KB
RackMultipart20170408-27610-v6060t.zip/Easter-Eggs-Swing-Crasher-No-6_v1.0.-Egg-net-connection_print2x.stl
16.3 KB
RackMultipart20170408-27610-v6060t.zip/Easter-Eggs-Swing-Crasher-No-6_v1.0.-Egg-No-1.stl
1.99 MB
RackMultipart20170408-27610-v6060t.zip/Easter-Eggs-Swing-Crasher-No-6_v1.0.-Egg-No-2.stl
2.02 MB
RackMultipart20170408-27610-v6060t.zip/Easter-Eggs-Swing-Crasher-No-6_v1.0.-Egg-No-3.stl
1.9 MB
RackMultipart20170408-27610-v6060t.zip/Easter-Eggs-Swing-Crasher-No-6_v1.0.-Egg-No-4.stl
1.69 MB
RackMultipart20170408-27610-v6060t.zip/Easter-Eggs-Swing-Crasher-No-6_v1.0.-Egg-No-5.stl
1.93 MB
RackMultipart20170408-27610-v6060t.zip/Easter-Eggs-Swing-Crasher-No-6_v1.0.-Egg-No-6.stl
2.14 MB