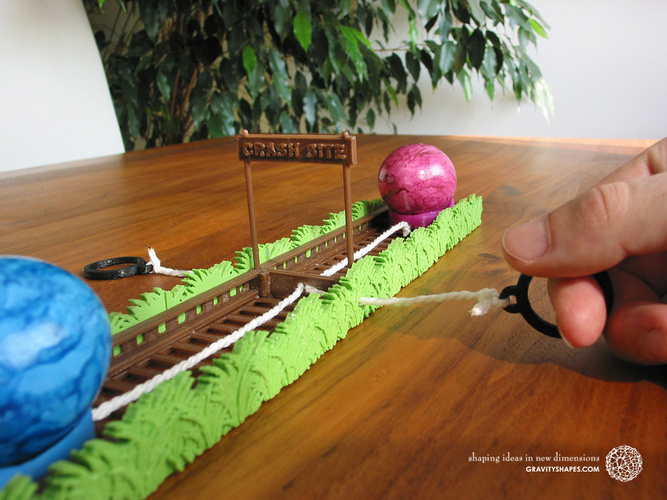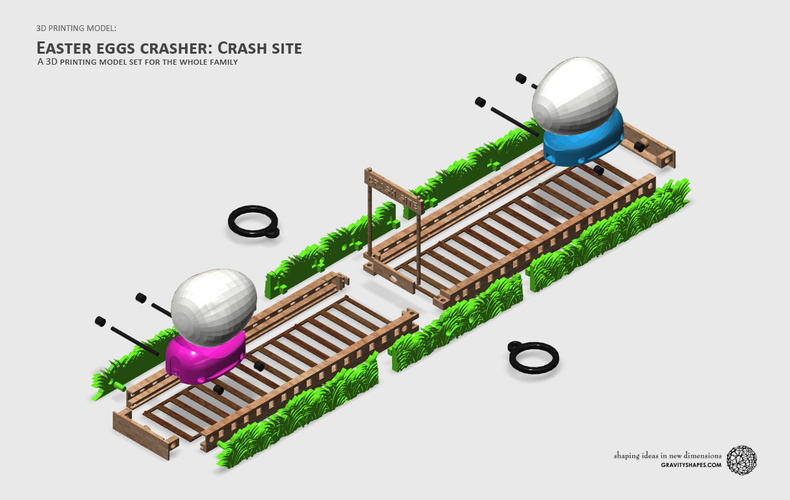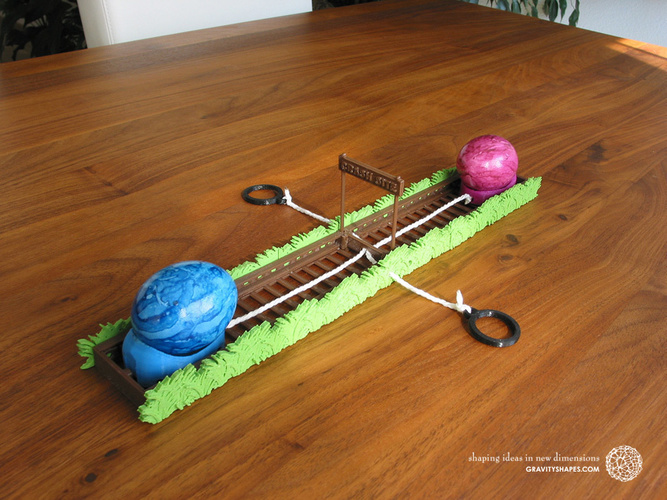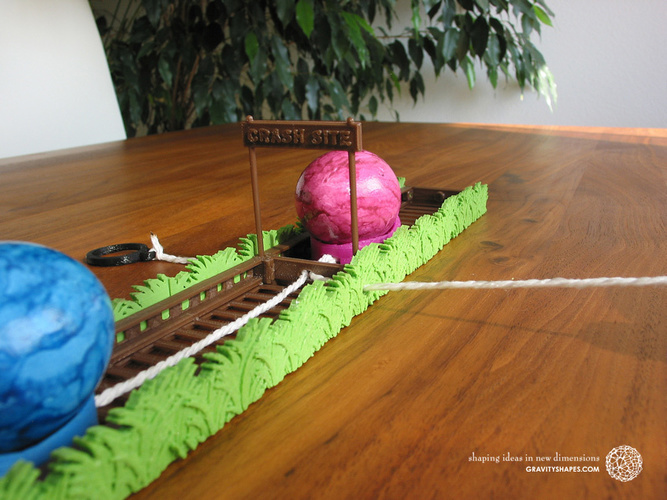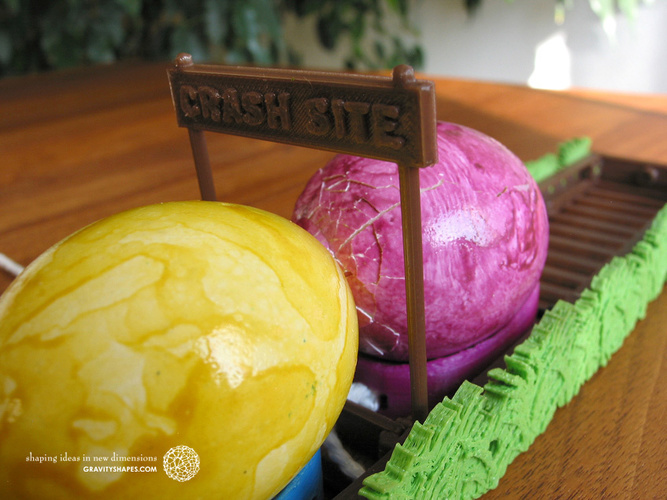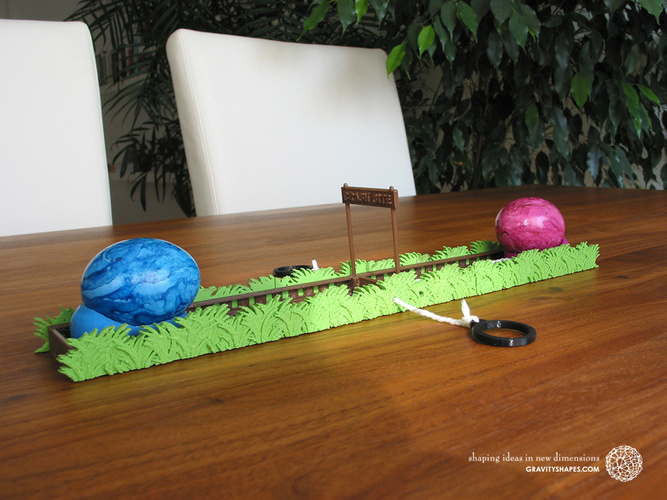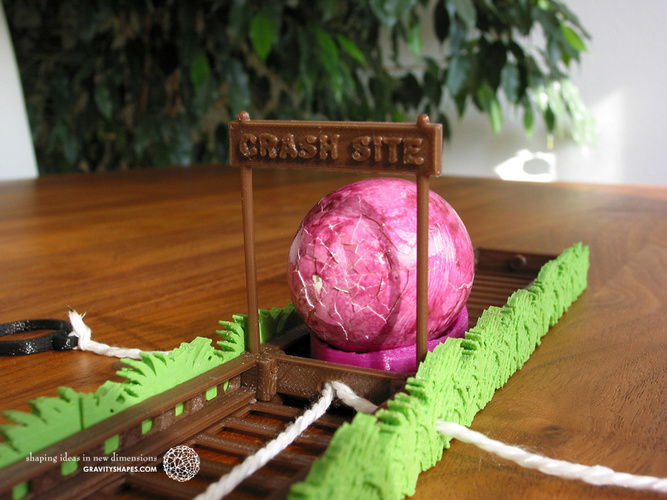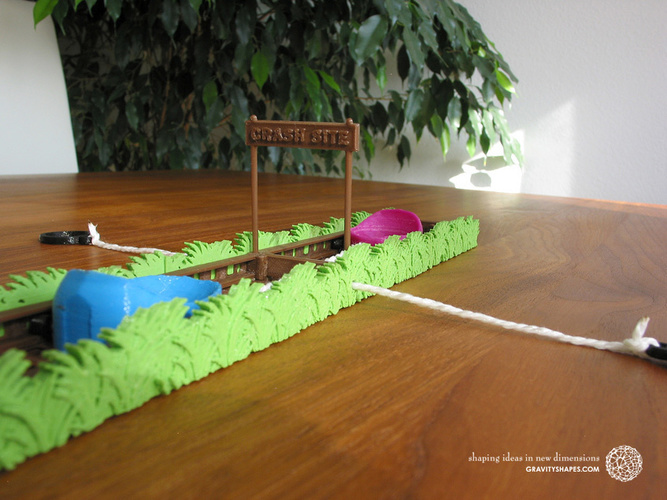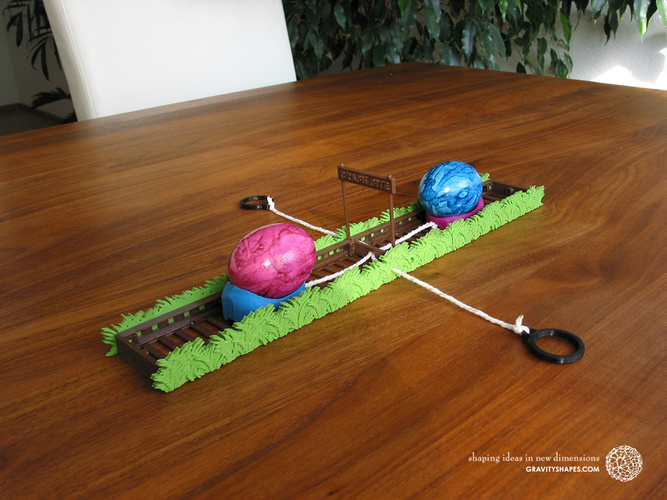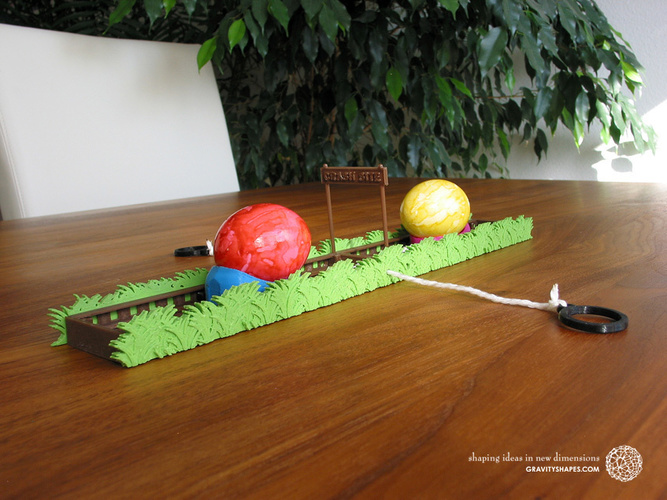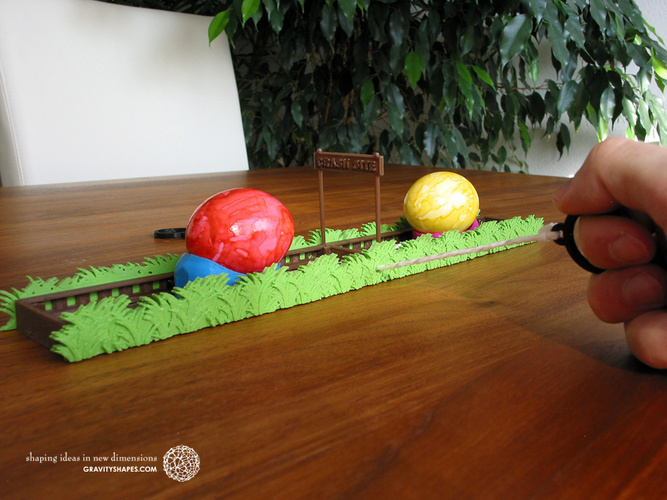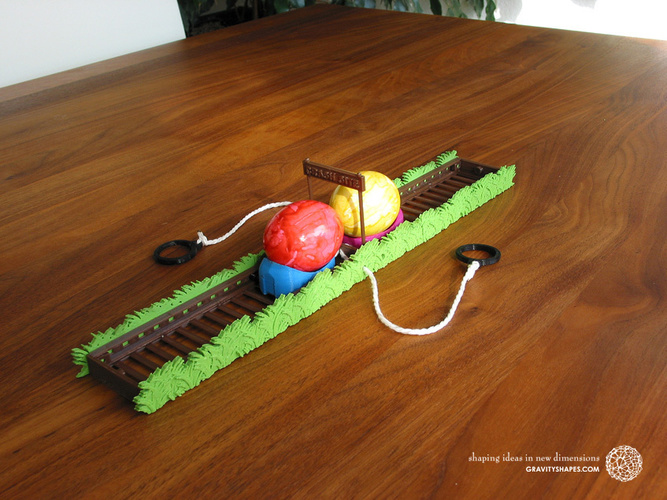 No Prints Yet

Be the first to upload a Print for this Design!
EASTER EGGS CRASHER: CRASH SITE
For a lot of fun at Easter. A 3D printing model set for the whole family!
Version 1.0
Optimized for 0.2 mm Layer, easy to print and assemble
Support required: No
17 STL-Files
Longest part: 17.3 cm
Sizes (assembled): Approx. 36 x 5.3 x 5.5 cm
Do you know how Easter bunnies are testing Easter eggs? Not? 
The Easter bunnies have different secret test methods. One of them is this Easter Egg Crash track designed by GRAVITYSHAPES, another is the Easter Eggs Crasher Swing.
Since Easter is the only time of the year in which you can play with food, there is this original Easter-Egg-Crash-Road from GRAVITYSHAPES to print. Whether single-colored or brightly colorful, the parts can be easily printed and put together. A 3D printer, two cords and boiled eggs are all what you need!
The set is especially designed to be easy to print and assemble. The cars are driven to the ends and loaded with boiled eggs. On command, each person pulls on its cord, causing the loaded wagons to move towards each other. In the middle, the top of the eggs crash under the sign "CRASH SITE" (There is also a blank signboard without text to label). Which egg will be preserved? And who would not like to pull the cord now?
The 3D printing set is optimized for 0.2 mm layers and 0.4 mm printhead (thinner goes, of course.). All parts have been designed so that no support is required when printing. If you print the parts as you find them in the STL, you do not have to print any supports. The set can be plugged together. Glue is optional, but is not required if the print results are good.
For more printing tips and information (in English and German) about EASTER EGGS CRASHER visit: 
Printing-Tips for this EASTER EGGS CRASHER 
Product-Info for this EASTER EGGS CRASHER
RackMultipart20170402-750-1h3i1pc.zip/Grass_left_print-2x.stl
1.68 MB
RackMultipart20170402-750-1h3i1pc.zip/License.txt
2.18 KB
RackMultipart20170402-750-1h3i1pc.zip/GS_Easter_eggs_crash_site_3D_visualisierung.jpg
237 KB
RackMultipart20170402-750-1h3i1pc.zip/GRAVITYSHAPES_Easter_eggs_crash_site_22.JPG
194 KB
RackMultipart20170402-750-1h3i1pc.zip/GRAVITYSHAPES_Easter_eggs_crash_site_21.JPG
228 KB
RackMultipart20170402-750-1h3i1pc.zip/GRAVITYSHAPES_Easter_eggs_crash_site_20.JPG
243 KB
RackMultipart20170402-750-1h3i1pc.zip/GRAVITYSHAPES_Easter_eggs_crash_site_13.JPG
251 KB
RackMultipart20170402-750-1h3i1pc.zip/Grass-poles-round_print-4x.stl
16 KB
RackMultipart20170402-750-1h3i1pc.zip/Car-wheel_print-8x.stl
23.1 KB
RackMultipart20170402-750-1h3i1pc.zip/Car_classic_alternative.stl
1.07 MB
RackMultipart20170402-750-1h3i1pc.zip/Rail-A_print-2x.stl
86.5 KB
RackMultipart20170402-750-1h3i1pc.zip/Grass-poles-square_print-8-20x.stl
684 Bytes
RackMultipart20170402-750-1h3i1pc.zip/Grass_middle_print-2x.stl
1.48 MB
RackMultipart20170402-750-1h3i1pc.zip/Car_rally_print-2x.stl
1.27 MB
RackMultipart20170402-750-1h3i1pc.zip/Grass_right_print-2x.stl
1.91 MB
RackMultipart20170402-750-1h3i1pc.zip/Track-grid_print-2x.stl
24.5 KB
RackMultipart20170402-750-1h3i1pc.zip/Rail-Buffer_print-2x.stl
42.3 KB
RackMultipart20170402-750-1h3i1pc.zip/Hole-board_print-1x.stl
22 KB
RackMultipart20170402-750-1h3i1pc.zip/Crash_site_blank_alternative.stl
259 KB
RackMultipart20170402-750-1h3i1pc.zip/Rail-B_print-2x.stl
74.7 KB
RackMultipart20170402-750-1h3i1pc.zip/Crash_site_with_text_print-1x.stl
576 KB
RackMultipart20170402-750-1h3i1pc.zip/Finger-ring_print-2x.stl
1.08 MB
RackMultipart20170402-750-1h3i1pc.zip/Car-axis_print-4x.stl
53.8 KB