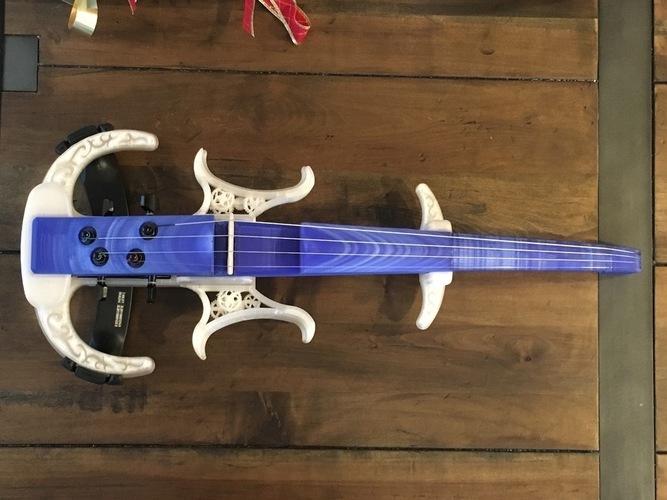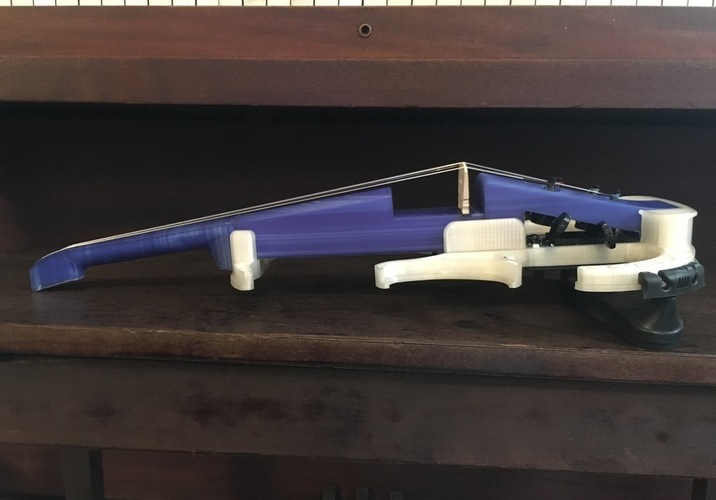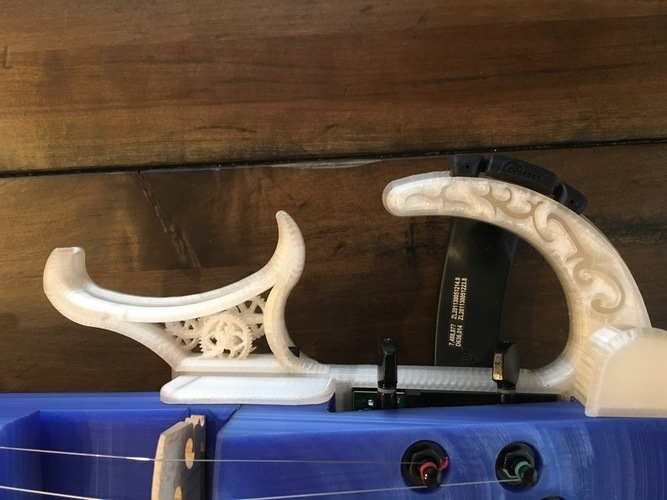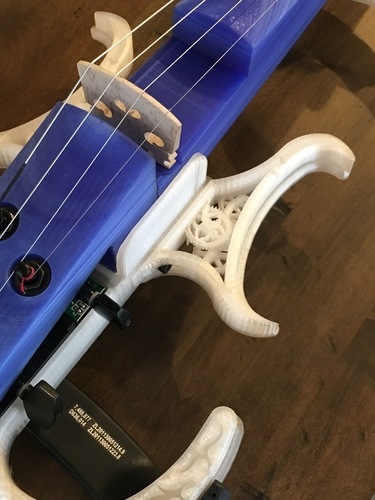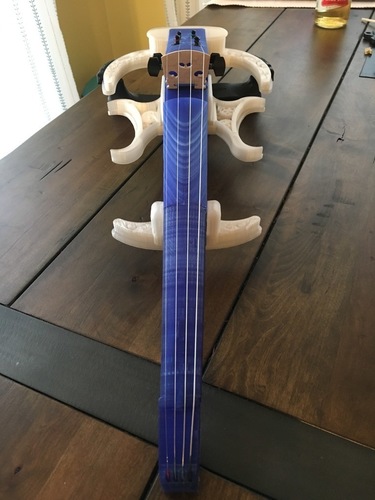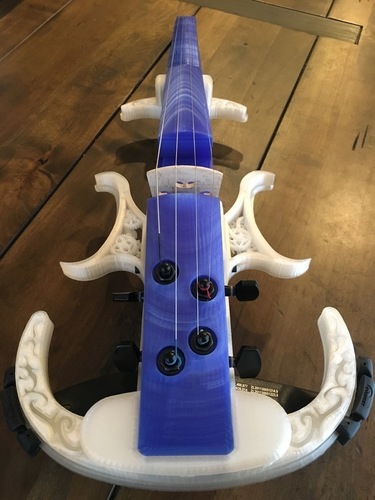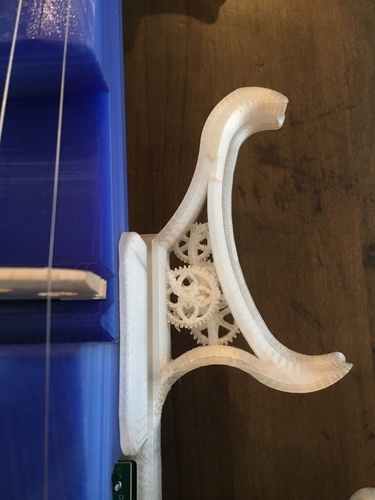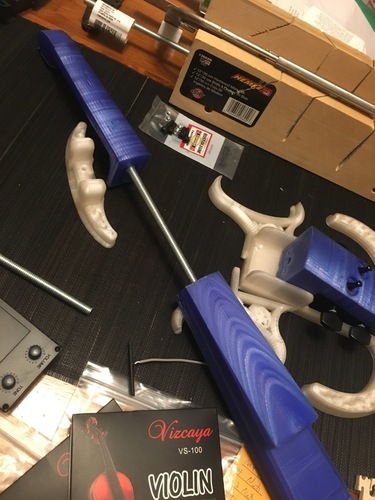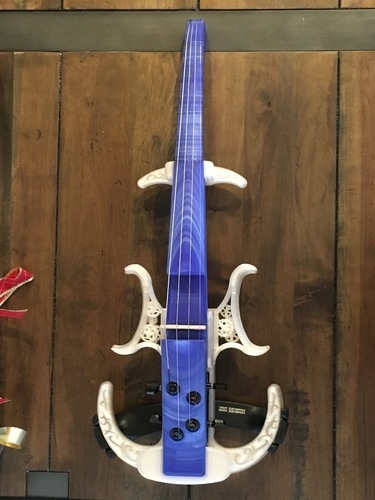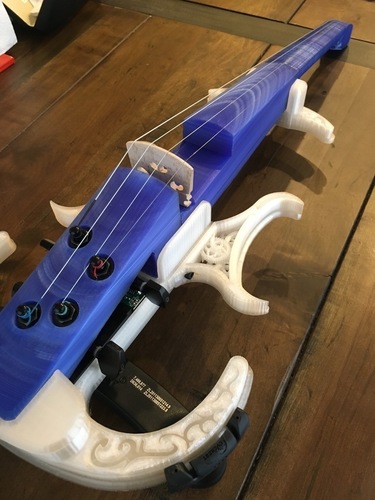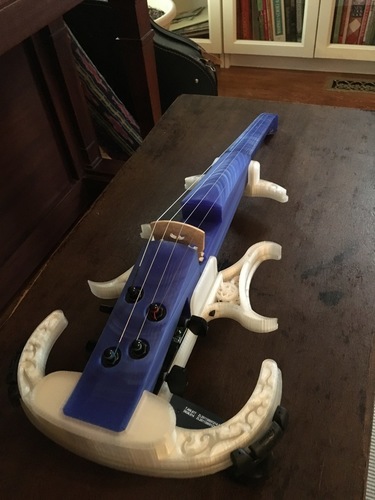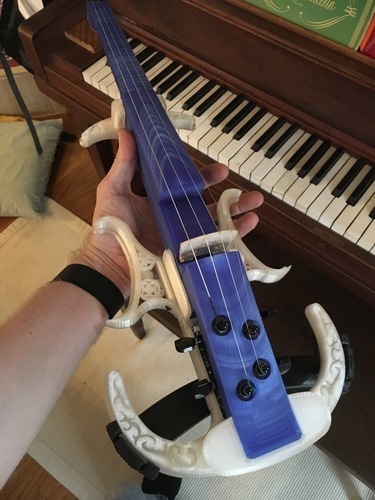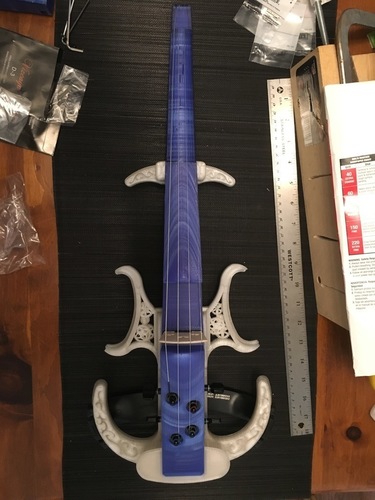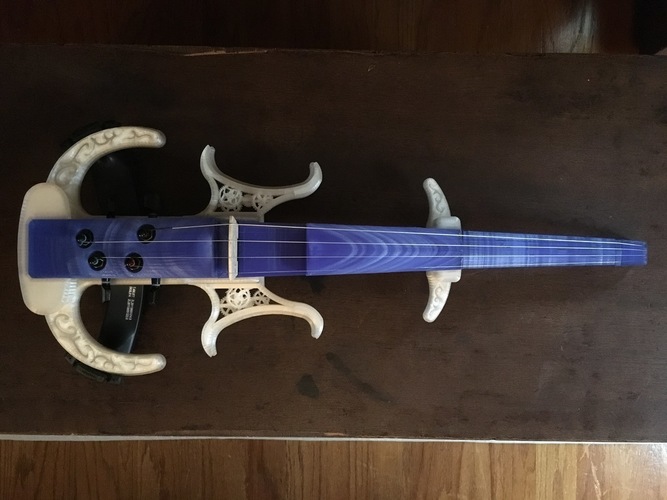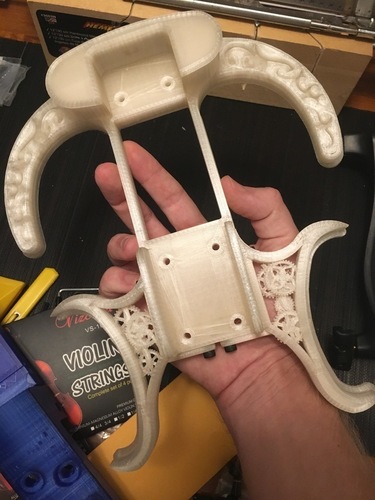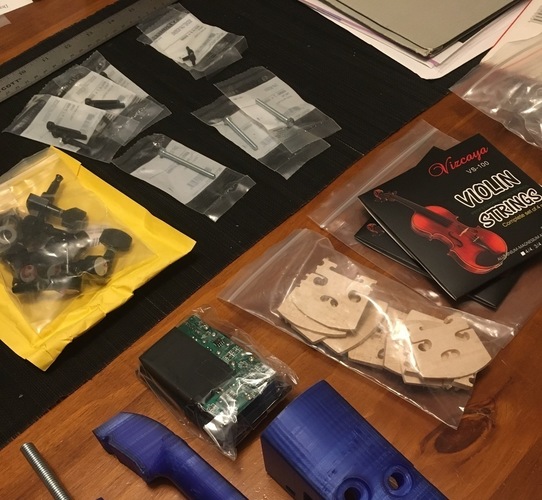 No Prints Yet

Be the first to upload a Print for this Design!
Summary I wanted to design a classical / modern style electric violin. Something that pays homage to the curves of a Stradivarius while showcasing what you can do with crystal PLA on a 3D printer. I hope you like it. This design uses a standard violin bridge, allows for a standard shoulder rest and allows for a traditional style 3D printed chin rest (included and set up for screw on brackets).
I've always been a bit of a steampunk aesthete, hence the clockwork and filigree. But if you prefer, I've also included blank pieces of the design in case you want to remix or go with the clean look.
Since the lower bout and waist of the violin can't be printed as one piece on a standard 8" printer, the waist parts screw on (so they can be replaced if broken or left out all together if you choose). You will likely have to print the lower bout at 45º in order to fit. Either way I can't wait to see what you make of it.
A big shout out to Stepan Ignatovich for the inspiration and remix source.
UPDATED (2017-2-23): Cleaned up the Body and Chin Rest files.
UPDATED (2017-3-16): While the original design from Stepan83 was really good, I wasn't completely satisfied with the wiring for the pickup, as the wire goes through where the threaded rod resides. So I tweaked "violin_neck_part2.STL" and created "violin_neck_part2_better_pickup_wiring.STL" which provides a little space behind the pickup and allows the wire to go on either side of the threaded rod.
Post-Printing In order to achieve the look I wanted and not have to paint the PLA, I had to be very careful not to sand or file any of the exposed areas, instead I used a small exacto knife to clean up edges.
Let me know if anything is missing. 
Printing I recommend printing one piece at a time. It's time consuming, but you'll want more control in the end. After a few attempts, only 3 pieces required supports in the end. The two violin waist pieces with the clockwork required a bit of finagling with printing supports and cleaning. The bottom 2 parts of the neck had the coolest effect when printing flat, so I printed neck_part3 with supports (therefor the hidden under part where the tuning pegs screw in is not as smooth as the rest). The chin rest also of course requires supports to get that classic curve. 
General Materials Printed Parts - 8pcs your choice Threaded Metal Rod M8 x 370mm Violin Bridge - will need sanding like all bridges, but also flattening out of the feet Violin Pickup and Preamp - for under bridge (easy to find on eBay or Amazon) Guitar Tuners - 4pcs (2 left/2 right) Shoulder Rest - Standard Type Chin Rest Bracket - Standard Type Violin Strings Screws and Nuts
Screws: M4 x 25mm socket cap - 9pcs M4 x 15mm socket cap - 2pcs M4 x 12mm socket cap - 2pcs M4 x 50mm - 1pcs (philips or flat head) M4 x 40mm - 2pcs (philips or flat head) M3 x 8mm - 4pcs (for tuning pegs) M2 x 10mm - 4pcs (Note: often provided with violin pickup)
Nuts: M4 - 16pcs M3 Brass Wood Screw Inserts for the tuners - 4pcs (likely need to drill out a bit for a smooth fit, brass is soft and will break if it has much resistance in the plastic) 
Infill and Walls
I used a 20% with a mix of 4mm and 3mm thick walls to make sure it was solid enough to hold it's tuning and have a warm sound. But because that makes it fairly heavy compared to a classical acoustic (or carbon fiber electric) I am still looking for the right balance. If you make one, please comment with your settings and the outcome.
body_lower_bout_with_filigree.stl
717 KB
violin_neck_part2_better_pickup_wiring.STL
312 KB
violin_neck_part3.STL
320 KB
violin_neck_part1.STL
993 KB
body_upper_bout_basic.stl
157 KB
violin_neck_part2.STL
176 KB
violin_neck_part1_without_support.STL
807 KB
body_waist_block.stl
118 KB
body_waist_basic.stl
129 KB
body_lower_bout_basic.stl
354 KB
chin_rest_with_bracket_holes.stl
759 KB
body_upper_bout_with_filigree.stl
415 KB
body_waist_with_clockwork.stl
4.15 MB