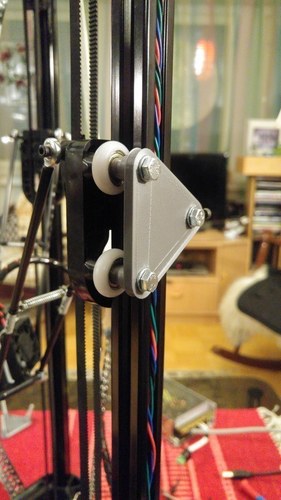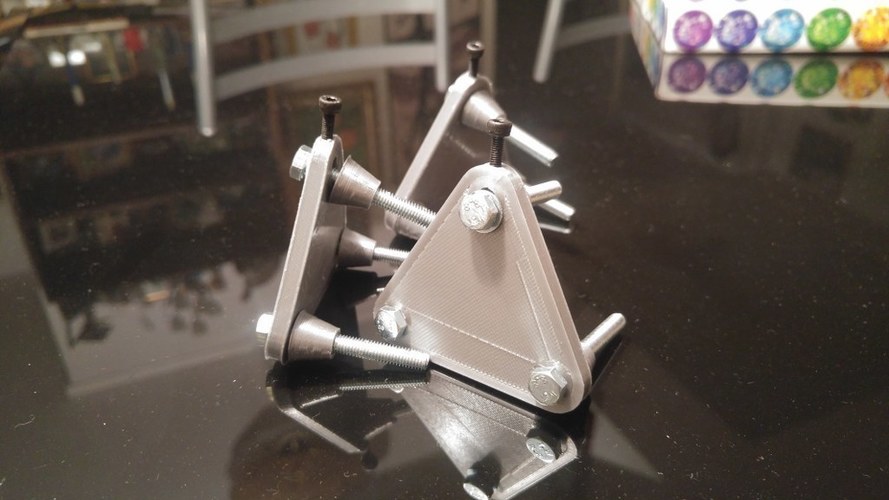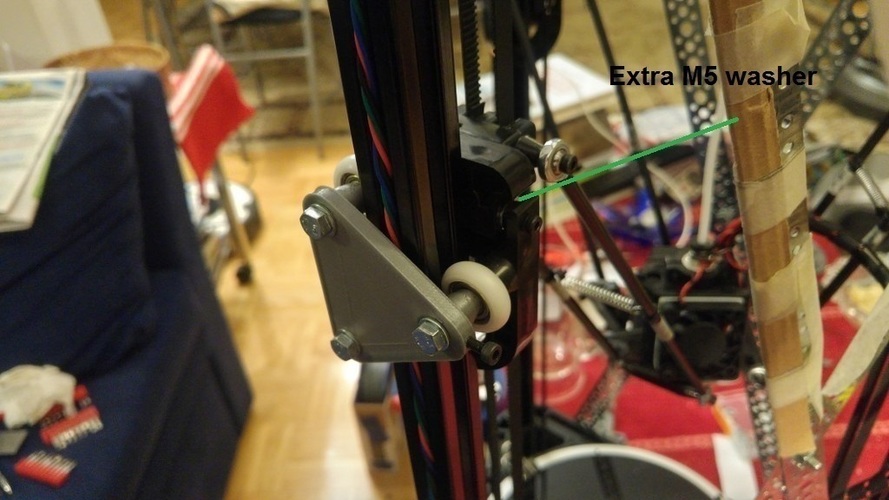 No Prints Yet

Be the first to upload a Print for this Design!
Best mod for your pulley version Micromake D1 delta printer, period. 
Will prevent flexing in the pulley system and add accuracy greatly with faster print speeds.
Need to print 3 plates and 9 cones. 
To finish the installation you will also need:
9pcs              longer M5 x40mm bolts (3 per support plate to replace originals)
3pcs               M3 x12mm bolts (new tensioner bolts on the plates, threading not needed, just screw in carefully)
6-12pcs       M5 washers (Add 1 on top off each square nut in the original tensioner bolt design and tighten the original m3 as far                                as they go), use 3 for the sliding bolt hole on the outside sides plate face. Other 6 for normal pulley bolts are not                                          mandatory, but add for sleek design.
The original adjustment is replaced with the new bolt on the pulley plate, just leave this M5 slack, pull it from this bolt with your fingers towards other side and tighten the M3 in the plate to snug tightness. Do not over tighten the pulley wheel bearings or brake the m3 threads. finger tightness is ok. Then lastly tighten the adjustment holes M5 to normal tightness.
Enjoy your new non flexible pulley system. Please calibrate your printer after the mod. Use at your own risk.
Happy printing :)
Example PLA 1.75mm print settings (test with one piece first and adjust if necessary):
Fill +25% honeycomb
Walls, Top, Bottom thickness 1.8mm+
layer height 0.25mm width 0.3mm (Or better quality)
Filament temp 200'C
Bed 55'C
Full support and guarantee about files and items functionality. Get in touch if any problems arise and I will advice/or refund with paypal as needed.
(Might fit other similar sized 3-pulley designs also, likely fits common delta designs:  kossel, afinibot, flsun 3d, ragetekk, anycubic? Possible but not likely: Sintron, Folger, HE 3D)
Please sent the pulley system measurements (axle to axle or bolt to bolt center etc. measurements in mm/inch) before ordering for other than 2020 aluminium profile Micromake version delta printer. Fitments to other systems not guaranteed before checking the pulley measurements. 
PS: I can also  draw 3D models of similar items for other delta printer systems if you provide the measurements and you as a first tester/measurement supplier will get free files.
pulley triangle cone.stl
12.1 KB
pulley triangle plate.stl
27.2 KB