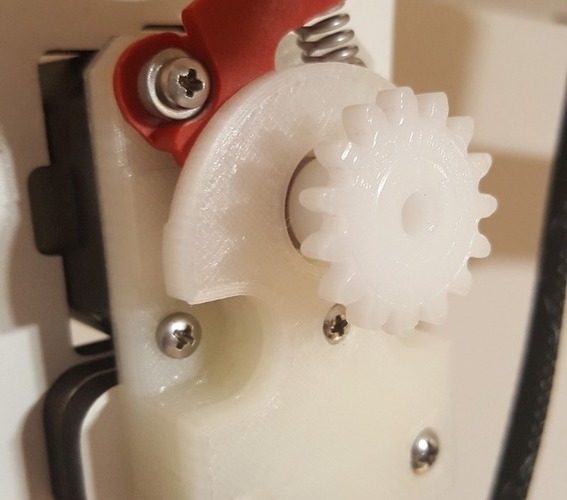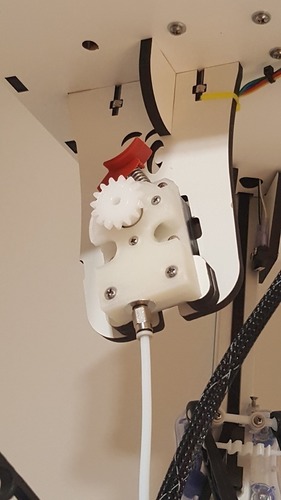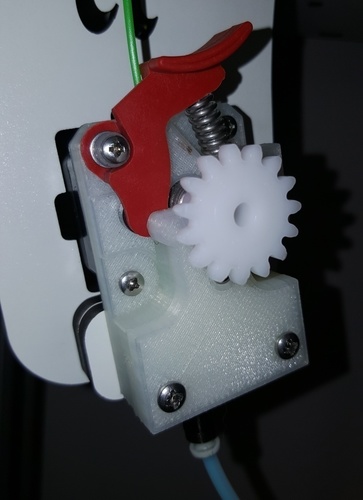 No Prints Yet

Be the first to upload a Print for this Design!
I was experiencing issues with the stock EZ Struder. I reviewed and dabbled with a few designs, ideas, etc.. on the interwebs. Once the pile of Ninjaflex started laughing at me, I decided it was time to take on the challenge to design one myself. After several weeks and nearly an entire roll of plastic, I've tweaked it to the point I'm happy to share my results with the community!
UPDATE 2016-06-02 - Version 7
Since the time I published this several have reported the hob gear has increased in diameter. So, I've made the following tweaks to the v7 Extruder Maximus:
Increased the hob gear hole diameter to accommodate the 12.4mm hob gear. Note: This will still work for the smaller gear.
Carried the arm restraint all the way around on the top for additional support on the tensioner arm and spring.
Increased the diameter of the top to allow the manual knob to rest against the hob gear.
Decreased the diameter of the screw holes for tighter fit.
Recessed the mounting screws.
Added built-in support for the spring nub.
Tweaked the pinch-point and removed the built-in support (really wasn't needed).
Used all high definition cylinders in the 3D model and separated the pieces into individual STLs.
Print Settings: 0.20mm resolution at 80% infill. I used Taulman 910 (HE: 240F; BED: 50F; Hairspray @ 30mm/s). Used Simplify3D to generate support at 3mm from bed only.
V5 Makes: If you would like to go with v7 and am happy with the performance of v5, the top is backwards compatible and will fit the v5 bottom.
Installation: No additional hardware is required. I designed the piece to utilize all the existing components (including screws) from the stock EZ Struder. Remove the built-in support on the spring nub with a razor. Depending on the quality of print, I would run a 5/64 drill bit down the feed tube to smooth out any imperfections.
rostock_extruder_maximus_v5.stl
138 KB
rostock_extruder_maximus_v7-standoff.stl
53.8 KB
rostock_extruder_maximus_v7-top.stl
244 KB
rostock_extruder_maximus_v7-base.stl
415 KB
rostock_extruder_maximus_v7.stl
670 KB