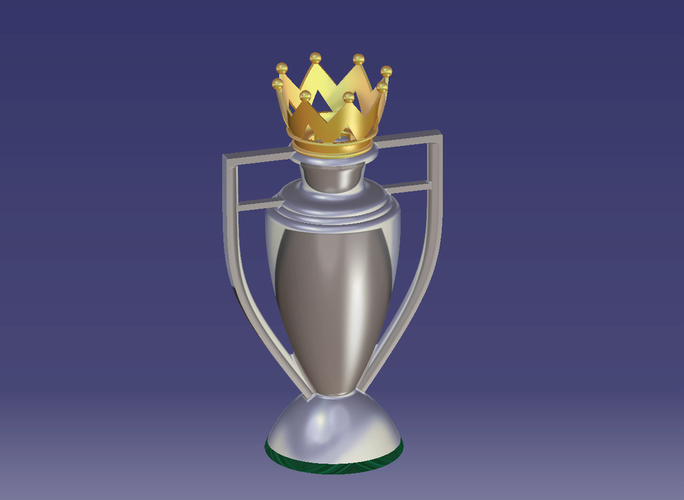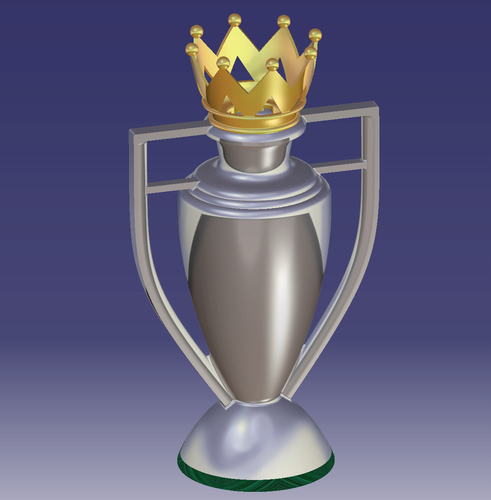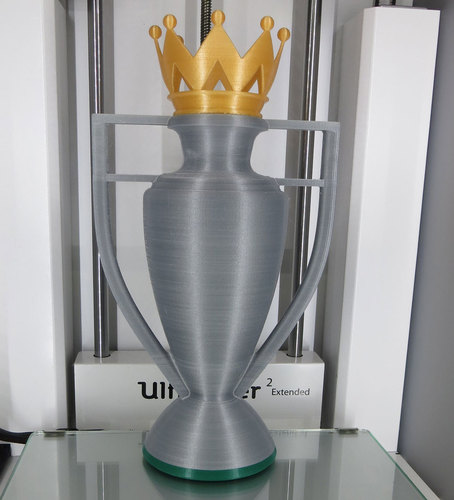 No Prints Yet

Be the first to upload a Print for this Design!
Summary When myself and a few friends from work all decided to enter a fantasy football competition I though it would be a good idea if we had a trophy that the winner could keep for the year. And what better trophy than a scale replica of the Premier League trophy itself. I downloaded a suitable image of the trophy and used CATIA to trace its profile to create the 3D model. The model is in three pieces, the base, the trophy and the crown, so that the different parts can be printed in different colours. I have tried to find a suitable image of the lions that adorn the handles of the trophy, but unfortunately all the good quality images have the lions feet obscured by the ribbons. I'll keep trying to get these modelled and may upload them at a later date. Print Settings Printer Brand: Ultimaker Printer: Ultimaker 2 Rafts: No Supports: Yes Resolution: .1 Infill: 30% Notes: I printed the trophy body upside-down and used supports for the horizontal bars in the handles. For the crown I only used support material on the underside (see image). And for the base I used support material in the recessed base only. I also increased the infill to 80% for the base part to give it a bit more weight. Resolution is entirely up to you, but I used 0.1mm although this was much finer than is necessary. If I were to print another one I would most likely use 0.15mm Post-Printing
The assembled Premier League trophy Assembly Instructions To attach the base I used a very generous amount of hot glue which also had the added advantage of adding even more weight to the base which should make it more stable. The crown is designed in such a way that it should just clip onto the trophy with light force. And that's it. How I Designed This
Showing the support used to print the crown.
TROPHY_BASEx010.stl
1.54 MB
PREMIERESHIP_TROPHYx010.stl
27.5 MB