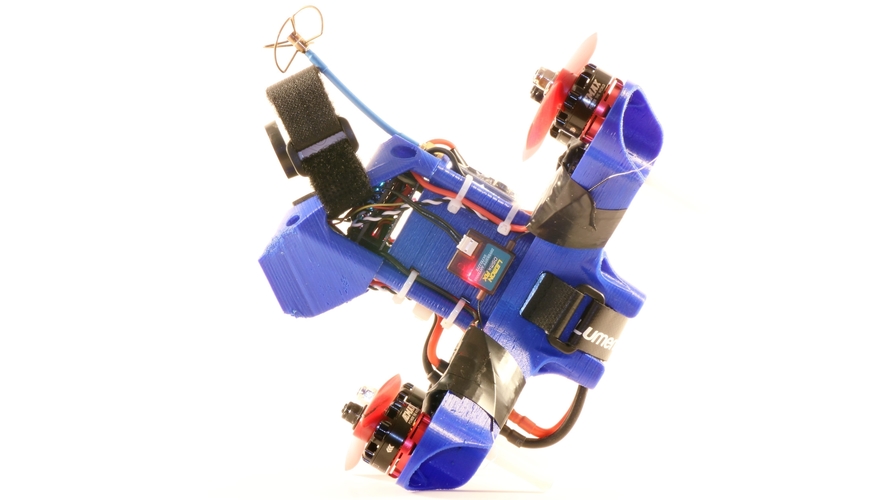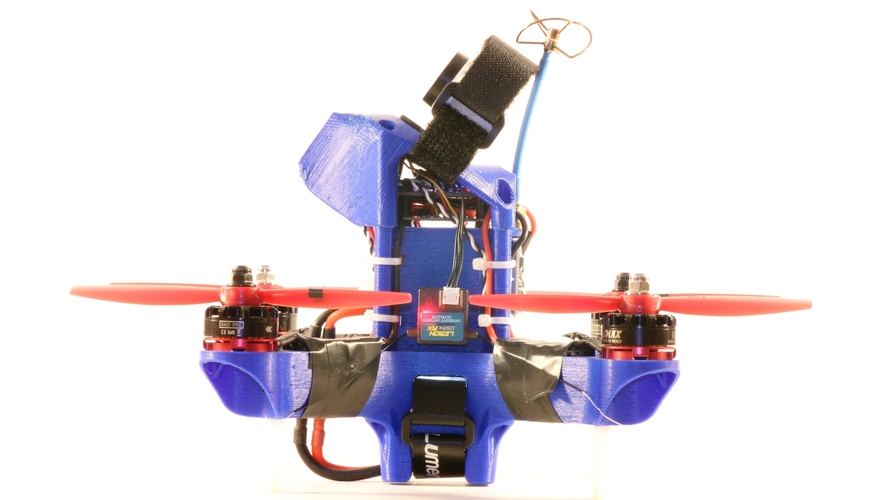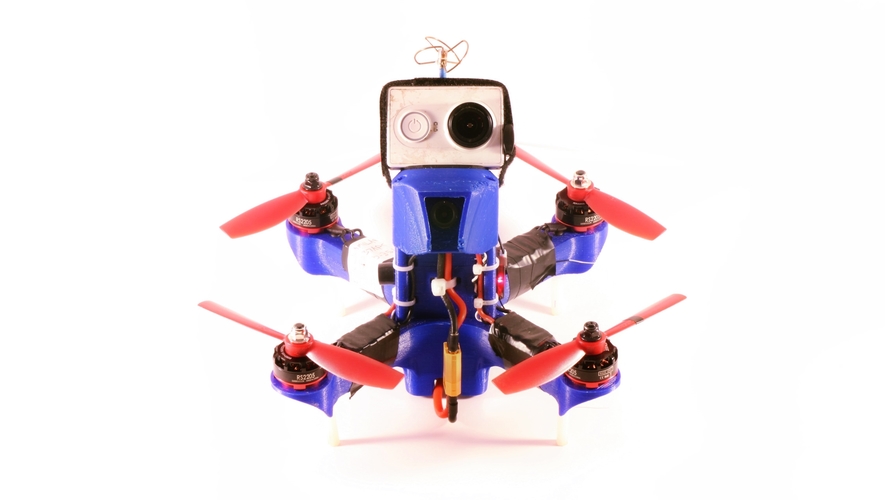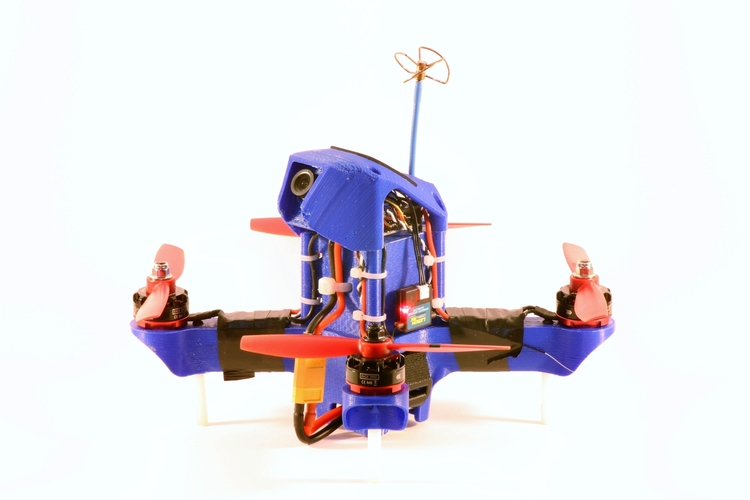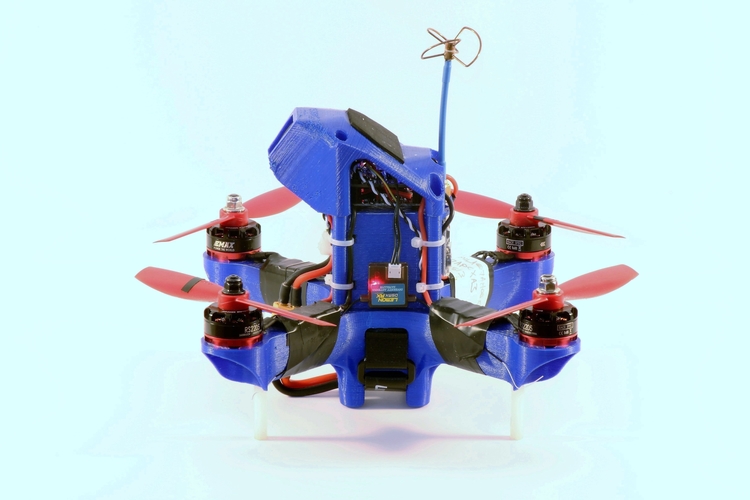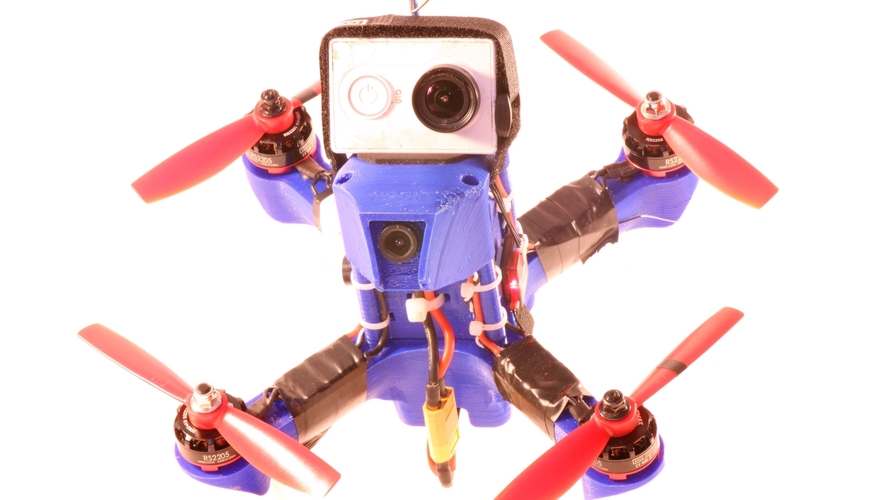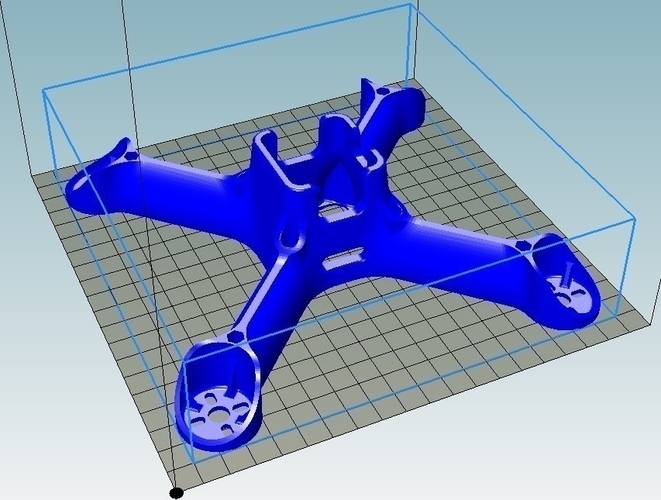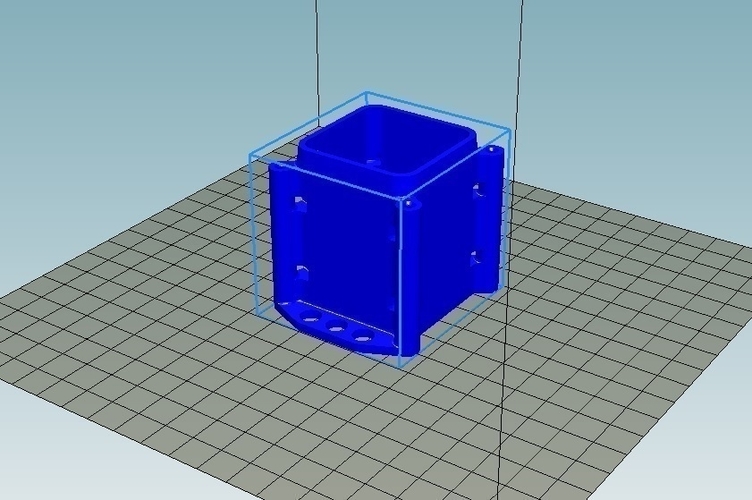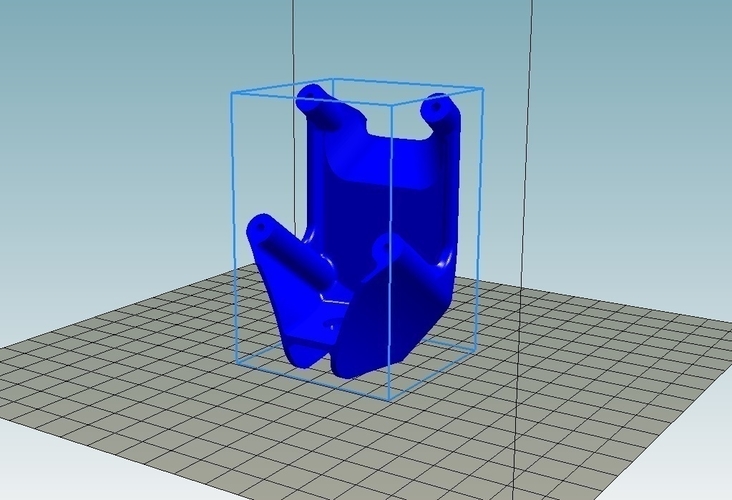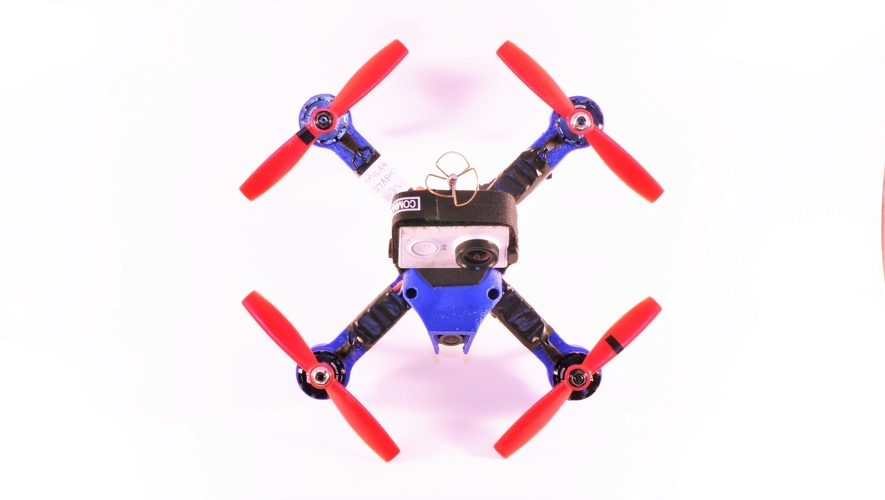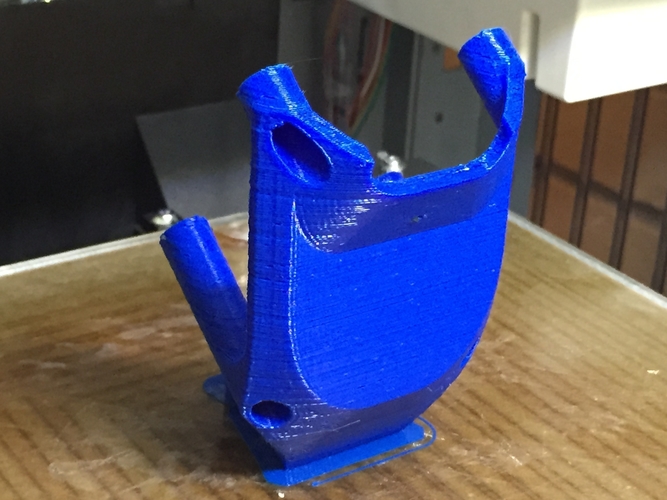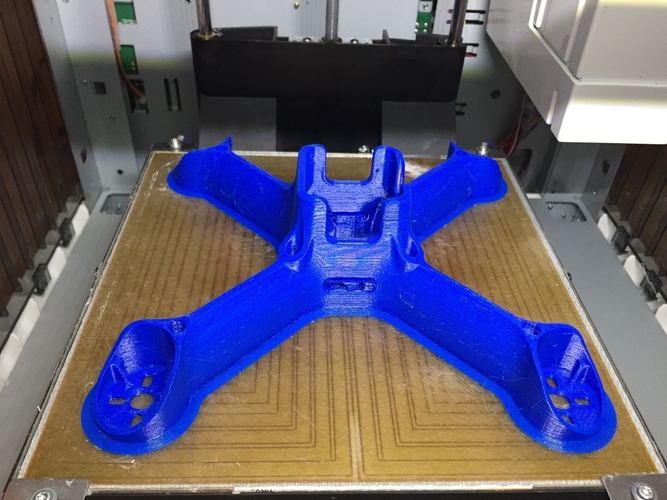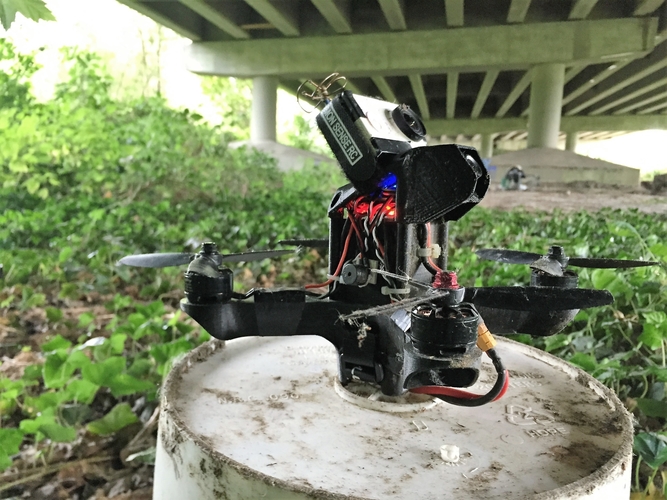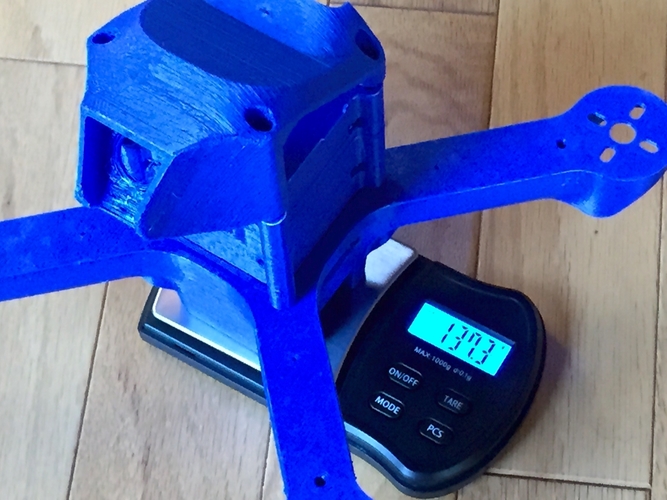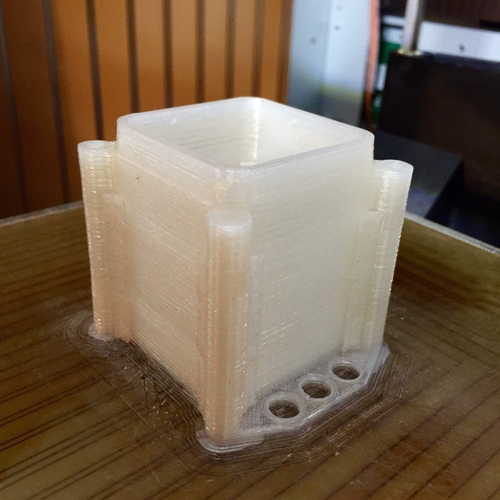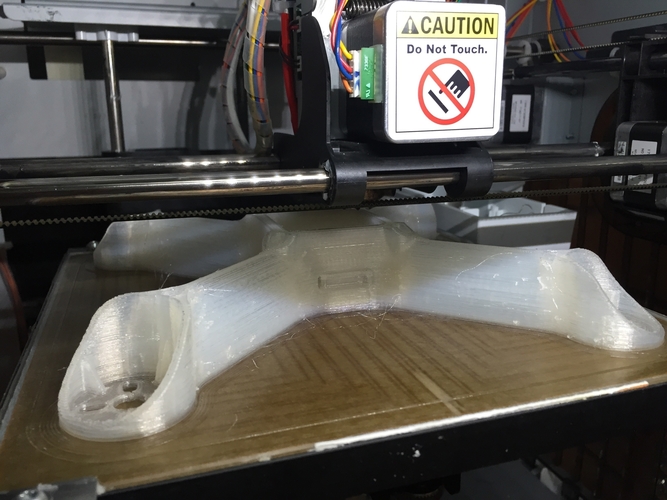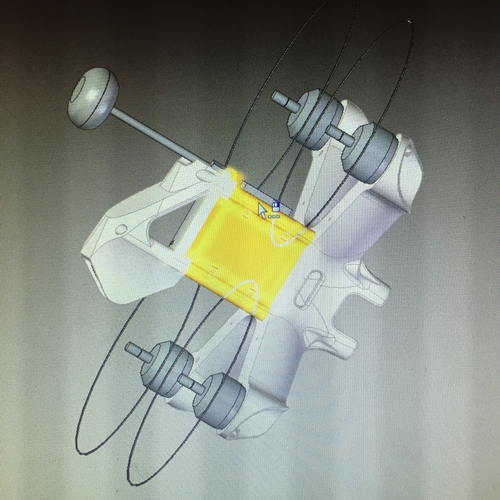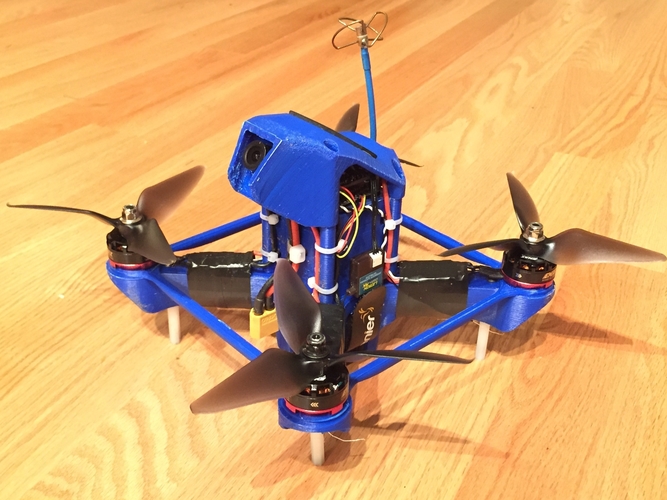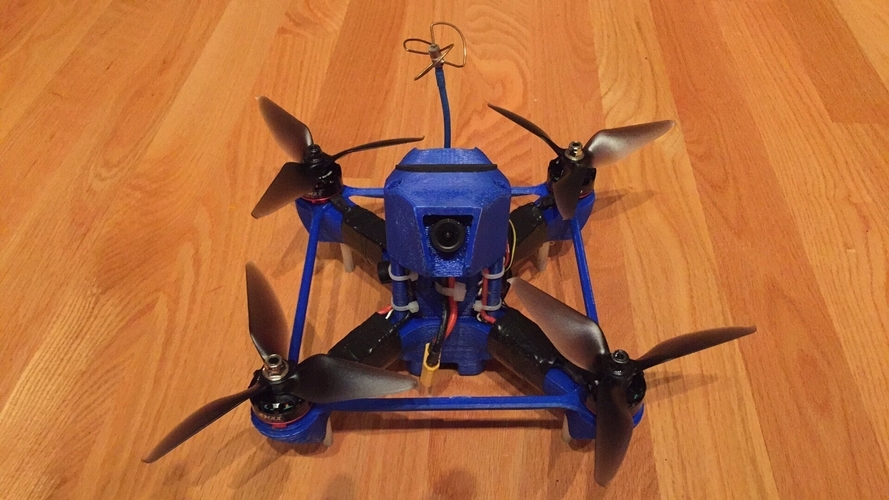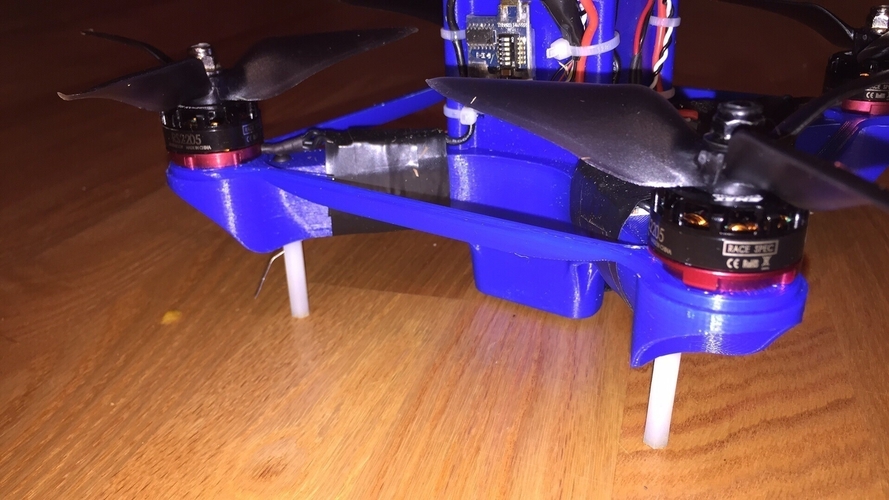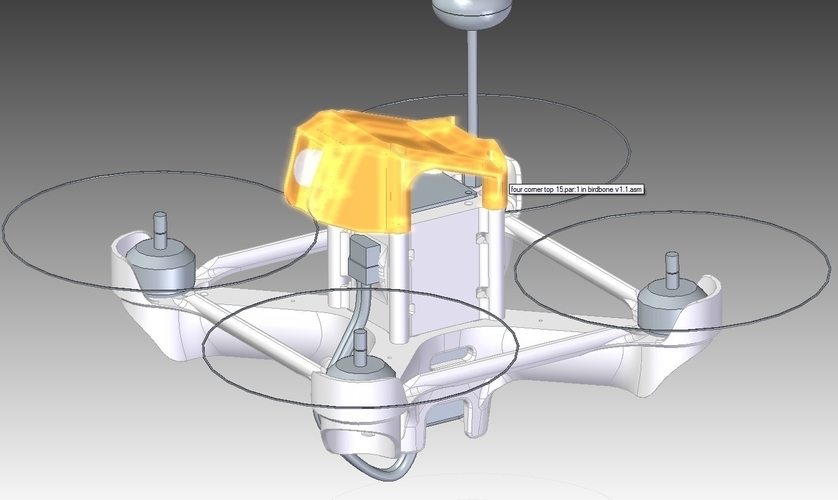 Birdbone FPV (YouTube Video #1)
Update:  11/24/16:  Taulman Alloy 910 nylon has quickly become the top material choice for this build.  Here's why:
PLA will get you into the air, and ABS/PETG will give you  good damage tolerance.  What I've found is that the inter-layer strength and durability of 910 nylon is unbelievable compared to ABS, all while maintaining excellent stiffness.  Zero worries about breaking frames.  Printing nylon requires a hot end temperature of around 255C, so not all printers can handle it.  It also needs to be very dry, so make a simple dehydrator if you live in a moist climate (indoor relative humidity >30% or so).  I live in Seattle (very wet), so I built one of these and it works great:  Easy and Inexpensive Dehydrator.
************************************
Update:  11/12/16:  "Square - Motor Guards Beta.stl" added.  This is an optional square frame modification with motor guards.  I've been flying over/around/into concrete and pavement lately, and have lost a few motors, so I'm testing this square frame with integrated motor guards.  As always - this mod trades some weight for durability.   Give me some feedback it you decide try it out. 
************************************
Update, 11/11/16:  "Upper - Aero Beta 20 degrees.stl" added.  This is an optional upper with a less aggressive camera angle (20 degrees instead of 35 degrees).  I have not printed or tested one of these yet, but wanted to make it available for those who want a lower camera angle.  If you try it, let me know if there are any opportunities for improvement.
************************************
Update, 10/30/16: "Square - Beta.stl" added.  This is an optional component than can be added between the motors and the Lower frame component (use longer motor mount screws).  Is it worth the extra weight?  May help with lateral stiffness and durability, etc - need to test, but feel free to help me beta test it.
************************************
This is the Initial (Beta) release of the Birdbone Aero  FPV freestyle/race frameset.
 The in-line battery significantly reduces flow-wise projected body area, which results in faster/longer flights.  The arm cross section is an airfoil shape, which further reduces drag.
All my early development flights were PLA, which is quick and easy and has great stiffness.   I've since moved to ABS for better durability.  For PLA I recommend .3mm layer thickness, with 50-100% infill for minimal build time and great, high stiffness prints.  For ABS I recommmend .2mm layer thickness with 50-100% infill for slower build times, but with increased durability.  I'm looking forward to trying other materials like Taulman Alloy 910 nylon in the future.  See attached for recommended print orientations, a build hardware list, and instructions.
My current setup: Frame:  Birdbone Aero  (Beta) in ABS (www.hatchbox3D.com). Controller:  Naze32, rev 6.  PDB:  Matek Mini Power Hub.  ESCs:  ZTW Flash 30A (BLHeli_S).  Motors:  EMAX RS2205 2600Kv.  Props:  Quadrysteria 5x4.5 Basher Bullnose.  Video Tx: TS5823.  Flight Camera: RunCam PZ042M. Control Rx:  Lemon DSMX Diversity Satellite.  Record Camera:  Xiaomi Yi (Waffle/Superview hack).  Batteries:  SMC True Spec 37A and Tattu 75C 1300mAh mostly (I've fit up to 1800mAh's in the battery compartment).  AUW:  620 grams (1300mAh battery, with Yi cam, and 100% infill parts).
Square - Motor Guards Beta.stl
6.31 MB
Upper - Aero Beta 20 degrees.stl
3.18 MB
Square - Beta.stl
3.16 MB
Lower - Aero Beta.stl
22.7 MB
Mid - Aero Beta.stl
6.75 MB
Upper - Aero Beta.stl
5.23 MB
Birdbone Aero Beta Instructions Rev b.docx
18.1 KB
Cleanflight CLI Dump Birdbone Aero 091416.txt
7.93 KB