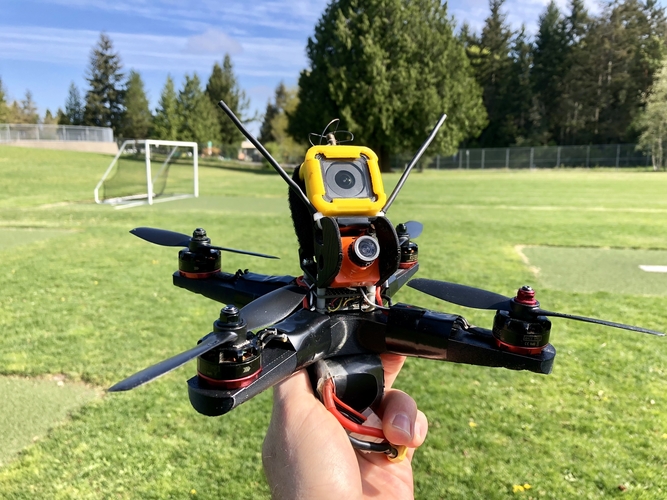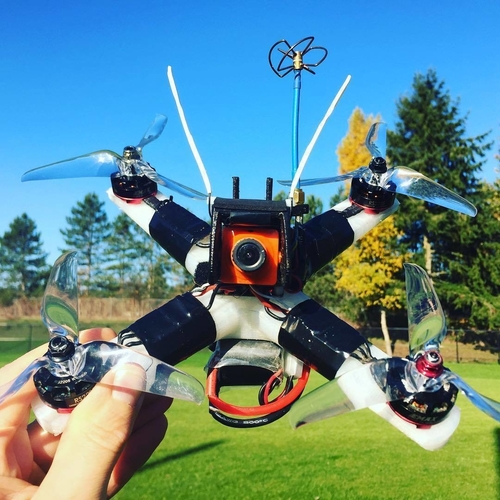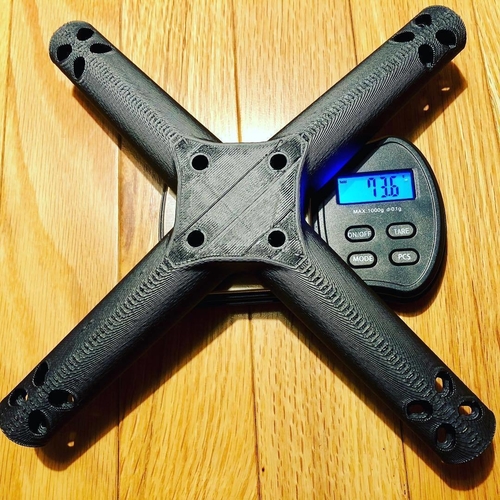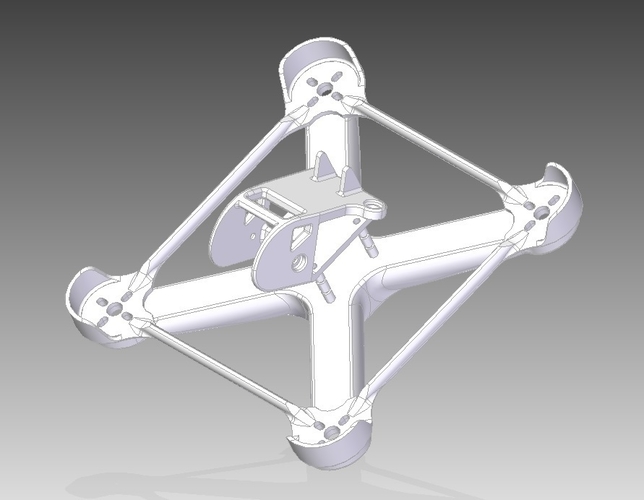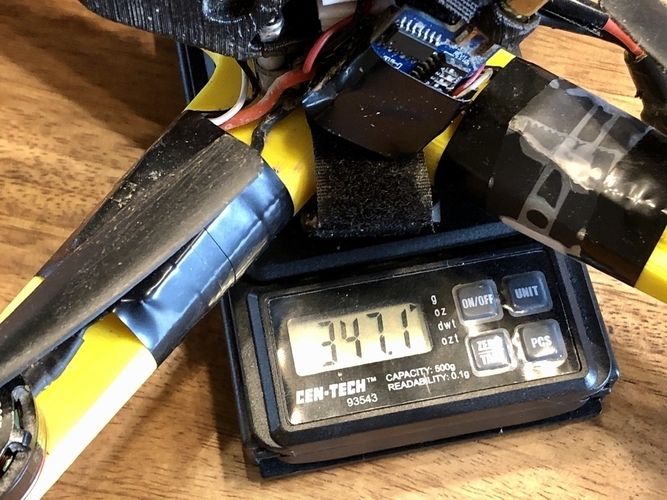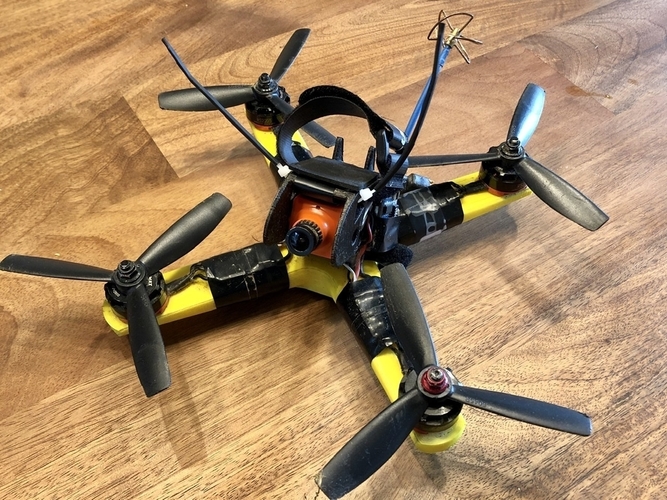 No Prints Yet

Be the first to upload a Print for this Design!
2/8/2020:  General cleanup.  Old part versions deleted.  Photos of old part versions deleted.  ABS highly recommended for the arms (and motor guards), with three layer shells and 10% infill.   (ABS has 10x higher impact strength compared to PLA).  Use SainSmart TPU for the upper cam mount.
1/29/2017:  Added a new v1.3 Lower component (arms) after 9 months of flight testing.  The v1.3 is just a little heavier than previous versions, but is much stiffer and  impact resistant, particularly in the motor mount region.  Note:  this new revision is being released in metric.  All previous revisions were in inches.
More videos, lots of crashes, etc
Updates/Discussion on Facebook group 3D Printing - Home Grown Drones
Birdbone Helium is an ultra compact 210mm (5" prop) FPV racing/freestyle quadcopter frame designed to compete with carbon frames.  Frame weights less than 100g total (Lower + Upper) are feasible with good stiffness and durability. 
The builder must choose the lower printed frame wall thickness, infill density, and infill shape necessary to achieve their design goals (based on material choice, etc).  See below for some example settings.
For the Lower component, use lots of brim and your best 1st layer adhesion game to prevent warping of the arms.  Techniques vary by material.
An optional motor guard stiffener is included to protect the motors, and offer additional frame reinforcement if needed.
The upper component accommodates a typical HS11XX flight camera and most action cameras using a velcro battery strap.  The flight camera angle can vary between 15 and 60 degrees.
The builder is encouraged to create new components to further customize his/her build.
My current setup is as follows:
PRINTED PARTS:
IMPORTANT:  This is a large part, so warping can be a problem with materials like ABS, polycarbonate, etc.  Use lots of brim, 200% first layer extrusion width, and your best bed adhesion strategies to prevent warpage.
See pictures for suggested model print orientation.
ELECTRONICS (will vary depending on build):
RMRC Dodo r3b FC, Matek Powerhub PDB, Littlebee 30A BLHeli_S ESC's, EMAX 2600KV "Red-Bottoms", TS5823 VTx, Lemon RX DSMX satellite Rx, Foxeer Arrow HS1190 flight camera.  Batteries:  5S Tattu 1300mAh 75C.  Props:  RaceKraft RK5051 (balanced) and DAL "Indestructable" 5045 Tri-Blade v2 (balanced).
HARDWARE (will vary depending on build):
Note:  McMaster links provided where possible, but many of these you can get at your local hardware store:
Electronics Mounting Bolts (4):  M3 x 0.5 mm Thread, 30 mm, McMaster P/N 92095A187
Electronics Spacers (8):  Nylon Unthreaded Spacers 3/16" OD, 1/4" Length, McMaster P/N 94639A706
Electronics Spacers (4):  Nylon Unthreaded Spacers 3/16" OD, 1/8" Length, McMaster P/N 94639A702
Motor Mounts:  M3 x 0.5 mm Thread, 5 mm Long, McMaster P/N  92095A177
Electronics Mounting Nuts (4):  M3 x 0.5 mm Thread, Nylon insert, McMaster P/N 90576A102
(Optional) Leg standoffs (4):   Nylon M3 Standoff - 45mm, Female-Female.  I can't seem to find these on McMaster.  I found some here.
(Optional) Leg Standoff Bolts (4):  M3 x 0.5mm Thread, 16mm Long, McMaster P/N 92095A184
Birdbone Helium Upper v1.0 020820.stl
8.33 MB
Birdbone Helium Motor Guard Stiffener v1.0 020820.stl
10.5 MB
Birdbone Helium Lower v1.3 012918.stl
43.1 MB