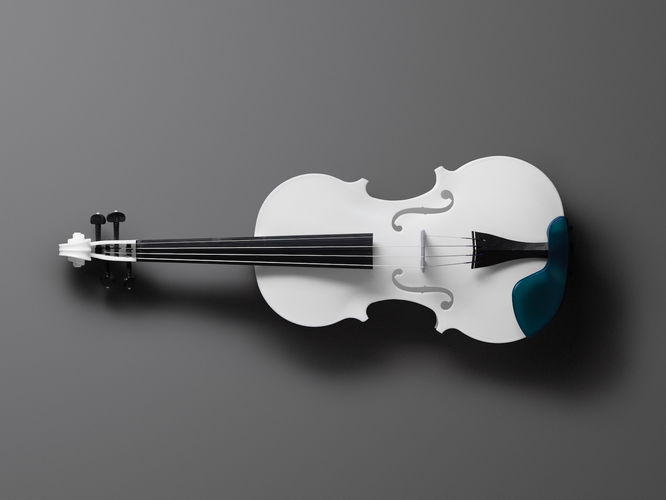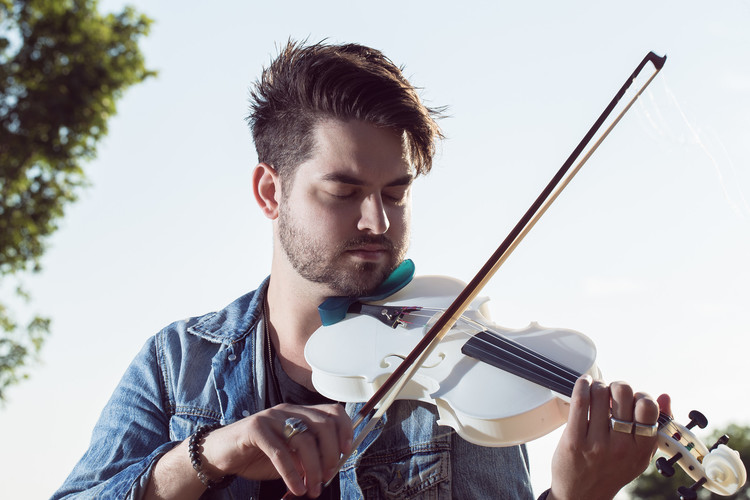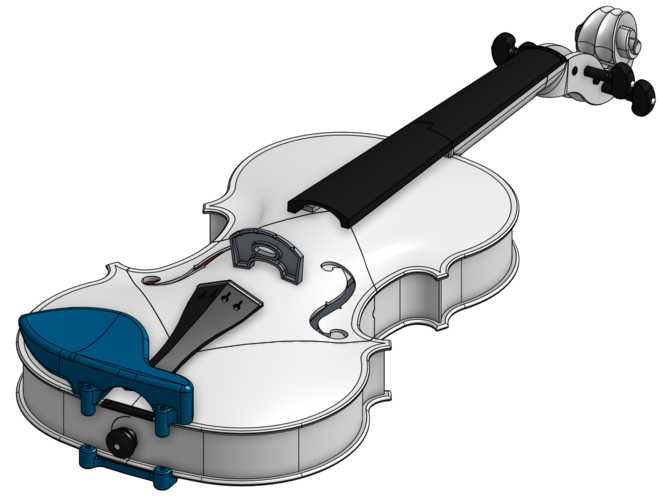 No Prints Yet

Be the first to upload a Print for this Design!
I've always wanted to make my own version of an acoustic 3D-printed violin, an instrument that sounds authentic without the help of electronics. 
This is a full-size, fully playable acoustic violin based on tracings of a Stradivarius. It is compatible with most violin fittings (strings, bridge, pegs, tailpiece etc) but some of these fittings are also 3D printable, with the included files.  The prototypes were made on a Form 2 SLA printer. The parts should work with an SLS printer and maybe(!)  an FDM printer with fine nozzle and support generation.
*Form 2 Users: All of the parts are contained within the .form files, you can disregard the .stl files. As for other printers, the .stl set is complete as well, and you can ignore the .form files.
I have included instructions on how to assemble the violin. 
The violin was designed parametrically on Onshape, a new cloud-based modeling program. You can view the open-source design (and create an editable copy) for free here.  
If you'd like to learn more about how I designed this, please have a look at the blog post I wrote at Formlabs.com. 
(pics by Rob Chron)
SLA Violin Instructions.pdf
653 KB
SLA Violin - Chin Rest Bottom Hook.stl
130 KB
SLA Violin - Chin Rest.stl
814 KB
SLA Violin - End Pin.stl
153 KB
SLA Violin - Fingerboard Aft.stl
97.8 KB
SLA Violin - Fingerboard Fore.stl
613 KB
SLA Violin - Neck.stl
784 KB
SLA Violin - Peg 4x.stl
486 KB
SLA Violin - Peg nub 4x.stl
101 KB
SLA Violin - Saddle.stl
12.4 KB
SLA Violin - Scroll.stl
1.6 MB
SLA Violin - Body Aft L.stl
721 KB
SLA Violin - Body Aft R.stl
732 KB
SLA Violin - Body Fore L.stl
913 KB
SLA Violin - Body Fore R.stl
918 KB
SLA Violin - Body Mid.stl
1.14 MB
SLA Violin - Bridge.stl
238 KB
SLA Violin - Tailpiece.stl
205 KB
White - Mid Scroll.form
8.1 MB
White - Fore Halves.form
4.96 MB
White - Aft Halves.form
4.07 MB
Tough - Chin Rest.form
9.25 MB
Grey - Bridge.form
674 KB
Black - Various Parts.form
4.55 MB