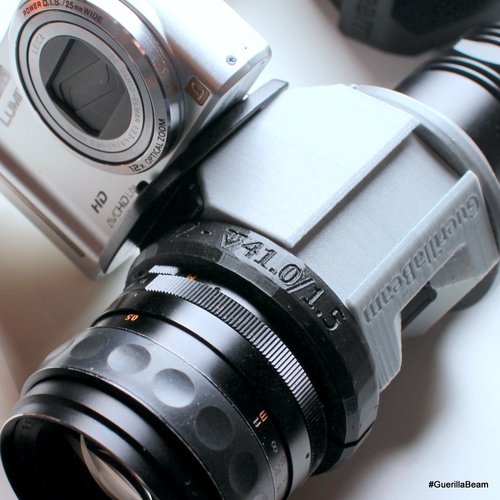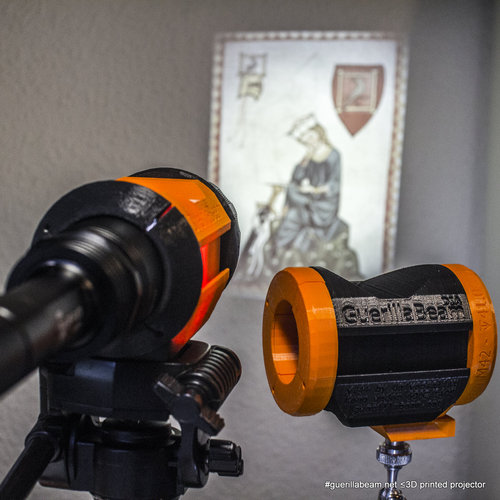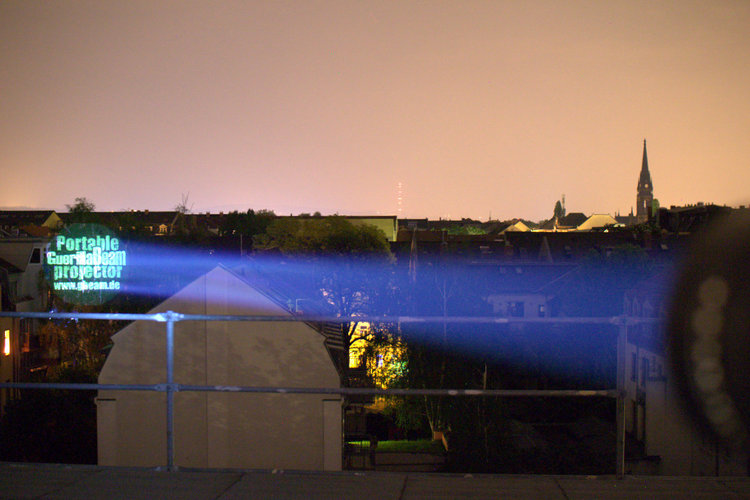 No Prints Yet

Be the first to upload a Print for this Design!
This is the old GuerillaBeam projector base unit. GuerillaBeam is not a toy, but a weapon of mass distraction. "the most powerful gun you are allowed to print"
Current versions: 
v.58 currently recommended standard version
v.57x same, but with a second accessory rail at the top
v.49e slightly older but most compact version
GuerillaBeam features:
brightness and portability
long runtime
great image quality (depending on lens and light)
short bill of materials, parts are very easy to come by
print your own slides
print your own projector and accessories
By purchasing the GuerillaBeam Beta now, you will also get the 1.0 release version ("GuerillaBeam One") which I will publish here soon. 
Please notice that your purchase will be under CC BY-NC-SA license, meaning you are allowed to COPY, REMIX and SHARE it as you like, as long as you give credit and do it in a non-profit way.
HowTo:
First, find a suitable LED (flash)light.

the flashlight should ideally project a uniform spot of 45mm (the 35mm slide image area) at the distance to the slide (which is also around 45mm).
Look for Cree XM-L T6 lights with 1000 Lumen (this means two LIIon batteries). XM-L2 lights are even better
a good  and affordable light is the SomeFire X8 (for example UltraFire X8).

Second: you'll need reasonably bright SLR lens (f/2.8 or better). The brighter the better! For starters: just pick any 135mm or 50mm, just don't pay more than 23 bucks.
Third: print adapters for light and lens.
Fourth and final: Just attach lens and a light and project away! (more detailed directions can be found at http://guerillabeam.net)
As time allows and demand dictates, templates for accessories are and/or will be available too, like:
Adapters for Pentax, Canon EF-S, Minolta, Rolleiflex and others (online soon)
flash adapter (planned soon)
slide on quick mount plates (online soon)
slide on NATO accessory rail (online soon)
Possibilities are endless, and my pipeline is currently full of ideas. You can also create your own extensions and variants of GuerillaBeam. I will publish all needed schematics. In case you need something specific you can just ask me. I also offer complete beamer sets for all purposes. 
Printing tips for printing with fused deposition modeling
I usually slice with Cura, and print on an Ultimaker Original (0.4mm nozzle) with ~60mm/s in PLA. I recommend 0.2mm layer height, 1.2 mm shells (3 walls) and 13% fill for reasonable printing times of around 4 hours. The base unit will hold lenses over 2kg without problems this way.
You can print usable projectors with 0.5mm nozzles and layer heights of up to 0.4mm, or at insane speeds, but you will have more cleanup work and worse ergonomics then
If you are interested in my current Cura profiles please drop me a line and I will put them online.