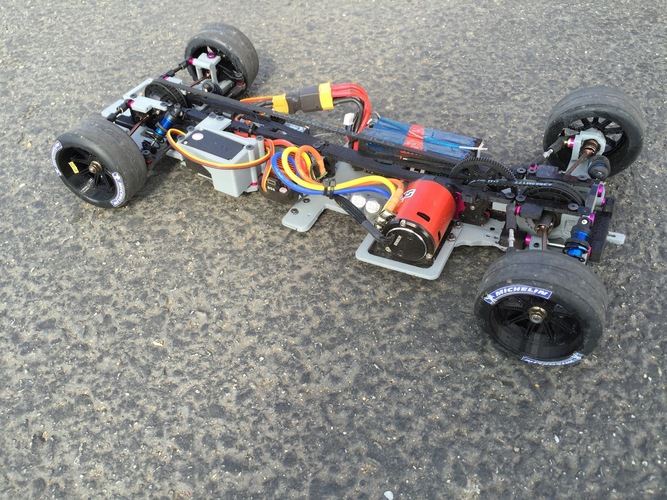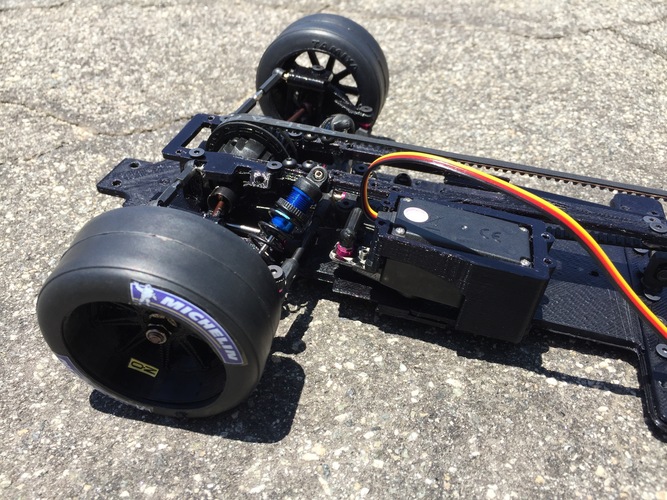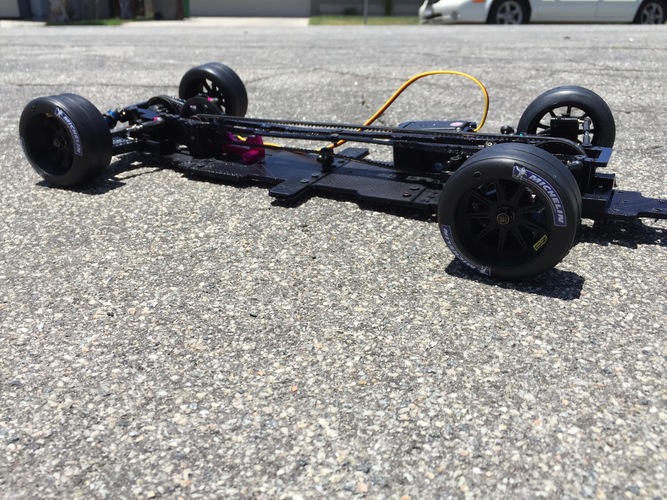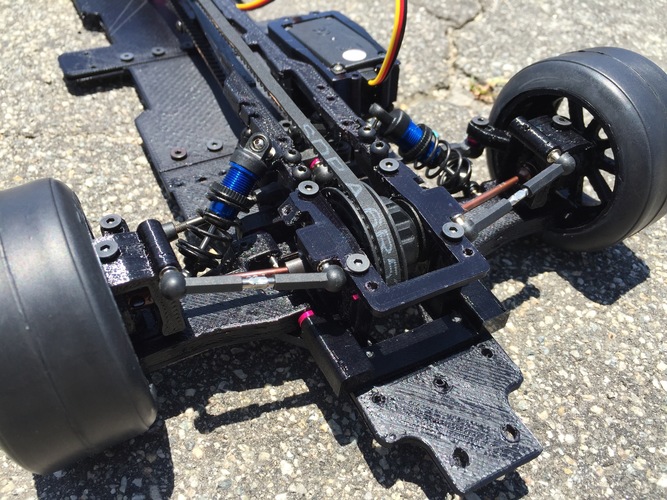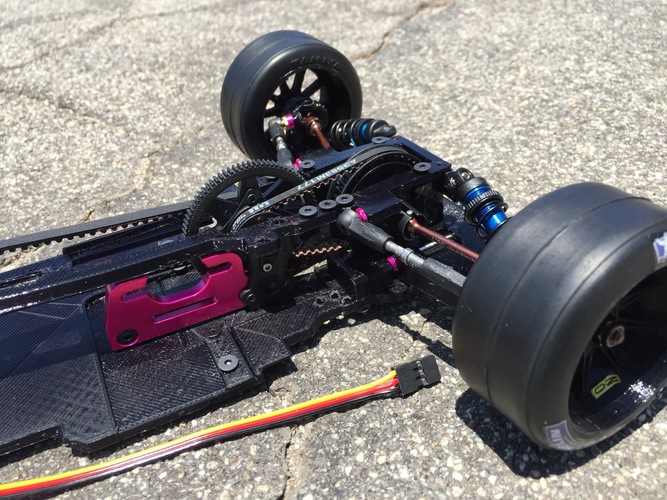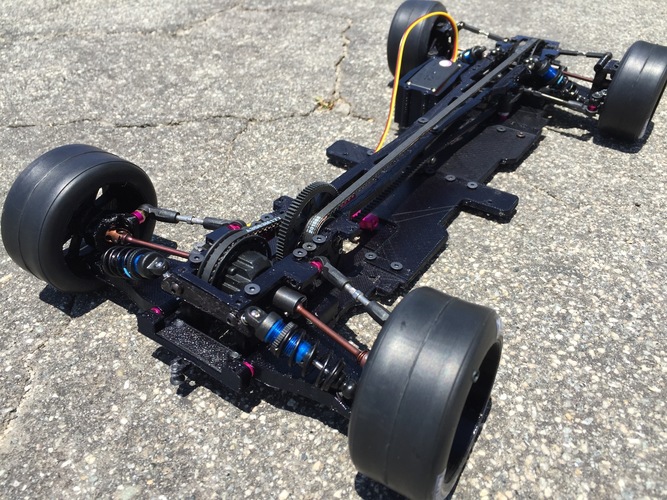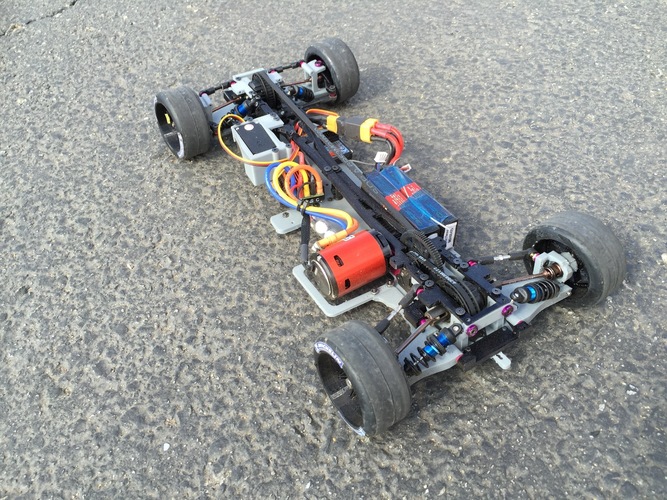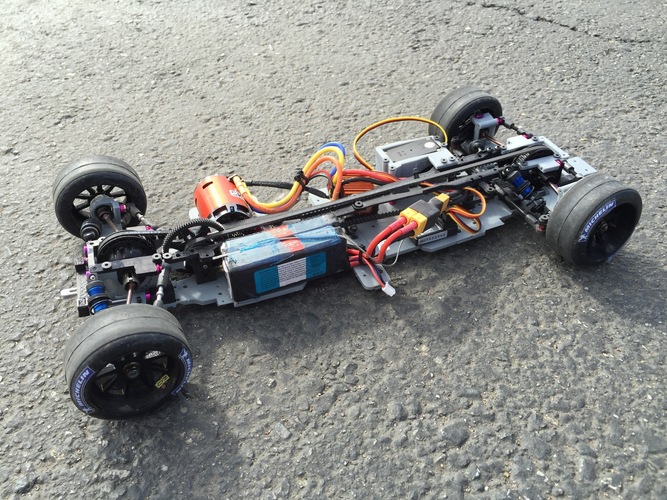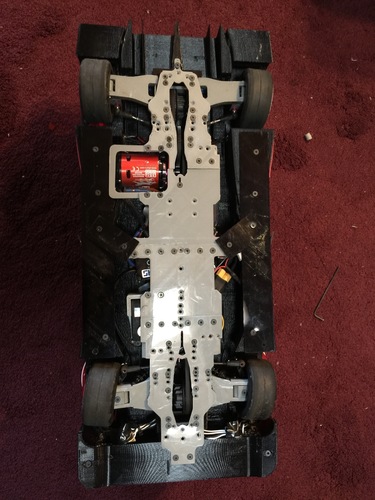 No Prints Yet

Be the first to upload a Print for this Design!
3ders Article
http://www.3ders.org/articles/20160622-3d-print-your-very-own-rs-lm-2014-audi-r18-e-tron-quattro-rc-racecar.html
Chassis without body driving demos
https://www.youtube.com/watch?...
This car is build to be fast. No only does this car look fast, but it was actually meant to be fast! The RS-LM chassis that I developed was designed to fit the largest and fastest motors that you can stick in an RC car. I am running the car with a 13.5T motor, a much faster motor than the 21.5T motor in my F1 car. It has a long wheel base (320mm wheel base) for stability, all wheel drive with the capability to run two differentials or a one way gear in the front. The RS-LM's extra room also makes it so that it can fit standard size lipo batteries (148mm long). The car's 3d printed rims use F1 front tires, but the car can also fit touring car rims and tires. This car is low! The RS-LM fits all of these features into an extremely low profile package—the highest point of the car is 56mm, all to keep the weight down low for better cornering and speed, and to allow for an extremely realistic LMP1 body.
Chassis: RS-LM Lemans RC chassis. Long wheel base 320mm Belt driven drivetrain All wheel drive two differentials Larger battery capacity Built for speed—high powered motors Adjustable ride height Adjustable camber F1 front tires Low— fit all the mechanics of a touring car body into an extremely low profile Lemans chassis.
base plate (rear).stl
68.6 KB
bearing holder (l).stl
89.3 KB
bearing holder (r).stl
89.3 KB
bulkhead (right).stl
164 KB
bulkhead (left).stl
164 KB
base plate (front).stl
65.5 KB
RS-LM Parts List.pdf
87.4 KB
RS-LM Audi Manual.pdf
65.8 MB
motor mount arm.stl
40.1 KB
front suspension arm (left).stl
80 KB
center deck (front).stl
157 KB
suspension front mount ( 10mm).stl
30.4 KB
rear shock tower.stl
26.4 KB
center deck (rear).stl
167 KB
gear mount (left).stl
84.4 KB
chassis deck motor brace.stl
34.3 KB
suspension rear mount (new) (left).stl
52 KB
gear mount (right).stl
84.4 KB
front deck (new).stl
366 KB
suspension rear mount (new) (left)( 8.4) .stl
49.3 KB
rear knuckle (left).stl
147 KB
suspension rear mount (new) (right).stl
52 KB
suspension rear mount (new) (right)( 8.4) .stl
49.3 KB
suspension rear mount.stl
29.8 KB
upper deck (front).stl
125 KB
upper deck (rear).stl
114 KB
c-hub (right) .stl
88.1 KB
front suspension arm (right).stl
80 KB
rear deck (new).stl
284 KB
rear knuckle (right).stl
147 KB
rear suspension arm (left).stl
80.9 KB
rear suspension arm (right).stl
80.9 KB
spur gear holder.stl
48.6 KB
steering arm (left).stl
76.3 KB
steering arm (right).stl
76.3 KB
steering link holder.stl
47.3 KB
steering link.stl
82.3 KB