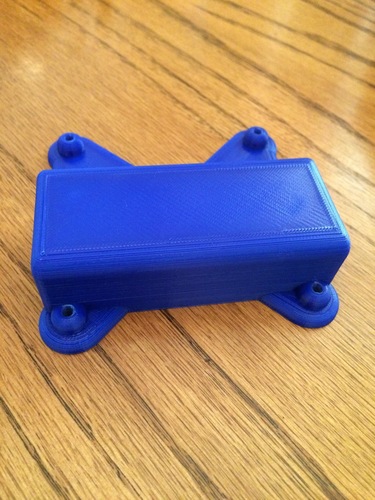 I recently upgraded my monitor stand to a dual monitor pole mount style to take some stress off of my neck. This created a problem, my Steambox style PC _was_ mounted to the VESA mount on the back of one of my monitors. I didn't want to loose my newly created desk space, or the nice orange glow on the wall, so I designed this!
These are basically VESA clamps for 20mm x 30mm square tubing like what is used by the $35 Wali and Vivo monitor stands available on Amazon (and others). Many stands appear to use similar hardware so I'm sure they will work with other brands as well.
I'm using the 75mm one but I included a 100mm design as well. The design has a 31.5mm bridge in the middle. I made the 'tube' 21mm x 31.5mm to allow for some printer variation and to allow for some bridge sagging if you print it without supports (the bars on my stand measure ~20.2mm x ~30.34mm). If you don't have your printer making reasonable bridges yet you should probably use supports.
The mounting holes are designed to be tapped @ 4mm
SteamBox Mount 75mm.stl
1.26 MB
SteamBox Mount 100mm.stl
1.37 MB