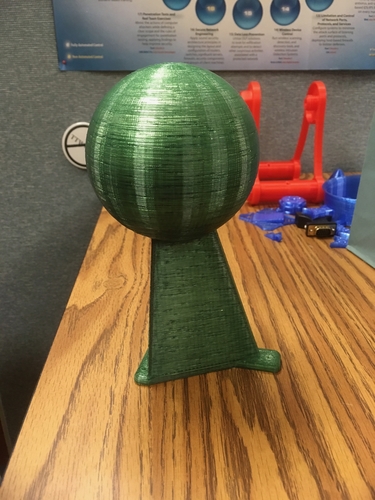 Stylish Helmet hanger to keep your brain bucket safe and out of the way when not in use. It mounts easily with three screws to any flat vertical surface.
I've been selling prints of this since I designed it and thought I'd share for those of you who can print your own. Everyone who sees it wants one and I can only print a few per day. The design prints in about 10 hours without any supports using ~.25Kg of filament with the following settings:
Layer: .25mm
Infill: 20%
The one pictured in the photo was printed on my I3 with the above settings using random start points.
Green MakerGeeks Crystal Series PLA at 235C with a 0.4mm nozzle.
.3mm layers should be OK but I would be careful lowering the infill below 20% and I would increase the infill to 25-30% for heavier fiberglass helmets. The above settings work great for my XXXL CL17 and my wife's Small CL17.