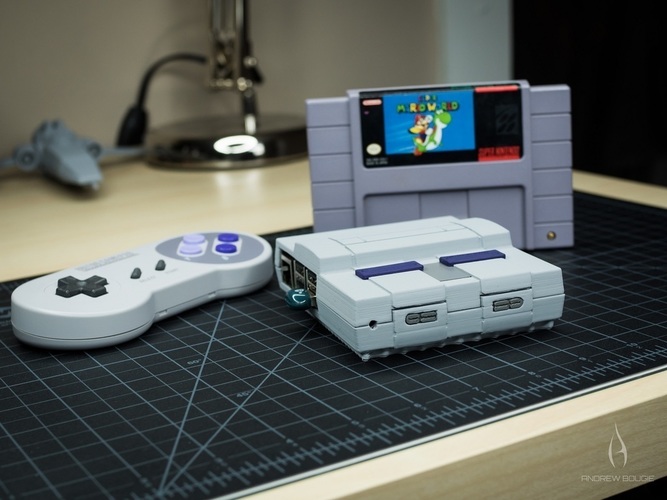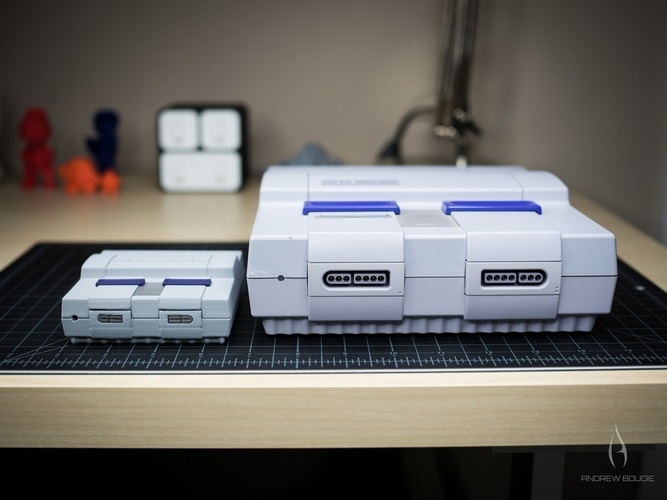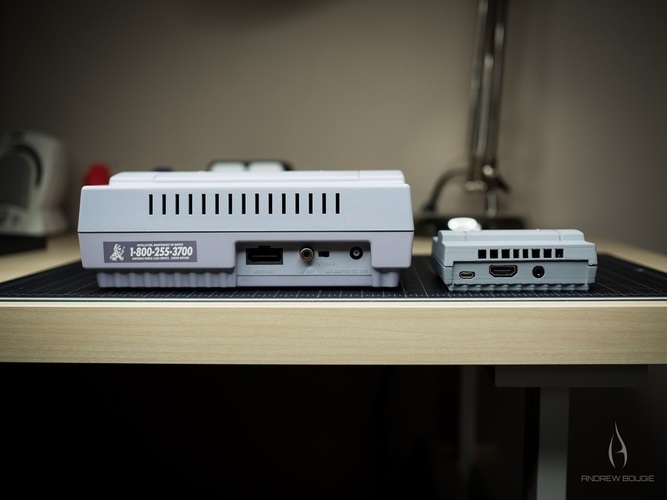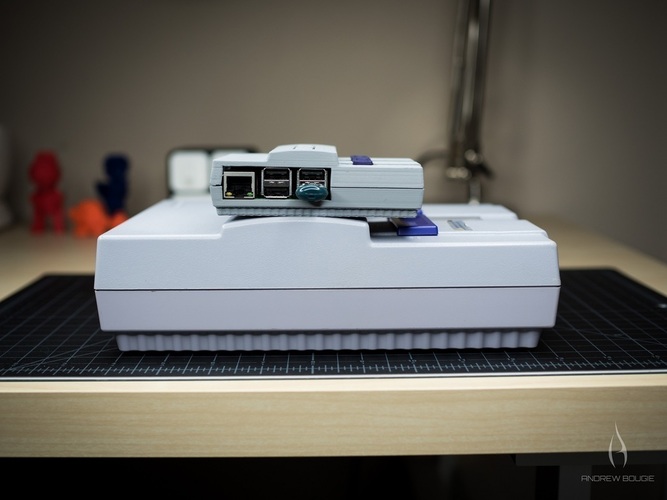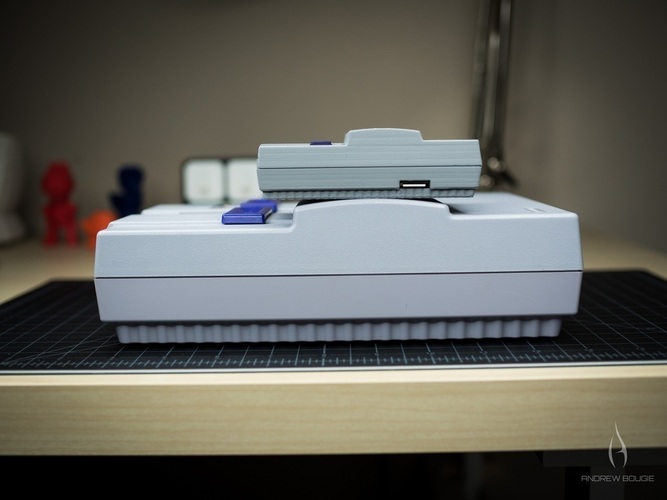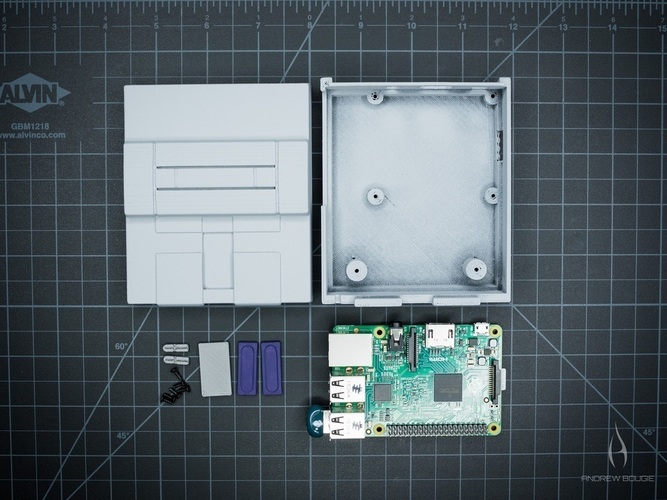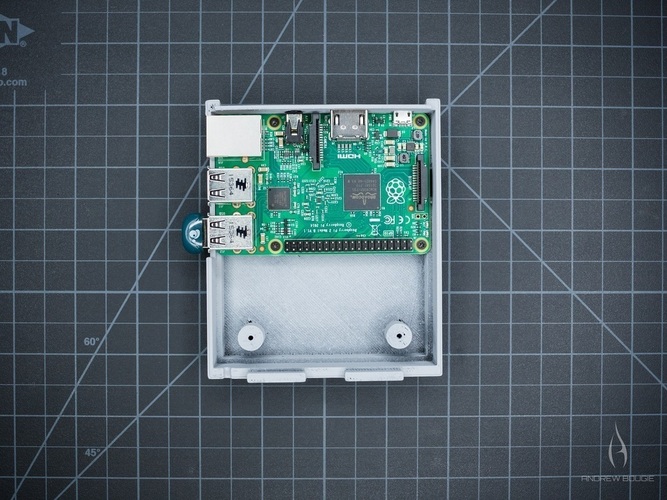 No Prints Yet

Be the first to upload a Print for this Design!
It's a mini SNES that can do anything the Raspberry Pi 2 or 3 is able to do! Skip to the instructions below if you don't care about the back story. 
I have two sons that are getting old enough to take an interest in video games. I had my wife's old SNES in storage so we pulled that out late last year. The boys loved it, but having wires everywhere in true 90's fashion wasn't going to cut it. I made this Mini SNES to run Recalbox with a bluetooth controller so my boys and I can enjoy the games I loved as a kid and not have to deal with the inconvenience of being tethered. It also gives you the advantage of having modern audio and video connections so it will work with most current AV systems. 
Credit for the base full-size SNES design goes to RSants over on GrabCAD: https://grabcad.com/library/snes-console-2 . His model saved me a lot of time that would have been spent measuring and modeling from my original SNES. 
If you print this, be sure to share and tag @andrewbougie on Twitter and Instagram. I love to see what others do with my models! 
Instructions 
The print instructions are short, but the print may not be the easiest if you don't have your support settings dialed in.
Print [1] top and [1] bottom with supports enabled. 
Print [2] controller connections 
Print [2] power/reset buttons Print 
[1] Eject button
The buttons are separate so you can paint or print them in a different color and then glue them to the main case. I use Gorilla Glue super glue gel for ABS and PLA. 
Screw everything together with tiny screws. I designed the case to use these: http://amzn.com/B00GDYNHL6 The board is held in place by 4 of the above screws. The two halves are fastened with only two screws toward the front of the case. Based on the way this case is used, this should be sufficient for most people. 
You can see there is some empty space in the front of the case for additional electronics should you want to get fancier with the design and add a power LED to the front or add other (very) small boards for more functionality. 
You are done if you have your own plans for this case. 
Full Mini SNES Parts List
If you want this to play SNES (or NES, Genesis, Gameboy, etc) games, you'll need RecalBox or a similar emulator OS for the Raspberry Pi. Here is a full list of parts as well as relevant software links. You won't find ROM links here, but this is 2016 after all. Google it. 
Hardware
Software 
All you need for software is RecalBox. Full instructions here: http://www.recalbox.com/diyrecalboxPrint
Print Settings
Printer: Printrbot Plus 
Rafts: No 
Supports: Yes 
Resolution: 200 microns 
Infill: 25%
Notes: I used 200 microns, but 100 would give you a smoother curve at the top of the case. I print all my stuff at 25% infill. This is overkill for many models, so you my be able to get away with less.
Mini_SNES_Bottom.stl
13.3 MB
Mini_SNES_Power_Reset_Button.stl
576 KB
Mini_SNES_Eject_Button.stl
684 Bytes
Mini_SNES_Controller_Connection.stl
133 KB
Mini_SNES_Top.stl
1.42 MB