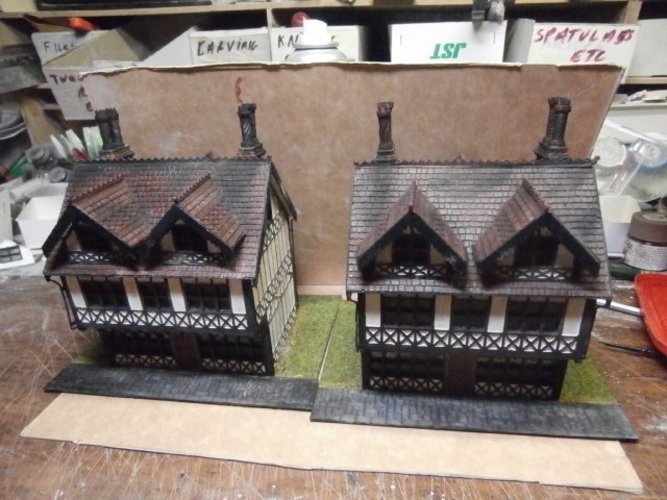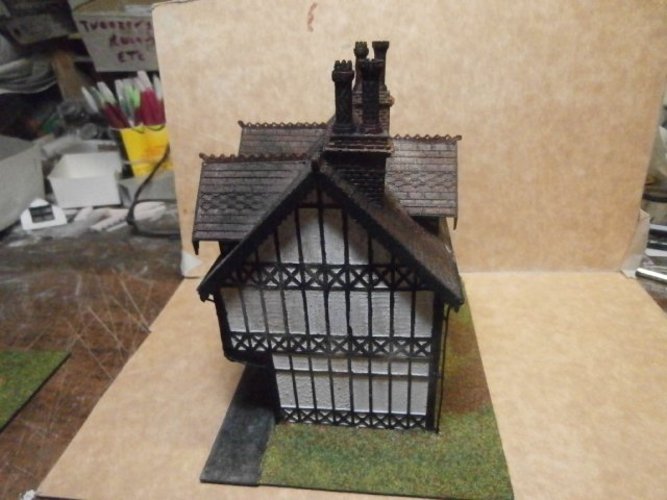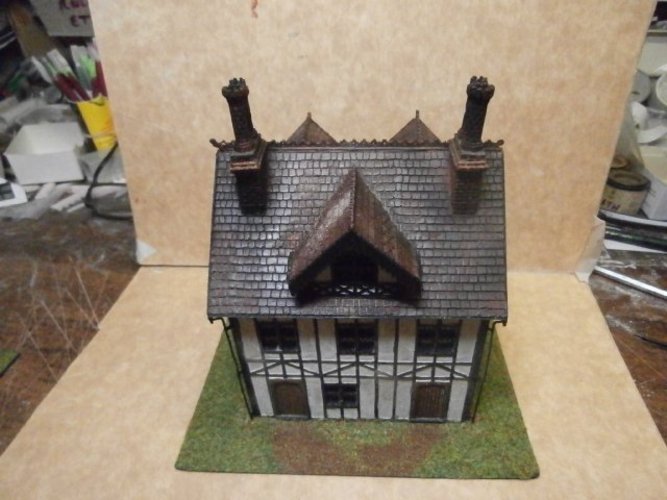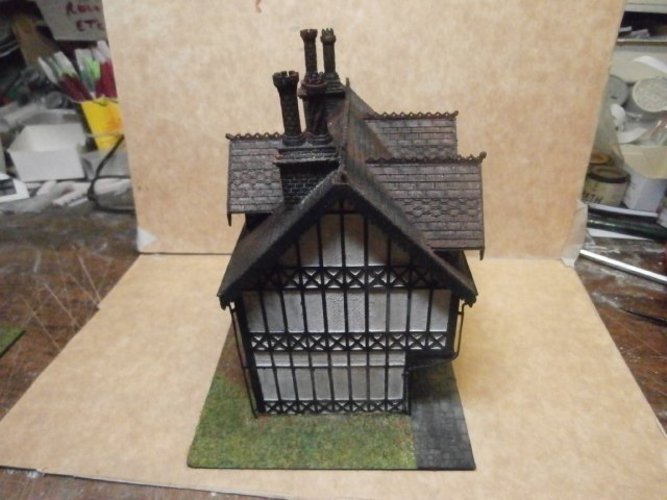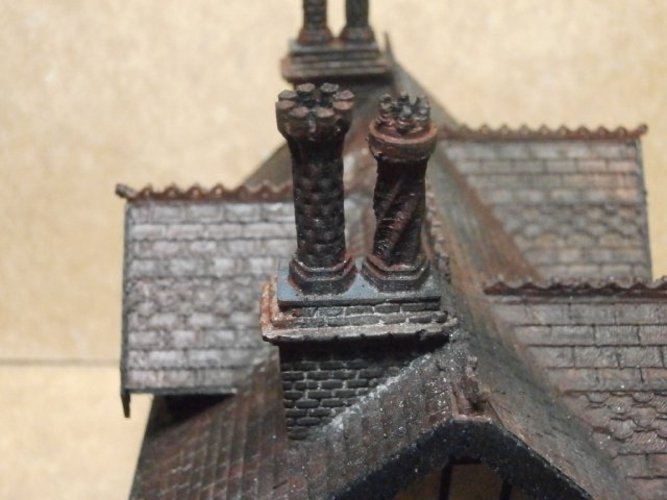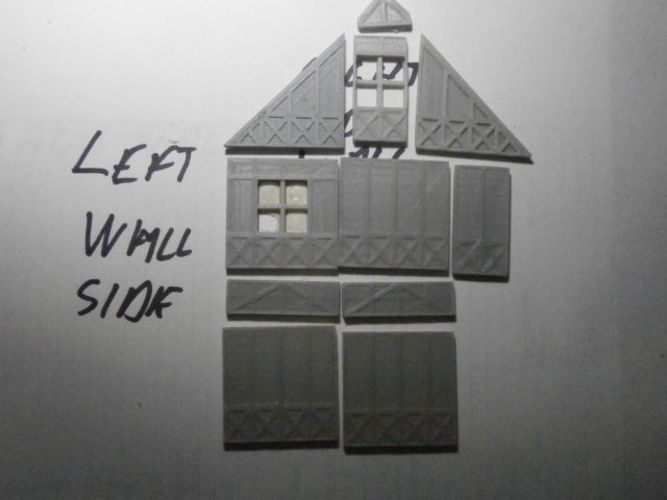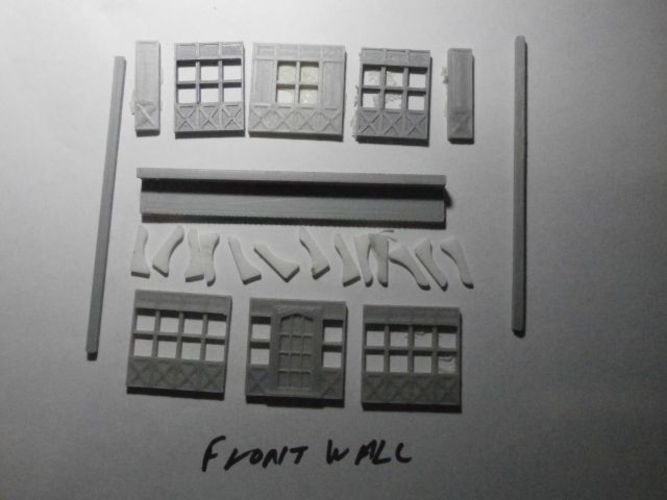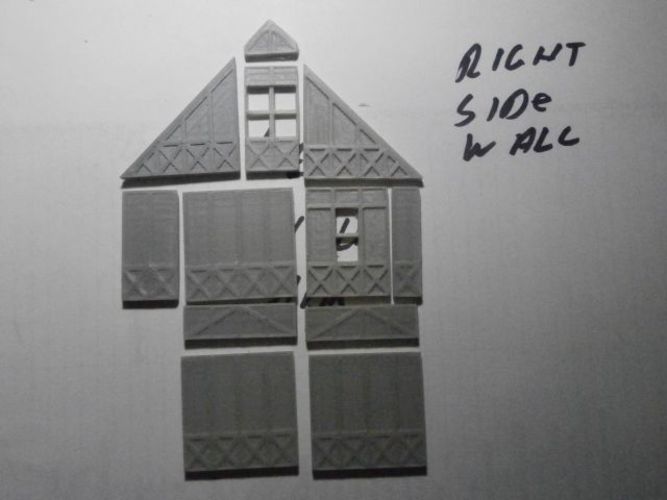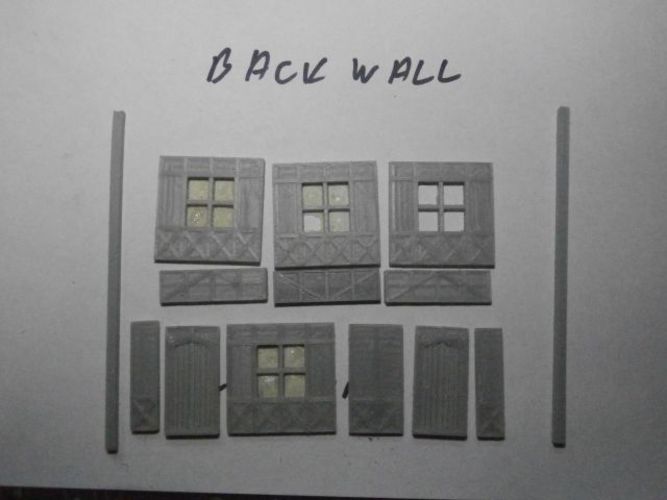 No Prints Yet

Be the first to upload a Print for this Design!
Summary This is the first of a complete Tudor Building that I designed for my Tudor village that is 00 scale ( 4mm to the foot, 1:76.2) model railways. Can be also used for HO scale, British themed but could be used elsewhere.
 This one is a small Pub or Tavern. The roof is made from cast plaster so is not included here and as is the base of the Chimney Parts list by wall
 LEFT WALL 
TT-500    x3 
TT-502   x1
 TT-504  x1
 TT-505 x1
 TT-506 x1 
TT-509 x1
 TT-517 x1 
TT-564 x2
 RIGHT WALL
 TT-500 x3
 TT-502 x1
 TT-503 x1
 TT-504 x1
 TT-505 x1 
TT-506 x1
 TT-509 x1 
TT-550 x1
 TT-564 x2
 FRONT WALL
 TT-503 x2
 TT-507 x2 
TT-508 x2 
TT-512 x1 
TT-517 x1 
TT-518 x1 BEAM
 TT-518 x13 SUPPORTS 
TT-538 x2 
BACK WALL 
TT-502 x1 
TT-503 x2 
TT-517 x4 
TT-527 x2 
TT-538 x2 
TT-564 x3 
DORMERS 
TT-578 x3 
CHIMNEYS 
CB-09 x4 
BARGE-BOARDS
BB-02-LEFT 1 LENGTH 
BB-02-RIGHT 1 LENGTH
RIDGE TILES 
RD-22 x2 
GUTTERING
RD-06 x2 
The down pipes are made from 0.75mm copper wire and the brackets from silver foil
 I shall prefix all the designs with SCALEPRINT so you can find them easily 
Print Settings Rafts: Doesn't Matter
Supports: Doesn't Matter
Resolution: 0.1mm to 0.2mm for Tudor Tiles
 Notes: 
With the Tudor tiles the largest nozzle i would recommend is a 0.4 I personally use a 0.2mm nozzle for my printing of these Tudor Tiles but have printed them with a 0.4 nozzle on my other printer. 
The Barge-Boards BB-02, Chimneys CB-09 and the Ridge Tiles RD-22 really need to be printed with a 0.2mm nozzle or the detail will not be printed you will just end up with an ugly mess a layer height of no more than 0.1mm should be used.
TT-518-BEAM-TV.stl
184 KB
BB-02-RIGHT-TV.stl
3.61 MB
TT-518-SUPPORT-TV.stl
10.4 KB
BB-02-LEFT-TV.stl
3.68 MB