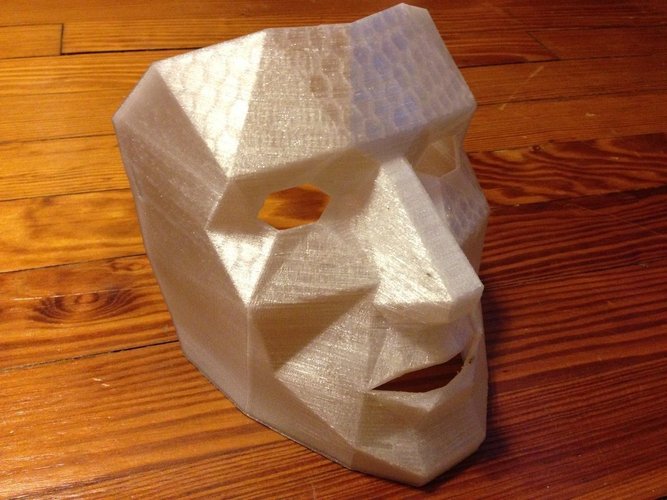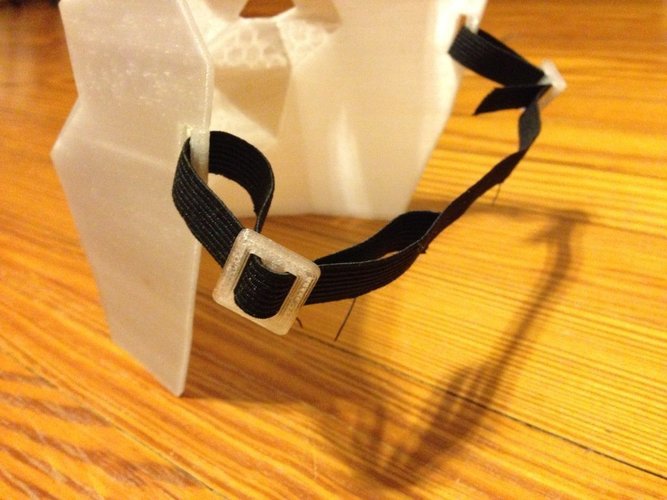 Remixed the thin version of the Low Polygon Mask. (http://www.thingiverse.com/thing:32189) I completely rebuilt the mask from scratch, using the original as a template. This new version is wider on the jaw and cheeks. The thickness of the entire model is now 2mm. Previous version was not even on some spots, so a bit of filament savings. The eyes are no longer squinting which helps with visibility and the eyelashes sweeping on the edges. The mouth is now open with a slight grin and you can breath easy or stick your tongue out. :}~ 
Lastly, I added a buckle for the head strap. The strap should be about 1/2 inch in width.
this model fits on a 6" x 6" bed. 
Print Settings Rafts: NoSupports: NoResolution: .2mmInfill: 15% Notes: I recommend printing the mask in PLA in case it feels a bit tight. PLA can be heat molded to fit better. No need for supports. I printed my mask with natural PETG using honeycomb infill. Looks pretty neat. Took about 7 and half hours to print. Post-Printing Most likely you'll need to cut off some hanging strands due to the over hangs on the eyes and mouth if you use a harder filament. Should print out pretty cleanly.
low_polygon_mask_V2.stl
106 KB