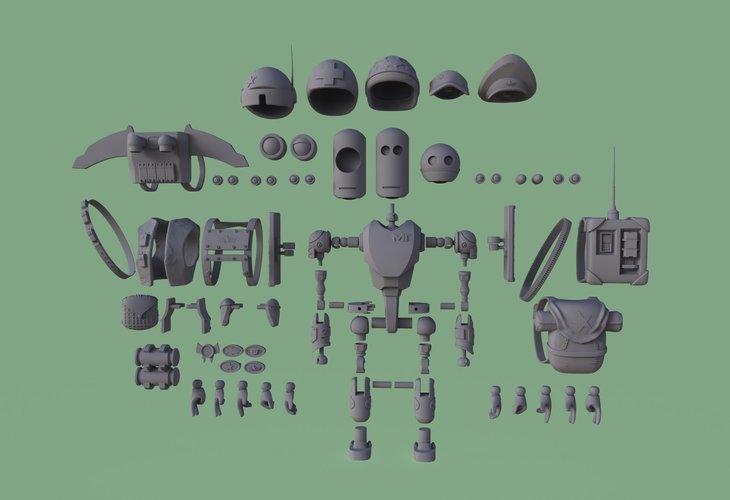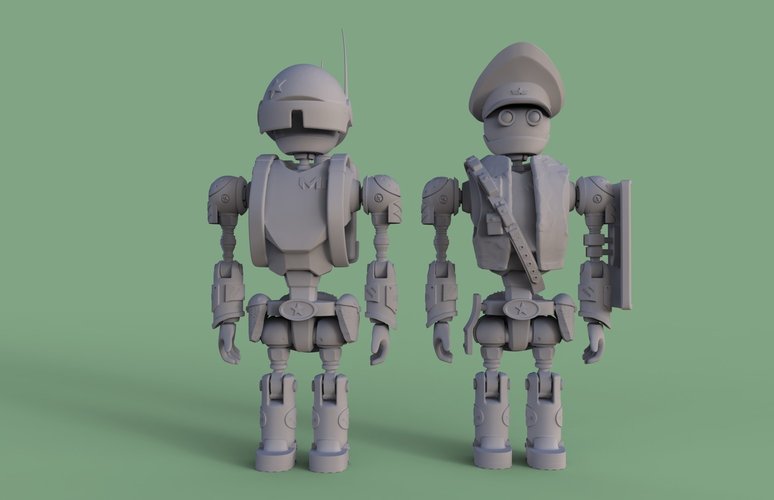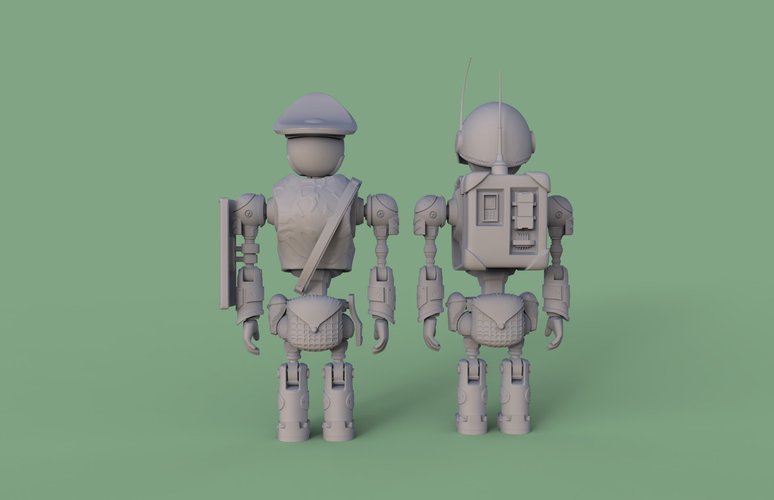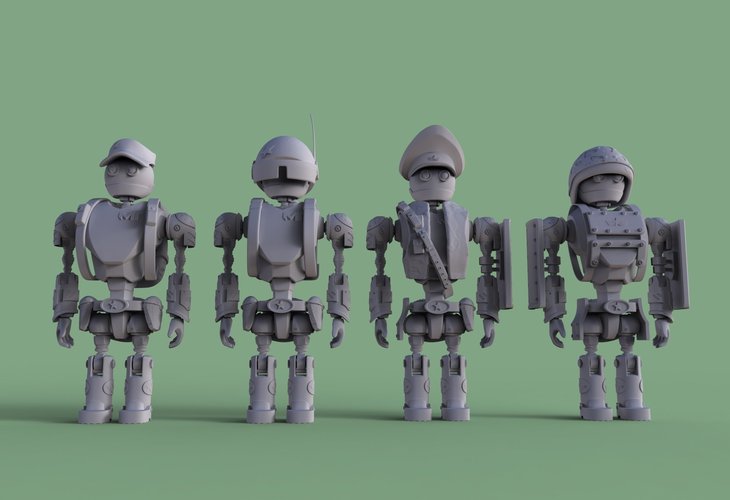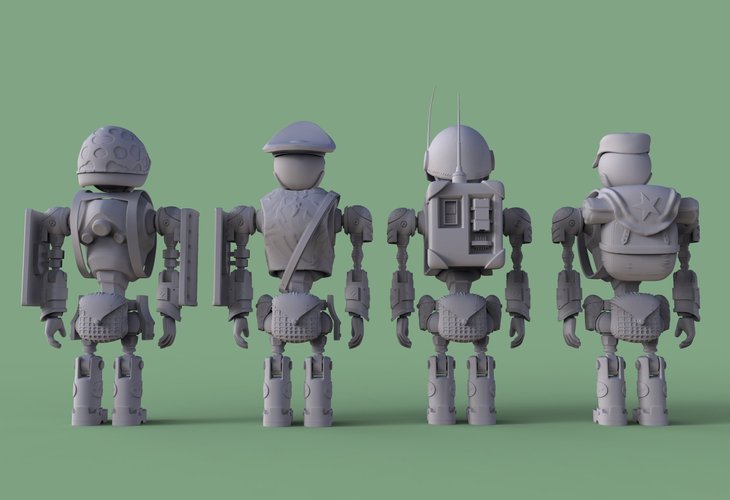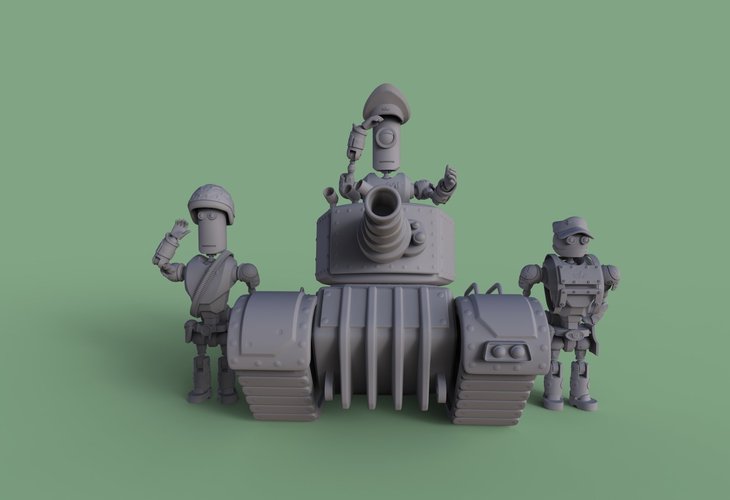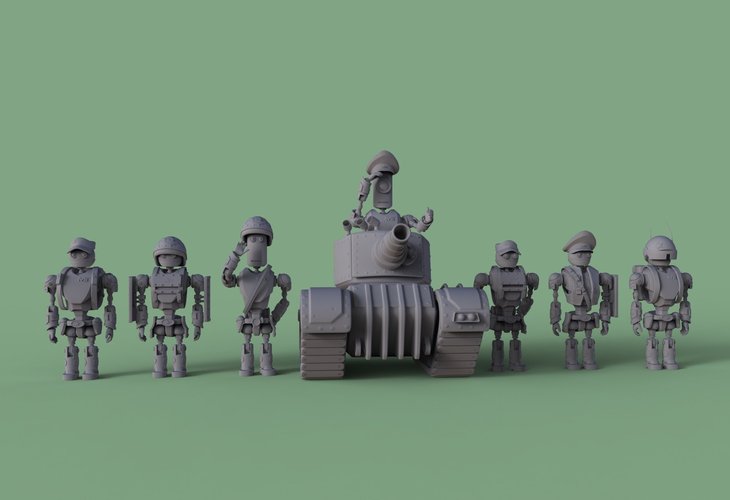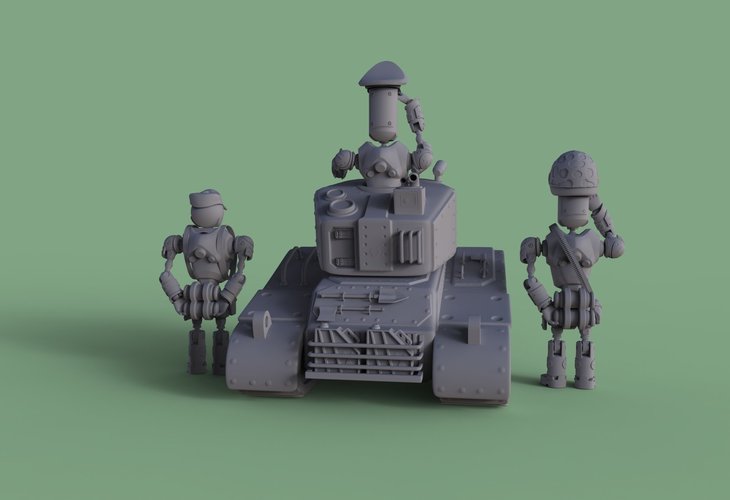 No Prints Yet

Be the first to upload a Print for this Design!
The time has come ! ! !
The MT Support Squad is ready for battle.
They will annihilate the enemy forces  with their powerful weapons , the will  frighten them with their scary faces (LOL) !!
This is the MT tactical set, a 3D cartoon printable series of models, with interchangeable parts !
You will custom your characters with lots of helmets, war suits, armor and tactical belts and you will be able to combine them to create the perfect MT super soldier.
They want you for MT army  ! ! !
---------------------------------------------------
First you have to download the body parts  by clicking on the following link. You will find the body parts, pins, heads and the supports pieces for the belt items : 
https://pinshape.com/items/12424-3d-printed-mt-sup...
Here you will find the Tank parts :
https://pinshape.com/items/12425-3d-printed-mt-sup...
And finally on this entry there are all the accessories to customize your soldier !!
Hope you like it !
RackMultipart20151016-30372-55biut.zip/MT Support Squad_Back poket .OBJ
14 MB
RackMultipart20151016-30372-55biut.zip/MT Support Squad_Big eye 2.OBJ
2.43 MB
RackMultipart20151016-30372-55biut.zip/MT Support Squad_Back tanks.OBJ
4.9 MB
RackMultipart20151016-30372-55biut.zip/MT Support Squad_Backpack 2.OBJ
6.04 MB
RackMultipart20151016-30372-55biut.zip/MT Support Squad_Helmet 2.OBJ
7.17 MB
RackMultipart20151016-30372-55biut.zip/MT Support Squad_Buckle 1.OBJ
1.1 MB
RackMultipart20151016-30372-55biut.zip/MT Support Squad_Backpack 3.OBJ
2.48 MB
RackMultipart20151016-30372-55biut.zip/MT Support Squad_Buckle 3.OBJ
1.85 MB
RackMultipart20151016-30372-55biut.zip/MT Support Squad_Buckle 4.OBJ
1.23 MB
RackMultipart20151016-30372-55biut.zip/MT Support Squad_Buckle 5.OBJ
4.49 MB
RackMultipart20151016-30372-55biut.zip/MT Support Squad_Eyes 2.OBJ
6.58 MB
RackMultipart20151016-30372-55biut.zip/MT Support Squad_Eyes 3.OBJ
2.26 MB
RackMultipart20151016-30372-55biut.zip/MT Support Squad_Eyes 5.OBJ
1.8 MB
RackMultipart20151016-30372-55biut.zip/MT Support Squad_Eyes 6.OBJ
2.17 MB
RackMultipart20151016-30372-55biut.zip/MT Support Squad_Helmet 3.OBJ
6.45 MB
RackMultipart20151016-30372-55biut.zip/MT Support Squad_Helmet 5.OBJ
6.32 MB
RackMultipart20151016-30372-55biut.zip/MT Support Squad_Jacket.OBJ
5.92 MB
RackMultipart20151016-30372-55biut.zip/MT Support Squad_Left hip armor.OBJ
3.75 MB
RackMultipart20151016-30372-55biut.zip/MT Support Squad_Ammo.OBJ
12.1 MB
RackMultipart20151016-30372-55biut.zip/MT Support Squad_Right poket.OBJ
6.11 MB
RackMultipart20151016-30372-55biut.zip/MT Support Squad_Left poket.OBJ
6.11 MB
RackMultipart20151016-30372-55biut.zip/MT Support Squad_Tactic belt.OBJ
6.36 MB
RackMultipart20151016-30372-55biut.zip/MT Support Squad_Backpack 1.OBJ
11.4 MB
RackMultipart20151016-30372-55biut.zip/MT Support Squad_Big eye 1.OBJ
2.39 MB
RackMultipart20151016-30372-55biut.zip/MT Support Squad_Buckle 2.OBJ
1.47 MB
RackMultipart20151016-30372-55biut.zip/MT Support Squad_Eyes 1.OBJ
2.33 MB
RackMultipart20151016-30372-55biut.zip/MT Support Squad_Eyes 4.OBJ
2.33 MB
RackMultipart20151016-30372-55biut.zip/MT Support Squad_Helmet 1.OBJ
4.18 MB
RackMultipart20151016-30372-55biut.zip/MT Support Squad_Helmet 4.OBJ
5.08 MB
RackMultipart20151016-30372-55biut.zip/MT Support Squad_Left arm armor.OBJ
5.82 MB
RackMultipart20151016-30372-55biut.zip/MT Support Squad_Right arm armor.OBJ
5.88 MB
RackMultipart20151016-30372-55biut.zip/MT Support Squad_Right hip armor.OBJ
3.75 MB
RackMultipart20151016-30372-55biut.zip/MT Support Squad_Torso armor.OBJ
6.18 MB