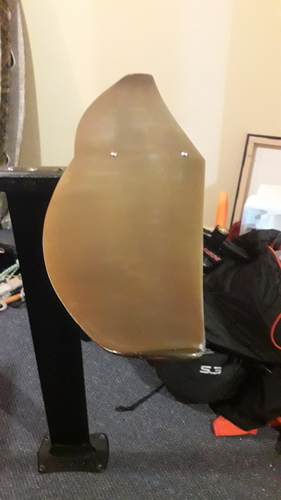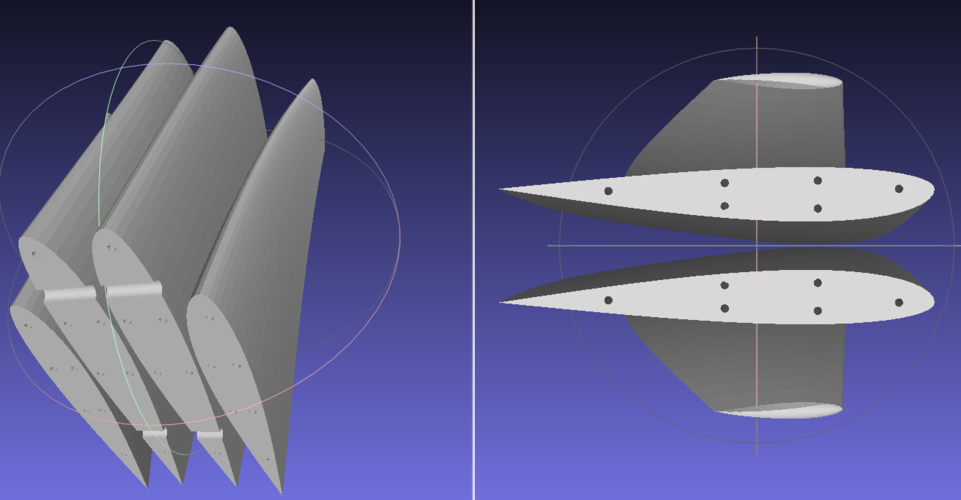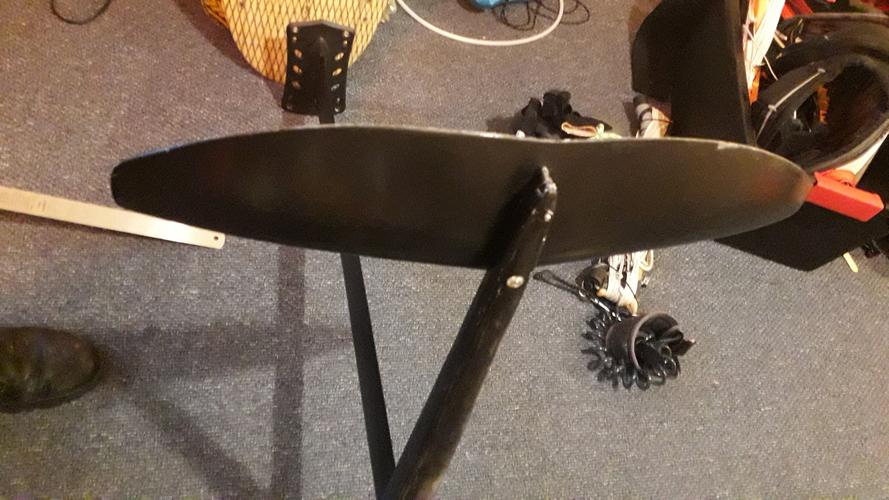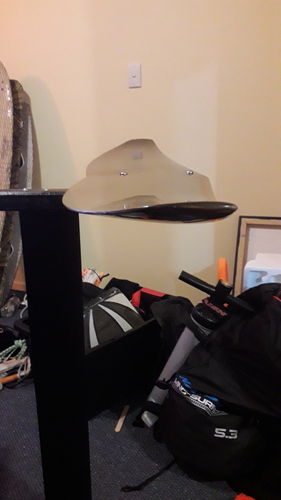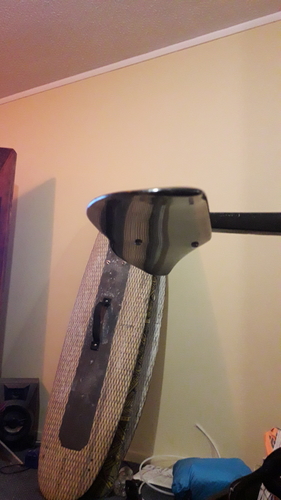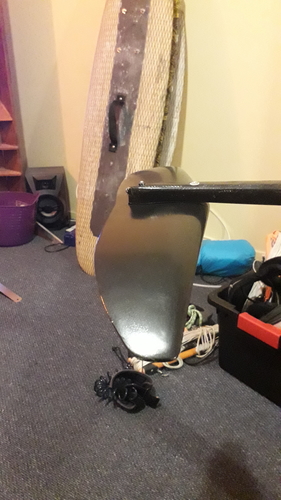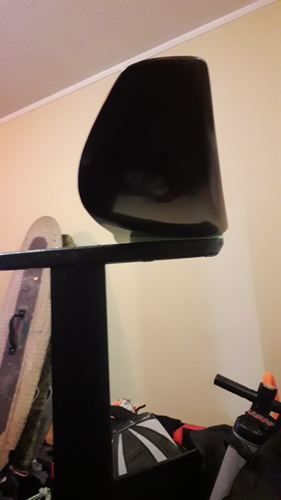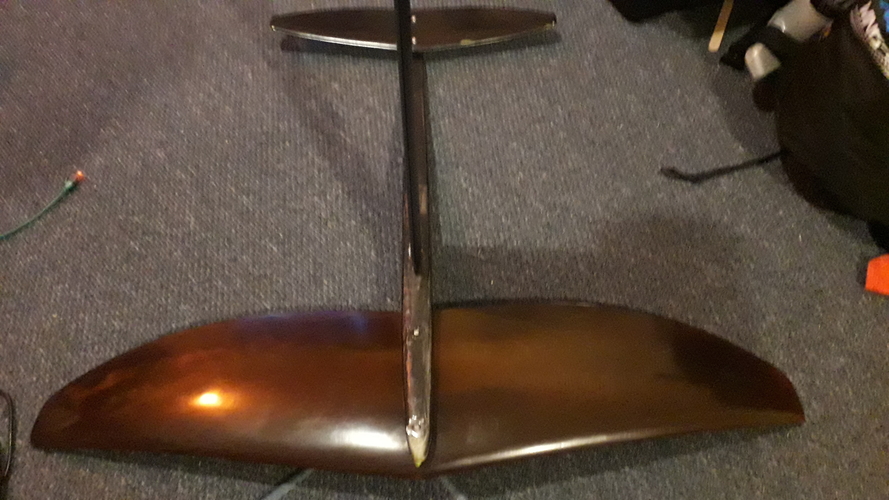 No Prints Yet

Be the first to upload a Print for this Design!
This is not a NACA wing. The profile and surface is independently mathematically created with a variant of my cylinder drawing program. Wingspan is approx 980mm, longest section front to back is approx 220mm and chord at fuselage position is approx 30mm , Profile scales smaller toward wingtip while keeping generally same shape apart from some modification by the wingtip downward sweep. The wings are swept back slightly to promote loosing any seaweed that may be collected. I've researched and targeted this at the heavier rider to be an entry level foil with potential to last for some time, as I have kitesurf and windsurf experience, however it's intended for wingfoiling although it's probably fine for lighter SUP foilers as well. For wing foiling it's recommended to sand round the ends smooth to reduce injury risk and ILE wing fabric piercing risk.
It requires substantial reinforcing with composite fabrics and binding resin. I'll be likely using unidirectional fibre and sleeving for my one. The holes are sized for assembly with bamboo skewers, cut to less than 40mm.
Scale it smaller for a rear wing.
I recommend cubic infill at 30% and 3 perimeters for resisting vacuume and resin infusion moulding.
Wing clamps are included to set the angles on a flat fuselage. The tail wing  can be set for different angles of atack using the shims. I recommend the 3° or 3.5° which are for the overslung half scale wing. Using Prusasliceryou can split the shims.stl file and choose only the ones you want to print.
ID specifying the amount of negative tail lift angle to use should be down against the fuselage. The tail piece with less curvature should be on top of the wing to allow a bolt/nut head and washer to sit flat.
The fusealage should have parallel front under surface and top stabiliser attachment surface for the stabiliser shims to set the correct negative angles of incidence.
I recommend sollercomposites for sleeving  for the fuselage and potentially the wings too. Be sure to check their flat and max/min diameters, they sell heat shrink too. You should cover the wings with fiberglass veil and cure it before attempting to heatshrink over 3D printed plastic though.
Update 20/9/2020:
This foil lifts me and glides beautifully but I'm heavy, 209kg+board+leashes+wing+wetsuit. A second wing is attached, more suited to CNC routing due to it's larger size. (GDwingB333x995x32chord.stl So I'm going to CNC the new wing after some stacking and gluing of plywood sheets!
2'nd update 20/9/2020:
Added GDWingXXLwithSocket. This has a cutout for placing a sleeved socket for a Gong fuselage or my own open source one. Intended for CNC manufacture from hard foam or laminated plywood. meshlab tells me the volume is almost 5 litres and the lift surface is approx 2650 cm². This is a learner or big guy wing !
GDWingXXLwithSocket.stl
849 KB
GDwingB333x995x75x32chord.stl
405 KB
FluiditySplitWing.stl
0 Bytes