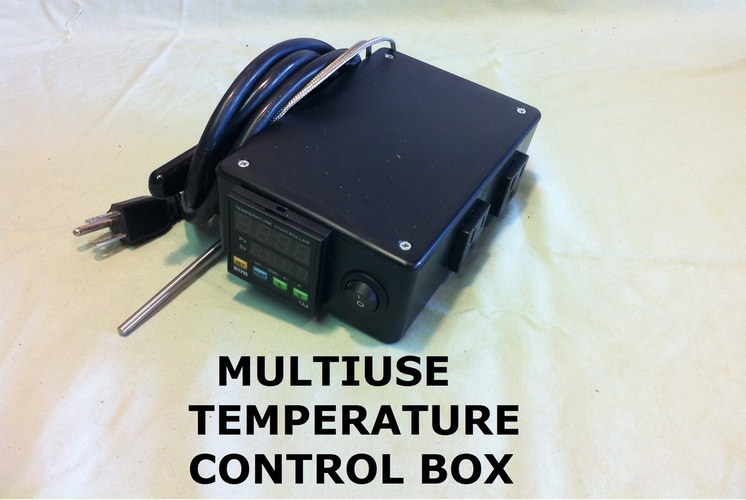 No Prints Yet

Be the first to upload a Print for this Design!
Injection molded project boxes are great for high quality stuff, but 3D printed boxes give you more choices of size and you can print them on demand with the holes you need pre-cut already.
For example, if you have a larger printer you can print out the box needed with the holes pre-cut to make the temperature process controller box seen in the main photo. Build instructions for that can be found here:
http://www.instructables.com/i...
Project_Box_7x5x3.stl
79.6 KB
Project_Box_5x3x2_LID.stl
67.9 KB
Temperature_Controller_Project_Box_Lid.stl
67.9 KB
Project_Box_4x2.5x1.5.stl
80.4 KB
Project_Box_8x6x3.stl
79.6 KB
Project_Box_3x2x1_LID.stl
67.9 KB
Project_Box_8x6x3_LID.stl
67.9 KB
Temperature_Controller_Project_Box.stl
121 KB
Project_Box_5x3x2.stl
79.6 KB
Project_Box_7.5x4.3x2.2_LID.stl
67.9 KB
Project_Box_7.5x4.3x2.2.stl
79.6 KB
Project_Box_4x2.5x1.5_LID.stl
67.9 KB
Project_Box_7x5x3_LID.stl
67.9 KB
Project_Box_6x4x2.stl
79.6 KB
Project_Box_6x4x2_LID.stl
67.9 KB
Project_Box_3x2x1.stl
80.4 KB