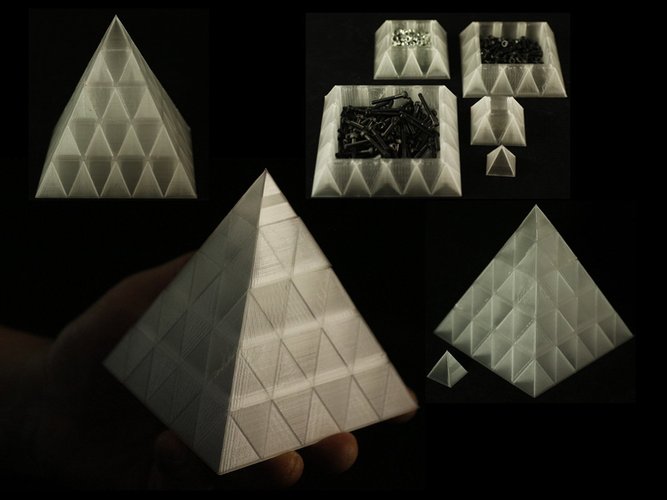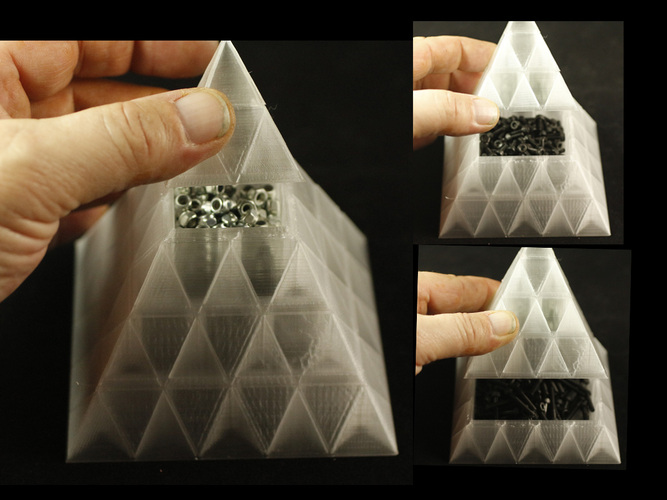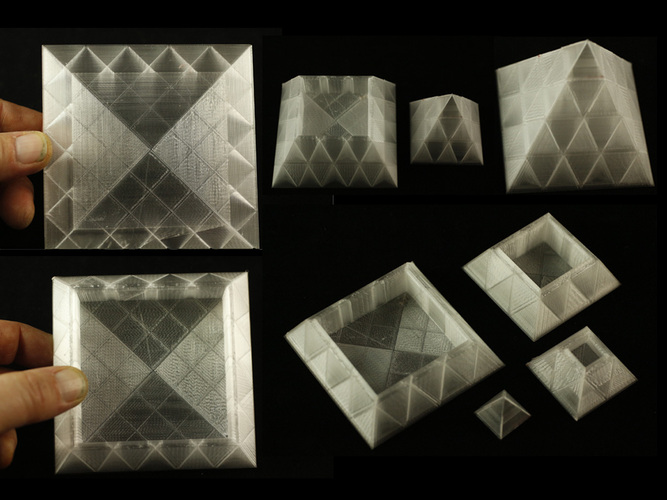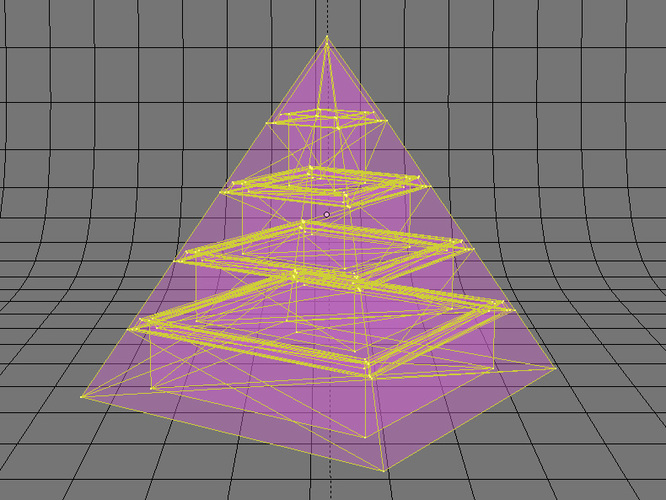 No Prints Yet

Be the first to upload a Print for this Design!
Low-polygon model contest entry July 2015.
A geometric fugue celebrating the pyramid shape; also a set of stackable storage trays great for organizing small parts, jewelry and other stray doodads. Includes 5 stackable, reusable pieces.
Print in transparent filament using the supplied instructions to produce a 'jaw dropping' piece of functional art. You'll be proud to say it was 3d printed because it couldn't be done any other way and looks so good. An excellent subject for conversation, reflection, study and mediation.
Statistics
Total Vertices: 240, Triangles: 448, Edges: 672, or with Quads: Faces: 314, Edges: 538
The minimum thickness of any wall is 1mm with a 0.6mm clearance between moving parts.
The base is 10cm square and covers an area of 100 square cm.  The pyramid is 10 cm in height. There are 100 small pyramids decorating the outside surface, 25 on each side. You won't find the decorations anywhere in the geometry. They are caused purely by the infill pattern and tool path.
Print Instructions
Includes 5 files. For best results, print each file separately in order, with the following settings:
0.1 mm layer, no support. Use a small brim on the first piece only (the file ending in _5).
1 outline/perimeter shell. This is necessary to get the transparent look.
4 top/bottom solid layers. Necessary so floor pattern includes infill and concentric grain.
Interior fill pattern: 3%, rectilinear, infill angle offsets 45% ,-45% (S3D defaults). Necessary to get the small pyramid pattern on the inside.
Interior infill width: 105% - proper width for infill walls.
Exterior fill pattern: concentric. Necessary to get an attractive grain pattern.
RSwikaPyramid_Fugue_5.stl
1.06 KB
RSwikaPyramid_Fugue_2.stl
5.75 KB
RSwikaPyramid_Fugue_1.stl
3.99 KB
RSwikaPyramid_Fugue_4.stl
5.75 KB
RSwikaPyramid_Fugue_3.stl
5.75 KB