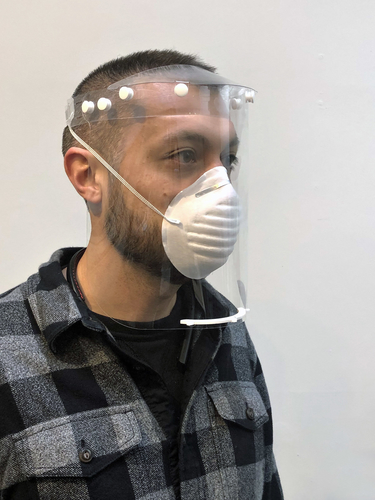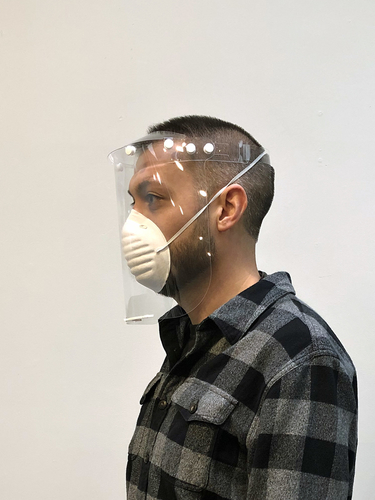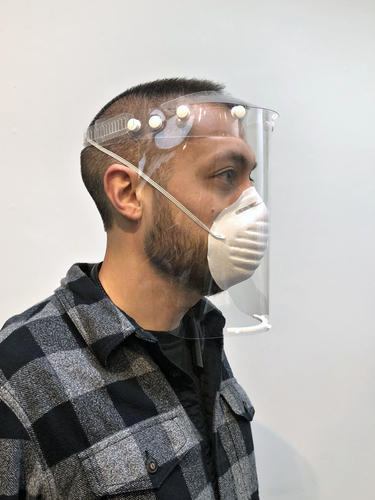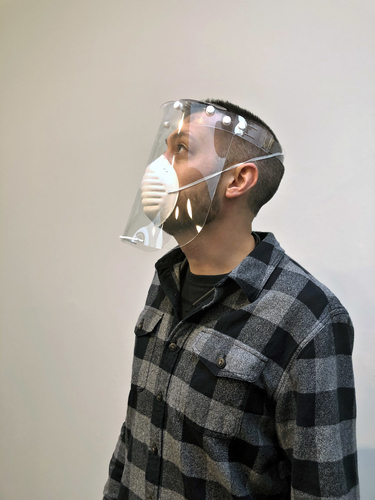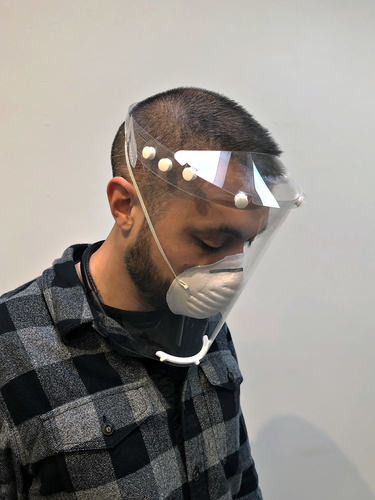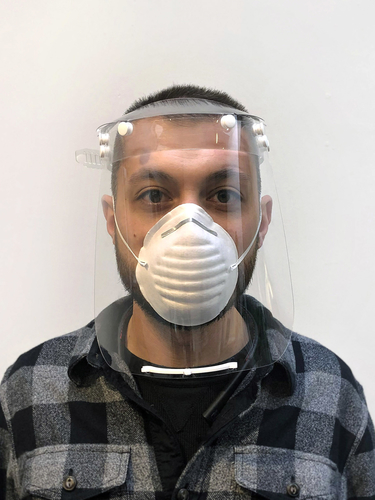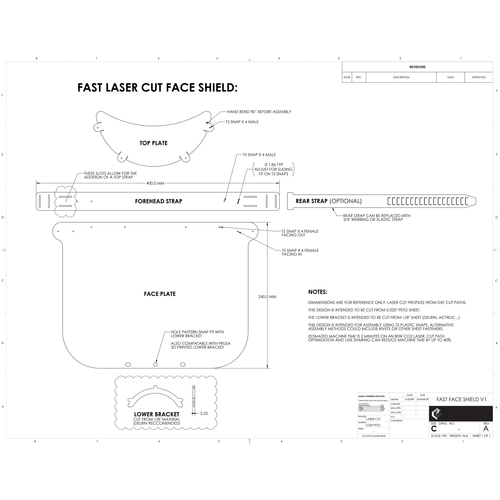 Fast Face Shield
***couldn't upload DXF and SLPRTs - here's a link to downlaod:  https://www.thingiverse.com/thing:4240392
A Rapid Manufacturable face shield for supplementary COVID-19 PPE.
The Fast Face Shield is completely fabricated on a laser cutter. With the exception of the small Lower Bracket, all of the parts can be made from 0.020 PETG sheet, making this very efficient for rapid manufacturing where a laser cutter is available.
This design includes an integrated adjustable head band, eliminating the need for an elastic strap. However, should a user prefer elastic strapping, the design is compatible with any ¾" webbing or elastic. In addition, there are slots where a top strap may be added.
Should this face mask need to be reused and sterilized, all of the components can be snapped apart. The components are all solid plastic and able to be washed in temperatures up to 85C.
The lower bracket shares the same hole pattern as the common "Prusa 3D Printable Face Shield". Therefore, this component can be utilised by anyone currently 3D printing these brackets, reducing their machine time for that part from approximately 20 minutes to 10 seconds.
The estimated machine time for the Fast Face Shield design is less than 2 minutes.
The estimates assembly time for the design is less than 2 minutes.
The estimated material consumption for this design is 1.3 Sqft of 0.020" PETG. And 0.05 Sqft of 1/8" Delrin (or a similar material, such as Acrylic).
My hope for this design:
Please use this design and share in freely amongst anyone looking to Rapid Manufacture face shields. I believe it is a viable alternative to the common 3D printable design, at a huge reduction of machine time. All of the cut path files along with an overview PDF are available. I've also shared the original SolidWorks CAD files that can be modified as people see fit.
May everyone stay healthy and happy.
Fast Face Shield - Lower Bracket (PRUSA ALTERNATIVE).STL
149 KB
Fast Face Shield V1 Cut Path Overview.PDF
55.8 KB