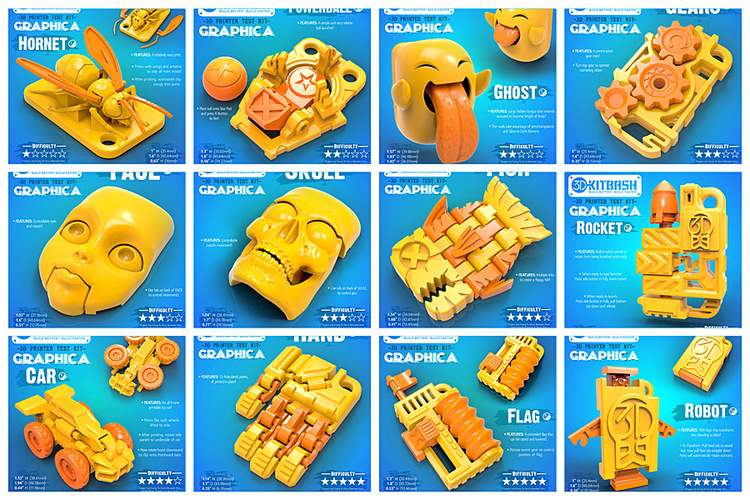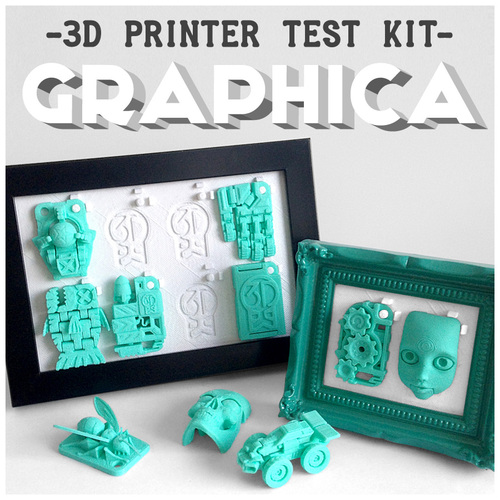 GRAPHICA by 3DKitbash.com includes twelve support-free 3D printer test chips with playful designs, eleven of which feature "print-in-place" moving elements that print in one piece and function straight from the printer bed.
GRAPHICA also comes with three 3D-printable display bases.
Most GRAPHICA chips print in under an hour (Ghost takes a little more than an hour). Print times vary.
GRAPHICA Chips
Robot: 3DK logo chip transforms into a standing robot! To transform, pull head tab to reveal eye, then pull foot tab straight down. Arms will rotate outward.
Flag: Concealed flag can be raised and lowered. Rotate worm gear to control position of flag.
Hand: With 13 points of articulation, this chip prints in one piece and works right off the printer bed!
Car: An all-in-one printable toy car with rotating wheels! Prints flat with wheels lifted to side. After printing, rotate side panels to underside of car. Rotate hood downward to clip onto frontward tabs.
Rocket: Built-in safety prevents rocket from being launched until ready. When ready, to load rocket, press side button in fully, insert rocket. When ready to launch, press side button in fully, pull bottom tab down and release.
Fish: Multiple links create a floppy "chain mail" fish that prints in one piece and moves right off the printer bed.
Skull: Controllable jaw movement. Use tab on back of skull to control movement.
Face: Controllable eyes and mouth movement. Use tab on back of face to control movement.
Gears: Print-in-place gear train! Turn top gear to operate ratcheting clicker.
Ghost: Prints in just over an hour. Hidden tongue extends outward to reveal length of body! Thin walls enable use of semi-transparent and glow-in-the-dark filament.
Powerball: A simple, reliable ball launcher! Place ball onto star pad and press X button to fire.
Hornet: Prints with wings and antennae to the side of main model. After printing, accessories clip snugly into ports.
Display Bases
Display entire GRAPHICA collection. Fits into a 6X4" frame.
Display two GRAPHICA chips. Fits into a 3.5X2.5" frame.
Display one GRAPHICA chip. Fits into a 2.5X3.5" frame. By downloading 3DKitbash models, you agree to the terms of use found on 3DKitbash.com. Click HERE for our license agreement. If you like GRAPHICA, we hope you'll check out other models by 3DKitbash.com!
12 ROBOT - Graphica - 3DKitbash.stl
10 MB
8 ROCKET - Graphica - 3DKitbash.stl
10 MB
9 CAR - Graphica - 3DKitbash.stl
10 MB
10 HAND - Graphica - 3DKitbash.stl
10 MB
11 FLAG - Graphica - 3DKitbash.stl
10 MB
3 GHOST - Graphica - 3DKitbash.stl
10 MB
4 GEARS - Graphica - 3DKitbash.stl
10 MB
5 FACE - Graphica - 3DKitbash.stl
10 MB
6 SKULL - Graphica - 3DKitbash.stl
10 MB
7 FISH - Graphica - 3DKitbash.stl
10 MB
0 DISPLAY - 2.5x3in - 3DKitbash.stl
10 MB
0 DISPLAY - 3.5x2in - 3DKitbash.stl
10 MB
0 DISPLAY - 6x4in - 3DKitbash.stl
10 MB
1 HORNET - Graphica - 3DKitbash.stl
10 MB
2 POWERBALL - Graphica - 3DKitbash.stl
10 MB