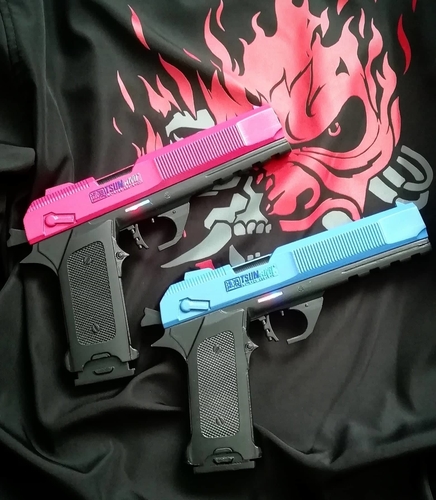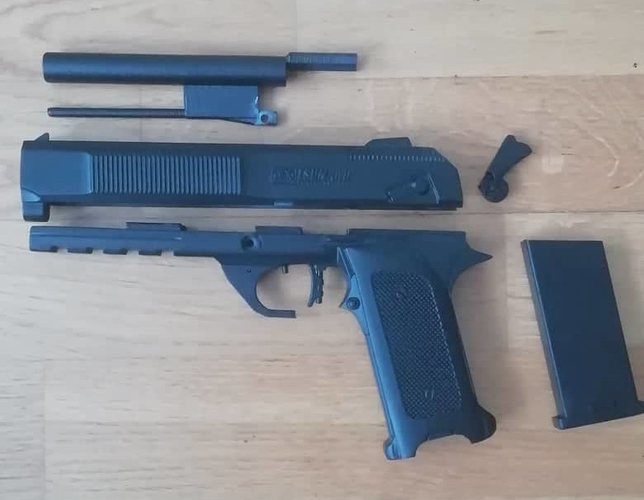 Gun inspired by Cyberpunk 2077 poster and real guns (Colt 1918, Beretta, CZ 75 Shadow Line).
There is enough space inside for electronics, to add red and blue LEDs to the right side. Plus has movable parts, where rubber bands need to be added, or you can just glue everything together.
Most of the parts are printable without supports, the plate file has suggested orientations of all parts. How to print main body with minimum selective supports is in the picture.
Magazine is removable, to have it hold in place use 2 (or 4) 5x5x2mm (or 5x2mm round) magnets in main body and in magazine.
Files include
assembly guide
"plate" with recommended orientation of parts to print easiest way
version with barrel case with tsunami logos (for SLA/DLP printer or other high res) - otherwise there are small plates with logos that are supposed to be glued to barrel body.
parts separated top files
Updated:
2019-10-25

Added big parts split in halves, to be printable in smaller printers

tsunami_v106-main-body_front.stl
tsunami_v106-main-body_back.stl
tsunami_v106-barrel-case-top-with-logos_front.stl
tsunami_v106-barrel-case-top-with-logos_back.stl

1.06 

fixed some issues with barrel case with logos, to be better cuttable to small pieces for SLA print

tsunami_v106-barrel-case-top-with-logos.stl
1.05

more sturdier barrel, so it doesn't break, when inserting into barrel case
modified barrel case for easier insert of barrel (only version without logos)
hammer is narrower to better fit barrel case
tsunami_v106-barrel-case-top-with-logos_back.stl
1.96 MB
tsunami_v106-barrel-case-top-with-logos_front.stl
343 KB
tsunami_v106-main-body_front.stl
263 KB
tsunami_v106-main-body_back.stl
1.17 MB
tsunami_v106-barrel-case-top-with-logos.stl
2.14 MB
tsunami_v105-hammer.stl
29.3 KB
tsunami_v105-barrel-case-top.stl
649 KB
tsunami_v105-barrel.stl
175 KB
tsunami_v104-hammer-rod.stl
6.14 KB
tsunami_v104-magazine.stl
158 KB
tsunami_v104-main-body.stl
1.27 MB
tsunami_v104-trigger-cover-pin.stl
12.4 KB
tsunami_v104-tsunami-logo-left.stl
770 KB
tsunami_v102-assembled.stl
4.34 MB
tsunami_v104-tsunami-logo-right.stl
770 KB
tsunami_v104-triggerCase.stl
61.2 KB
tsunami_v104-trigger-screw.stl
220 KB
tsunami_v104-trigger.stl
152 KB
tsunami_v104-sight.stl
50.1 KB
tsunami_v104-safety-pin.stl
77.8 KB
tsunami_v104-safety.stl
19 KB
tsunami_v104-pointer.stl
1.84 KB
tsunami_v104-led-glass.stl
684 Bytes
tsunami_v102-plate.stl
4.34 MB