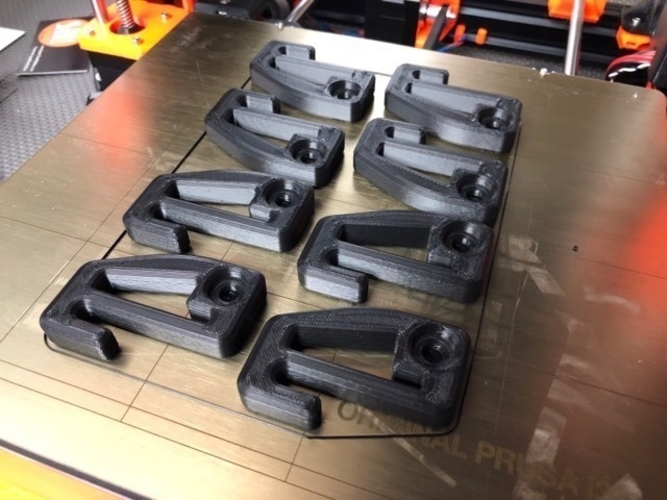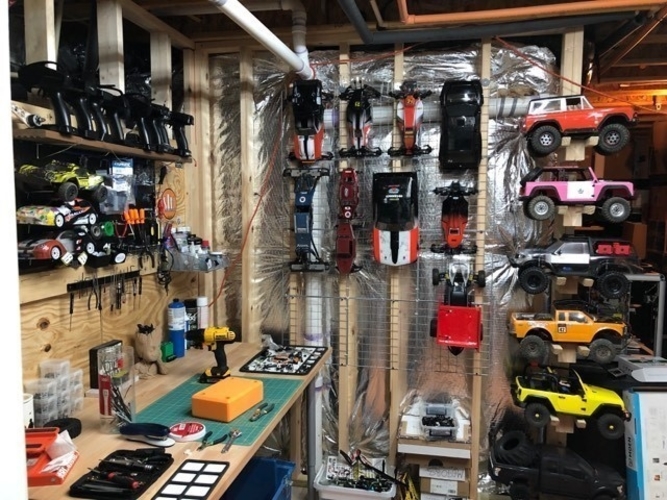 No Prints Yet

Be the first to upload a Print for this Design!
UPDATE: 17 NOV 2019 - Added a 12mm loose fitting hex to one side. Make sure you mirror the hanger in your slicer for the left/Right Hook or use the provided mirrored STL. 
These are the style of wire squares I used. You will need to zip tie them together then fasten them to the wall with a some screws and a spacer to lift them at least 1/2in off the wall for the hook to slip over the wire frame.
https://evansmarket.com/products/grid-wire-cube-shelves-1?variant=30986312319030&utm_medium=cpc&utm_source=google&utm_campaign=Google%20Shopping
This is designed to repurpose those interlocking wire cubes as an RC wall rack. These hooks will fit over the axle stub on any 1/10th scale or smaller rear axle stub and hex. The idea is to insert the axle stub then finger tighten the axle nut. Put on on each side, hang and enjoy.
The wire cubes will need at least 6mm of space between them and the wall behind in order to hook and unhook the hanger. My recommendation is to use 1"x2" furring strips painted and attached to the wall then attach the wire cubes with drywall screws and large washers. Tip, Zip Tie the top row while you mount them and then Zip Tie subsequent rows together until you have securely anchored each square. 
Wall Hanger Circle Symetrical.stl
156 KB
Wall Hanger Left.stl
139 KB
Wall Hanger Right.stl
139 KB