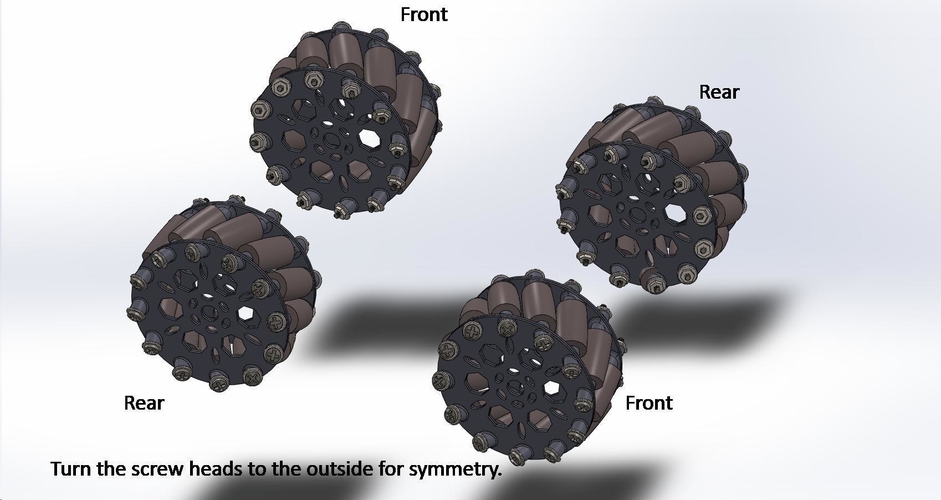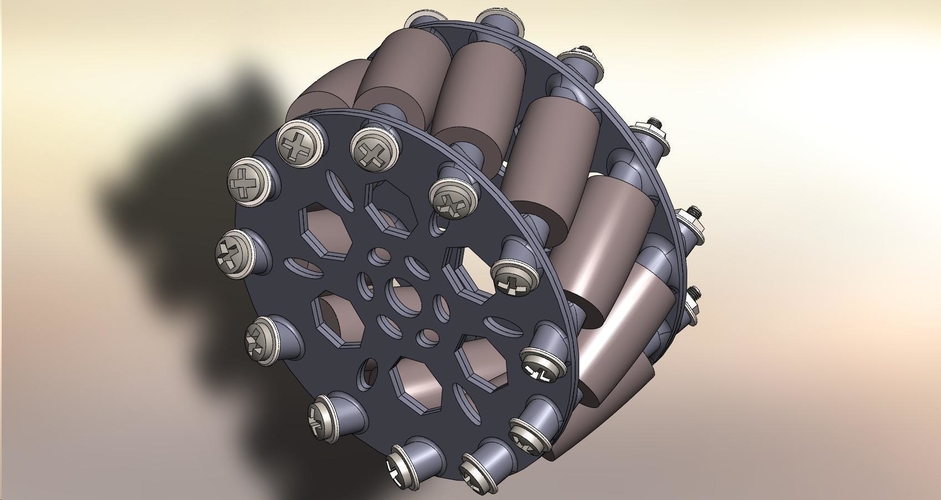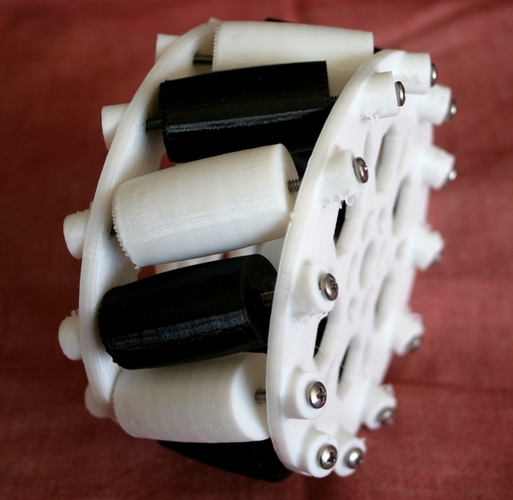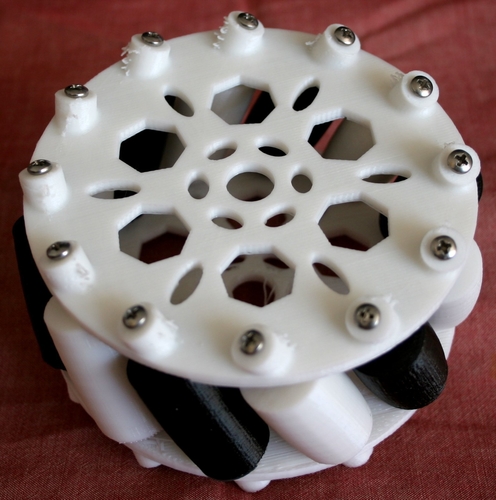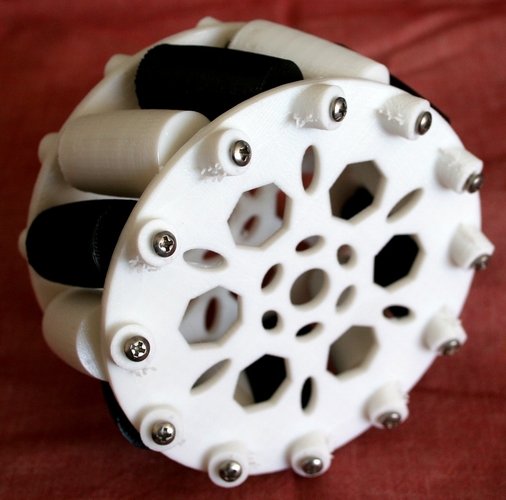 What you see in the 3D prints I made are my initial test parts and too short bolts, but it proved that the design works!
DO NOT tighten the bolts & nuts!  Leave the wheels a little loose to minimize friction on carpeting.  Hard smooth floors the tightness probably doesn't matter.  My test wheel works great on my desk top even though the spinners don't spin.
There probably should be nice smooth washers between all plastic surfaces ... hence you will need 48 washers for each wheel or 192 washers total.
Print two of each of the side panels and four dozen spinners ... DO NOT GLUE as you mate side panel 1&2 and 1&2 as you run the M3 x 70mm bolts to get everything in proper place.  
"RoboGuts™ S.T.E.A.M. Education Program" http://www.R2Pv1.com/
30mmX3mmHub-4-100mmX40mmMecanumWheel1.STL
24.7 KB
30mmX5mmHub-4-100mmX40mmMecanumWheel1.STL
24.7 KB
30mmX7mmHub-4-100mmX40mmMecanumWheel1.STL
24.7 KB
30mmX8mmHub-4-100mmX40mmMecanumWheel1.STL
24.7 KB
20mmX3mmHub-4-100mmX40mmMecanumWheel1.STL
23.5 KB
20mmX5mmHub-4-100mmX40mmMecanumWheel1.STL
23.5 KB
20mmX7mmHub-4-100mmX40mmMecanumWheel1.STL
23.5 KB
20mmX8mmHub-4-100mmX40mmMecanumWheel1.STL
23.5 KB
Front100mmX40mmDblMecanumWheel1.STL
1.25 MB
Front100mmX40mmDblMecanumWheel2.STL
1.27 MB
Rear100mmX40mmDblMecanumWheel1.STL
1.25 MB
Rear100mmX40mmDblMecanumWheel2.STL
1.28 MB
Spinner-4-100mmX40mmMecanumWheel-Dbl.STL
68.1 KB