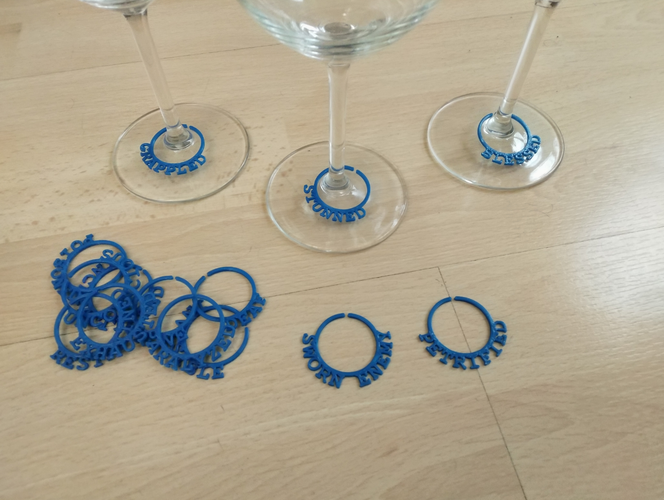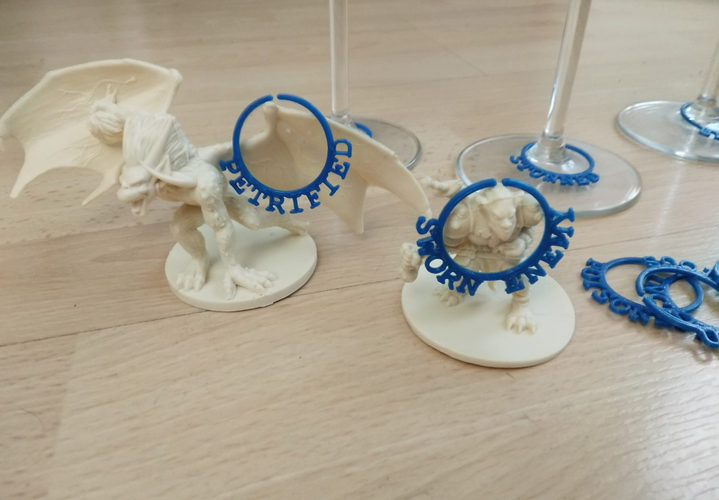 No Prints Yet

Be the first to upload a Print for this Design!
Both your nerd friends and normie friends will love these! Choose a Dungeons and Dragons condition and attach it to the stem of your wine glass to identify which is yours at a party. These can also be hung on your D&D tabletop miniatures to track conditions.
Conditions included in this pack...
BANE, BLESSED, BLIND, CHARM, CONCENTRATE, DEAF, DEATH FAIL, DEATH SAVE, DYING, EXHAUSTED, FEAR, GRAPPLED, HEXED, HOLD, INCAPACITATED, INVISIBLE, MARKED, PARALYZED, PETRIFIED, POISONED, PRONE, RAGE, RESTRAINED, STUNNED, SWORN ENEMY and UNCONSCIOUS
Added 2018-06-26: BLOODIED, INSPIRED, HIDDEN, HALF COVER, 3/4 COVER, TOTAL COVER
Added 2018-07-25: RECKLESS
Added 2018-08-29: ADVANTAGE, DISADVANTAGE, ATTACK ADV, ATTACK DISADV
Do you need any other conditions for your particular tabletop game? Let me know in the comments.
If you like this design you should check out my others at  https://pinshape.com/users/355...
WineRingPoisoned.stl
972 KB
WineRingIncapacitated.stl
1.45 MB
WineRingInvisible.stl
1000 KB
WineRingExhausted.stl
1.26 MB
WineRingPetrified.stl
1.07 MB
WineRingMarked.stl
852 KB
WineRingSwornEnemy.stl
1.19 MB
WineRingParalyzed.stl
1.01 MB
WineRingDeathFail.stl
1.05 MB
WineRingGrappled.stl
1.03 MB
WineRingStunned.stl
885 KB
WineRingUnconscious.stl
1.42 MB
WineRingBlessed.stl
1.08 MB
WineRingConcentrate.stl
1.31 MB
WineRingDeathSave.stl
1.15 MB
WineRingRestrained.stl
1.29 MB
WineRingInspired.stl
1.03 MB
WineRing100Cover.stl
1.05 MB
WineRingBloodied.stl
894 KB
WineRing50Cover.stl
1.07 MB
WineRing75Cover.stl
921 KB
WineRingHidden.stl
773 KB
WineRingReckless.stl
1.26 MB
WineRingAdvantage.stl
1.04 MB
WineRingDisadvantage.stl
1.43 MB
WineRingAttackAdv.stl
1.06 MB
WineRingAttackDisadv.stl
1.44 MB