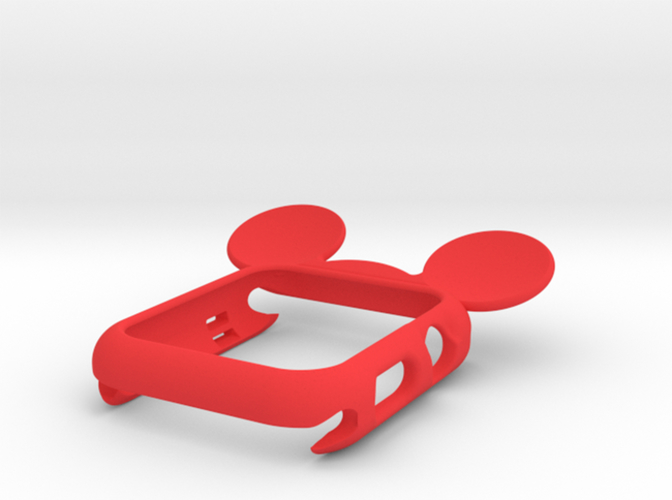 No Prints Yet

Be the first to upload a Print for this Design!
Need a case with discs for your Apple Watch Series 1 42 mm? Download now
This Mouse ears watch cover fits both. All the ports and clearances fit perfectly on S1 42mm.
PRECISE DIMENSIONS:
This slim and tough watchcase was designed in Fusion 360 using apple's specifications. All dimensions were carefully created to pass all Apple criteria for a genuine designed case. The case has precise cutouts so that you can still use or operate your Apple Watch without having to remove it.
EAR O'CLOCK:
No matter how stressful the day or how tough the workout, you can't help but smile from ear to ear when you catch a glimpse of Mouse ears on your wrist. Everyone who sees the Mouse ears on your Apple Watch comments on how cute it is. The Plastic case cover is constructed well & slipped on easily. this mouse ears are always a children's favorite and has been a children's favorite for generations, let your kids be a part of the fun with these great Mouse ears.
SCRATCH-FREE APPLE WATCH? DONE.
If you own an Apple Watch, chances are you'll wear it 24/7. Our Apple Watch case is lightweight yet durable. The Apple Watch protective case will shield the exterior of your Apple Watch from accidental bumps and scratches, so you can go worry-free at all times.
FULL ACCESS TO ALL THE BUTTONS:
We added nice buttonholes that don't affect pressing the button or dial. Perfect for large fingers. Speaker holes, strap cutouts, even the WiFi and magnetic charging areas are perfectly within Apple's guidelines.
FEATURES:
·         Does not interfere pressing the button or dial
·         No change in fit or feel.
·         All the ports and clearances fit perfectly
·         Mouse ears
SPECIFICATIONS:
·       Compatible with Series 1 Apple
·         Fits Size 42mm
·         Dimensions: 56 x 61.1 x 16.8 mm
PROTECTION YOU CAN TRUST:
Perfect fit for your smartwatch. This case is designed to be slim and hard both at the same time, so you can get perfect defense guard against drops and bumps. It looks great not adding too much thickness to the Apple Watch while still being thick enough to be printed in PLA or any filament and still hold some strength.
QUICK INSTALLATION:
Our iWatch Bumper features quick and easy installation, making this a protective armor that is easy to print, easy to take off and put back on.
This really is an easy print at .1mm resolution it can be printed within 20 minutes and last a long time as it's designed to be EDC. (Everyday Carry)
Thank you and please let us know how your print goes.             
Apple Watch Case 42mm Mickey Ears.stl
10.7 MB