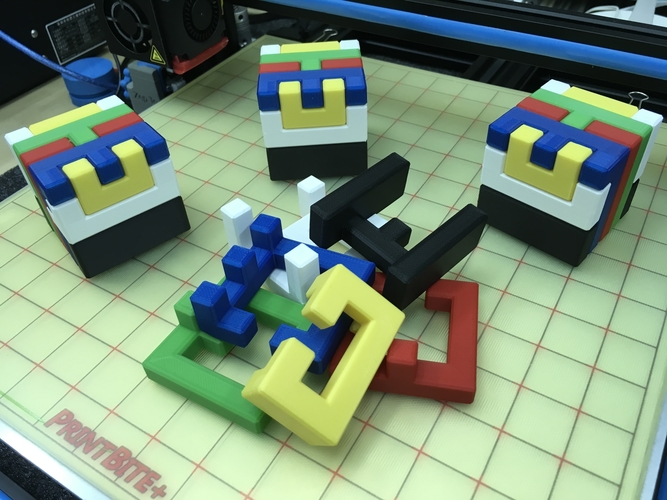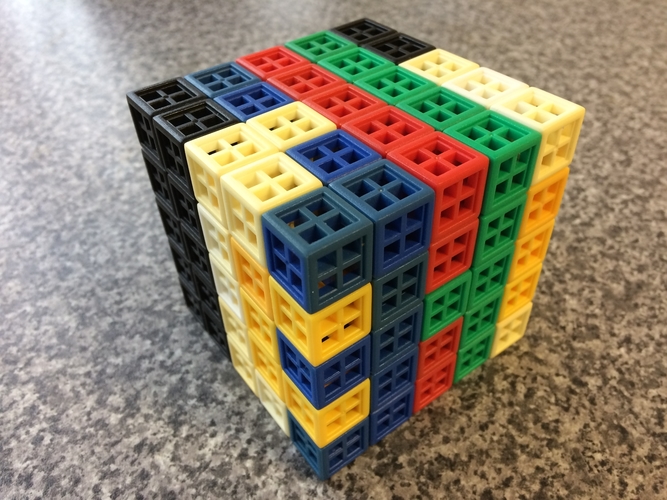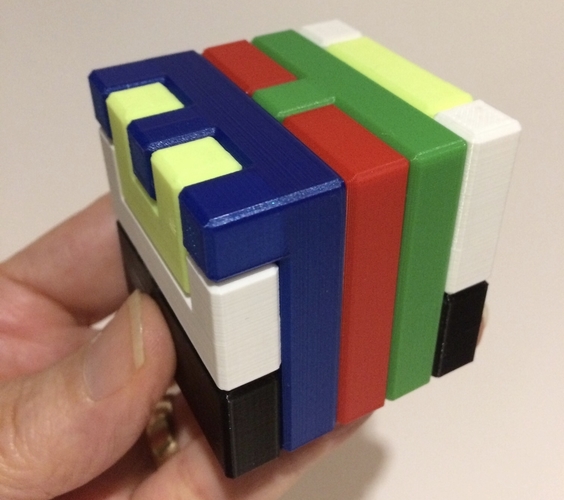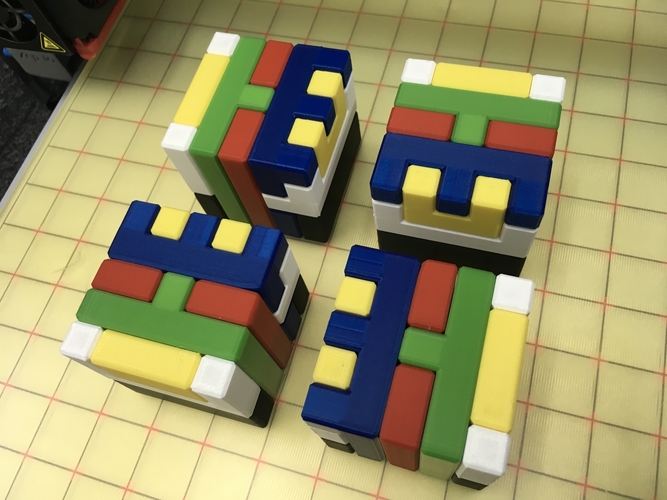 Click here to buy the file on Etsy
Who's up for a challenge?  This puzzle consists of 6 pieces that make up a 5x5x5 cube and there is only one solution! The pieces are all different and it is possible (but difficult) to find the solution using only logical deduction.  No fewer than 11 sliding moves are required to remove the first piece and another 5 moves before the second piece comes free (no rotations needed in this puzzle).  This is my first paid for design and is not available on Thingiverse. I do hope you will give it a try. 
This is the latest in my series of interlocking mechanical puzzles cubes with pieces that print on FDM printers with no support required - Printable Puzzle #4.  It was designed using a combination of Live Cubes and Burr Tools.  It is easy to print and will make a 5 cm cube when assembled.  I recommend printing at a resolution of 0.15 mm or finer with at least 6 layers top and bottom, 2 perimeters and 20% infill. 
I have combined the six pieces into a single STL file but these can easily be separated in Simplify3D (using Mesh / Separate Connected Surfaces) or Meshmixer (using Edit / Separate Shells) if you want to print each piece in a different colour.  There is a 1 mm bevel on the outer edges of the 10 mm cubes (but not the concave corners since these work much better without a chamfer).
There is a choice of three different offset values - 0.06 mm, 0.08 mm and 0.10 mm. The offset controls how tightly or loosely the puzzle fits together. I recommend starting with the middle value, 0.08 mm and then adjusting. If the puzzle is too tight, increase the offset to 0.10 mm. If it is too loose, use the 0.06 mm set.
The download package includes a text file which can be loaded into the Burr Tools program (free to download) and used to show the solution to the puzzle. Download and start Burr Tools, click File / Load, change the File Types selector to 'All Files' and then select the Printable_555_11.txt file included with this puzzle download. Now click, in sequence, Solver - Disassemble - Start. You can then click and drag the puzzle to rotate it, click and drag the right-hand edge scroll handle to zoom in, or click and drag the Move slider to animate the solution.
Printable_555_11.txt
5.11 KB
Printable#4_0.10mm_offset.stl
61.5 KB
Printable#4_0.06mm_offset.stl
61.5 KB
Printable#4_0.08mm_offset.stl
61.5 KB